International Volvo Photo Locations Part 144



Ørnesvingen or the Eagle's Bend is the name of the steepest stretch of road that runs up the mountainside from Geiranger towards Eidsdal on route 63. The road twists and turns through 11 hairpin bends from Geirangerfjorden up to the highest point 620 metres above sea level at Korsmyra.
Aurlandsfjorden or the Aurlandsfjord is a fjord in Sogn og Fjordane county, Norway. The fjord flows through the municipalities of Aurland, Vik, and Lærdal. The 29-kilometre long fjord is a branch off of the main Sognefjorden, Norway's longest fjord. The fjord is deep and narrow, reaching a depth of about 962 metres below sea level, and its width is generally less than 2 kilometers wide. About 11 kilometers south of the mouth of the fjord, the Nærøyfjord branches off from it to the west. The village of Flåm sits at the innermost part of the Aurlandsfjord; other villages along the fjord are Aurlandsvangen and Undredal. Most of the fjord is surrounded by up to 1,800-meter tall, steep mountains with little habitation along the fjord except for in a few small valleys.
Large parts of the fjord is included in the Nærøyfjord section of the West Norwegian Fjords UNESCO world heritage site.
Most scenic routes are stunning no matter what direction you drive in but this particular stretch presents its most dramatic side if you start the trip at Lærdal and drive towards Aurlandsvangen. You will come away with powerful impressions, and the contrasts between the fjord and the high mountain region where snow lies on the ground for most of the year are compelling. The road is closed in winter but the stretch from Aurlandsvangen is open as far as the viewing point at Stegastein all year round. Many people find this point as spectacular as the view. In winter especially it's fascinating to see how the landscape changes character from the colourful tapestry of summer to a symphony in black and white with grey nuances. We don't always regard such things as anything special but it's often about taking time to look. Allow time to experience the installation "DEN" by the American artist Mark Dion at Vedahaugane, and keep in mind that art is intended to stir the emotions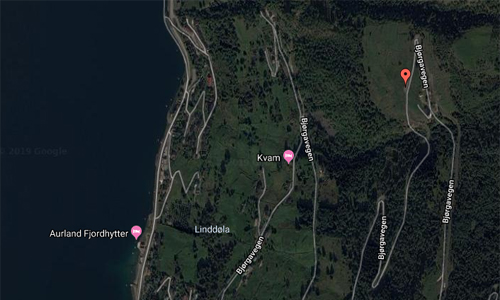 More information on en.wikipedia.org, www.nasjonaleturistveger.no and www.visitnorway.com.