Volvo Photo Locations Part 149


Bastugatan is a street on Södermalm in Stockholm. Stretching at Mariaberget in east-west direction, between Södermälarstrand and Hornsgatan and is about 600 meters long. In the east meets Bastugatan Pryssgränd.
Today there is only one Bastugatan (or Sauna Street in English) in Stockholm but previously there were many badstugor and sauna named streets in the Gamla Stan, on Norrmalm and Södermalm.
Iron Bridge over Bastugatan leads to Mariahissen 1880s.
Mariahissen is a building and a no longer active elevator at Södermälarstrand 21 on Södermalm in Stockholm. The lift is 28 meters high and connects Mariaberget with Riddarfjärden south shore.
Mariahissen at the foot of Mariaberget was built in 1885 and designed by architect Gustaf Dahl. He gave the building a neo-Gothic style with pointed-arch windows, battlements and turrets. Mariahissens pointy tower and walkway in iron truss crossing Bastugatan ends Bellmansgatan north. The footbridge was manufactured at Atlas workshops in Vasastan. The high brick facade dominates the South Mälarstrand eastern part, the building stands in a niche in the rock blasted to make way for the 28 meter high elevator.
Mariahissens task was to connect Mariaberget with Riddarfjärden south beach, where steamboats left to Riddarholmen. Three thousand people used to take this road every day. As the city's communications developed, the number of elevator passengers went down and in the late 1930s the elevator was taken out of traffic. The house quickly became dilapidated, but in the mid-1970s, it was renovated and designed by Sune Malmquist. The public elevator is no longer in operation.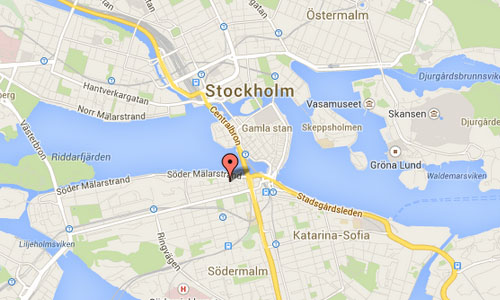 More information at sv.wikipedia.org/wiki/Bastugatan and sv.wikipedia.org/wiki/Mariahissen.