Volvo Photo Locations Part 163


Sjövikskajen is a seaside street near Liljeholmskajen, in the Årstadal area in Stockholm. From this point you have an excellent view at the Åstra rail bridge in Liljeholmen.
Årstadalshammne is a quay and harbor area in Årstadal in Liljeholmen, Southern Stockholm, Stockholm. The area is located in the southern part of Årstaviken, between Liljeholmsbron and Årstabron. A huge developement plan is being executed beteween 2000 and 2019 alongside Sjövikskajen and Liljeholmskajen.
Many industries had throught the Årstadalhamnen access to the port and had even its own railway connection. Setting the admosphere for a long time was the steel wholesaler Söderberg and Haak and Odelberg & Olson. The Vin & Sprit was established here in 1959, and in the mountain were five rock caverns where made which were 150 meters long and up to 20 meters high, with tanks for the storage of wine and spirits. Until 1991 Sjövikskajen in Årstadal was used for vwine transports with wine boats like M/S Vinia, M/S Vinlandia and M/S Vindemia. By midsummer 1998, JM acquired the property area of the Company Vin & Sprit.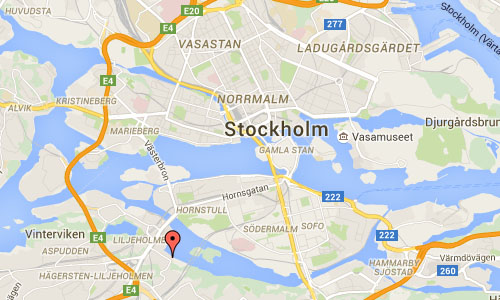 More information at restaurangbankomat.se and sv.wikipedia.org