Volvo Photo Locations Part 170


Manövergången is a street in Göteborg alongside the Göta älv (or Göta river).
The building is the pictures is one of the workshop halls of the Eriksbergs Mekaniska Verkstads AB, a Swedish shipbuilding company based in Göteborg. It delivered its last ship in 1979.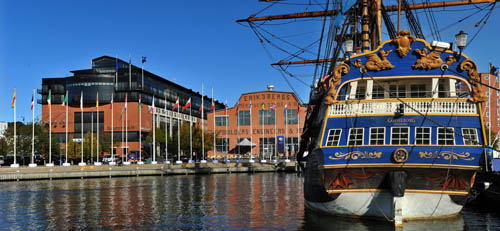 Founded in 1850 by Christian Barchman, the company originally worked with galvanization. The first shipyard wharf was opened in 1871, and two years later they delivered their first ship. In 1876 the company was transformed into a joint-stock company, and so the name was changed to Eriksbergs Mekaniska Werkstads AB. In the beginning of the 1890s, the shipyard was still the smallest of the three wharfs that existed in Gothenburg. Production was based on passenger ships, steam cutters and towboats for Denmark, Norway and Finland, and ferries for Stockholm's public transportation. In 1915 Eriksberg underwent massive developments to accommodate production of larger ships after a major takeover of the corporation's stocks by Dan Broström.
During 1978-79 all activities were successfully terminated at Eriksberg, and on 15 June 1979 the shipyards last vessel, a product tanker M/T Atland was delivered to Broströms, that was already on the brink of bankruptcy. Just about a year before the shut down Erikbergs Mekaniska Verkstad had delivered the ULCC:s 'Nai Superba' and 'Nai Genova' at about 460 000 dwt each! The greatest ships ever built in Gothenburg as well as they were among the last. The Nai-ships were demolished in year 2000-2001.
Today, all that remains of EMV is an 84m high, orange gantry crane and two workshop halls; the engine workshop 'Blå Hallen', today hosting a hotel and conference facility, and the former workshop 'Eriksbergshallen' with the text 'Eriksbergs Mek. Verkstads AB Shipbuilders Engineers & Repairers' still painted on the facade. Along the former equipping quays are now blocks of fancy condos and boutiques.
Today, Eriksbergshallen is part of the Quality Hotel 11. This Quality Hotel 11 is located at Gothenburg's harbour inlet, with views over the water. Eriksbergshallen is nearby, with all the facilities you need. The hotel is characterised by architecture, impressive art and Scandinavian design. It is a populair hotel for visters to the Volvo Museum and factory fro all over the world.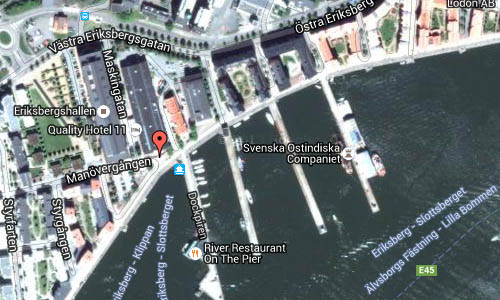 More information at sv.wikipedia.org and www.nordicchoicehotels.com