Volvo Photo Locations Part 171


Skyttegatan is a street in Lorensberg in Göteborg. At this place, the Royal Bachelors' Club, a gentlemen's club founded in 1769 is located.
In 1787, the club got royal appropriation and exists still today. It is the oldest club of this kind in the world.
Most of the club's founders were people with English or Scottish background. The first organizational meeting was held on 25 November 1798. Among the 33 members at the foundation were among others William Chalmers. In 1787 the club received a royal charter passed by the Royal Secretary Claes Gartz. Gartz then became an honorary member of the club.
Through the years the club has changed venues several times. In 1932 it moved from the Wilsonian house at Gustav Adolf Torg to Kungsportavenyn nr 8.
In 1969 the club moved to its present address Broströmska villa on Skyttegatan 1. The house, designed by Arvid Bjerke, was bought in 1922 by the shipowner Dan Broström who lived there until his death. His widow Ann Ida lived there until 1965. The house was then taken over by the Swedish Shipowners who sold the property to the club in 1987.
Daniel "Dan" Broström (1870 – 24 July 1925) was the Swedish Naval Minister from 1914 to 1917. He was the son of Axel Broström. He was married to Anna Ida Broström, and had a son called Dan-Axel Broström. Broström died in a car accident near Trönninge, south of Halmstad on 24 July 1925.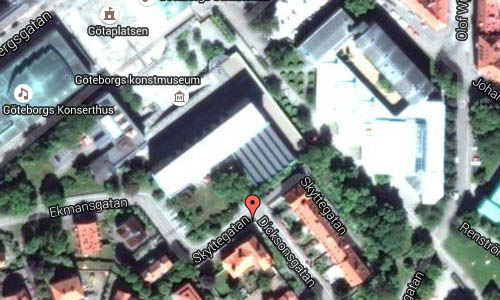 More information at sv.wikipedia.org, www.rbc.se and gamlagoteborg.se