Volvo Photo Locations Part 188


Gamla kyrkogatan (Old churchstreet) is a street in the old center of Landskrona.
Landskrona is a late medieval town located at the shores of Øresund, founded at the location of the former Danish fishing village Sønder Sæby in the province of Scania by king Erik VII of Pomerania early in the 15th century. In 1720 the town, like its province, became a formal part of Sweden. Around the Castle build by Danish king Christian III in 1549, Landskrona Citadel, a huge system of moats emerged over the centuries, also in the town's Swedish history.
Today the Citadel is famous for its well preserved moat system, which includes parts of four moats. At the northern part of the Citadel, Sweden's second, and today oldest allotment area is located. Its port is based on a natural chute in the sandy sea floor, despite the lack of any nearby debouching river.
The town had for many years a car ferry line to Copenhagen (Tuborg harbour, 70 minutes). Landskrona is located close to the Danish Capital. From Rådhustorget (Town Hall Square) in Landskrona to Amalienborg Royal Palace in central Copenhagen, the crow flight distance is around 22-23 km. In the later parts of the 19th century the town was transformed from a military settlement to a heavy industrial town. Between 1917 and 1983 Öresundsvarvet shipyard had up to 3,500 employees, but the town also had large manufacturers in the chemical and textile industry sectors. The football club Landskrona BoIS, which has participated in either of the top two Swedish league divisions during all but five seasons, ever since the Swedish football league system began in 1924-25, has always been important for the town and its inhabitants.
Townhouse in Landskrona. The narrow site is sandwiched between very old neighboring buildings. Three thin slabs are projected into the open volume, softly dividing its functions. The continuous interior space is opening up to the street, to an intimate garden, and to the sky.
Architects of this building is Elding Oscarson, a the joint operation between Johan Oscarson and Jonas Elding. Their collaboration is young, but combines substantial experience from employments in Sweden and Japan, covering both local and international architecture, from large projects to small ones – museums, theaters, private houses, interiors, furniture, and product design. We want to continue to challenge an eclectic array of architecture and design tasks, to see how our joint effort can contribute to new solutions, ways to live, and spaces to enjoy. We feel successful when we surprise ourselves; when our projects are highly relevant to the user, the site, or other parameters that make every project unique, real, and story-telling.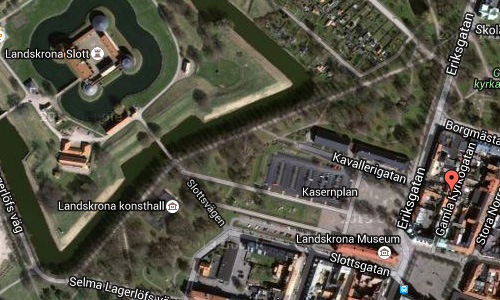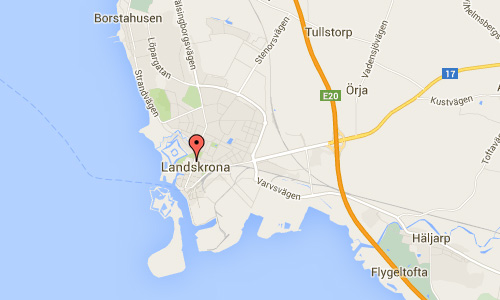 More information at www.byggahus.se and www.eldingoscarson.com.