International Volvo Photo Locations Part 183


The Chicago Theatre, originally known as the Balaban and Katz Chicago Theatre, is a landmark theater located on North State Street in the Loop area of Chicago, Illinois, in the United States. Built in 1921, the Chicago Theatre was the flagship for the Balaban and Katz (B&K) group of theaters run by A. J. Balaban, his brother Barney Balaban and partner Sam Katz. Along with the other B&K theaters, from 1925 to 1945 the Chicago Theatre was a dominant movie theater enterprise. Currently, Madison Square Garden, Inc. owns and operates the Chicago Theatre as a performing arts venue for stage plays, magic shows, comedy, speeches, and popular music concerts.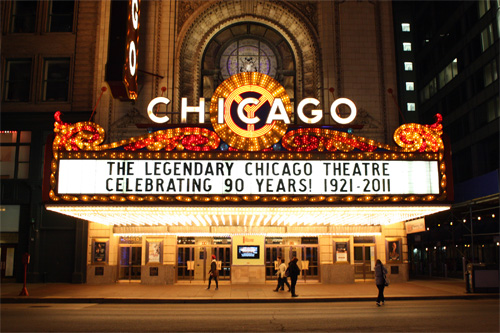 The building was added to the National Register of Historic Places June 6, 1979, and was listed as a Chicago Landmark January 28, 1983. The distinctive Chicago Theatre marquee, "an unofficial emblem of the city", appears frequently in film, television, artwork, and photography.
The building is seven stories tall and fills nearly one half of a city block. The 60-foot (18 m) wide by six-story tall triumphal arch motif of the State Street façade has been journalistically compared to the l'Arc de Triomphe in Paris. The central arch-headed window adapts the familiar motif of Borromini's false-perspective window reveals of the top floor of Palazzo Barberini, Rome. The coat of arms of the Balaban and Katz chain—two horses holding ribbons of 35 mm film in their mouths outlined by a border of film reels—is set inside a circular Tiffany stained glass window inside the arch. The exterior of the building is covered in off-white architectural terracotta supplied by the Northwestern Terra Cotta Company with Neo-Baroque stucco designs by the McNulty Brothers.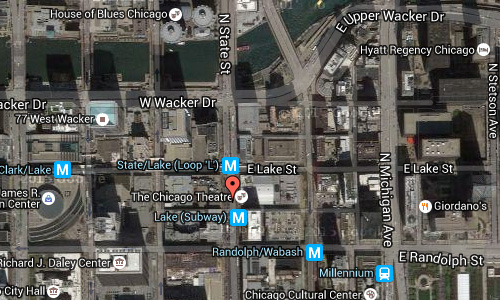 More information on www.thechicagotheatre.com and en.wikipedia.org.