International Volvo Photo Locations Part 185


Værnedamsvej 5 in a street in Frederiksberg Copenhagen in Denmark.
Kid-friendly, cozy, relaxed and Frenchy. Værnedamsvej is a small, busy shopping street situated between Vesterbro and Frederiksberg. The street is known for its French atmosphere and to many Copenhageners it is viewed as Copenhagen's Paris. Here, you will find cafés, restaurants, specialty shops, deli's and the wine bar Falernum. The street is oozing charm and a relaxed atmosphere, where several families with children and locals meet and hang out in the weekends enjoying the Frenchy charm – often at the great coffee shop Granola. Do not miss Værnedamsvej's charm and local life, when you are visiting Copenhagen.
A decorative sign posted on Værnedamsvej leads the way to a lovely backyard, housing the Granola coffee lounge.
Granola offers freshly-brewed coffee, great creamy ice-cream, Summerbird chocolates and fruity milk-shakes from the good old days. Granola is also serving breakfast, brunch and dinner.
The place reeks with nostalgia. There is a priceless old coffee mill in the middle of the room, colourful enamel signs, music from the 50s and 60s, and an old counter from the long gone days of colonial trade.
There are often lots of people hanging out at Granola but that is just some of the charm being at Værnedamsvej.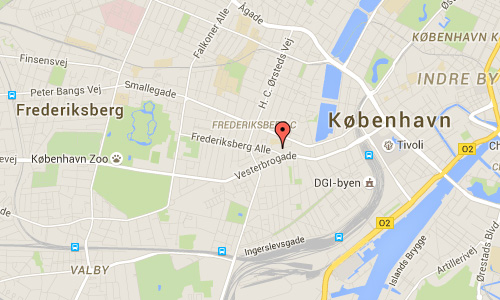 More information on www.granola.dk, www.visitcopenhagen.com and dejligedays.com.