Volvo Photo Locations Part 202


Bergsbron is a bridge in the city of Norrköping, Sweden.
Norrköping is a city in the province of Östergötland in eastern Sweden and the seat of Norrköping Municipality, Östergötland County. The city has a population of 87,247 inhabitants in 2010 making it Sweden's tenth largest city and eighth largest municipality.
The city is situated by the mouth of the river Motala ström, at Bråviken, an inlet of the Baltic Sea. Water power from the Motala ström and the good harbour were factors that facilitated the rapid growth of this once industrial city, known for its textile industry. It has several nicknames such as: "Sweden's Manchester", "Peking" and "Surbullestan" (Surbulle [sour bun] was a local nickname for the textile workers, and stan is short for Staden, which means The City or The Town in Swedish).
The Motala ström river flows through the city has a parade annexed. In connection to the latter is the industrial landscape where the old textile industries once were situated.
In the summer, there is a cactus plantation in Carl Johans Park. 25,000 cacti planted there every summer.
Kolmårdens Djurpark is a zoo located 30 km north of Norrköping. In connection to the large outdoor zoo, there is also Tropicariet, an aquarium, where for example snakes, crocodiles and sharks can be seen.
The archipelagos 50 km (31 mi) away from Norrköping are called St Anna and Gryt.
A campus of Linköping University, its own symphonic orchestra, an airport called Kungsängen with 170,000 traveling (2006), a high-tech industry park called Norrköping Science Park, and Petroglyphs from the Nordic Bronze Age.
Norrköpingsfallen or Norrköping Falls is the collective name of the waterfall with a vertical drop of 18 meters along a distance of 800 meters located in the Motala River along its course through Norrköping.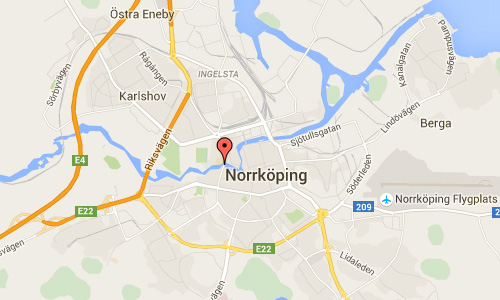 More information at en.wikipedia.org and www.upplev.norrkoping.se.