Volvo Photo Locations Part 203


Centralbron (The Central Bridge) is one of the major traffic routes in central Stockholm, Sweden, connecting the northern district Norrmalm to the southern Södermalm.
It is 1,200 metres long and consists of two viaducts passing over Söderström ("Southern Stream") and Riddarfjärden close to Norrström ("Northern Stream") with an interjacent elevated section traversing Riddarholmskanalen and the adjacent eastern waterfront of Riddarholmen. Centralbron has a capacity for 130,000 cars per day. It is paralleled by the bridges (Södra and Norra järnvägsbron) and the tunnel of a two-track railway used by the commuter and freight trains. Centralbron does partly go on top of the Metro which opened on this stretch 1957 and planned together with the bridge.
Over the years, Centralbron together with a suggested additional railway track have been much criticized and debated because of their unwieldy and rumbling presence in a delicate historical setting. Lately, the construction of a tunnel to replace them has been suggested. The cost of such a tunnel, several billion kronor, has put this on hold without any time set. A new metro tunnel has also been suggested because the metro goes below and parallel to Centralbron, making it a total of seven rail tracks and six road lanes crossing the water south of Gamla Stan on bridges. A new railway tunnel costing 15 billion kronor (Citybanan) is being built, but it is needed for capacity, and the existing railway will be kept.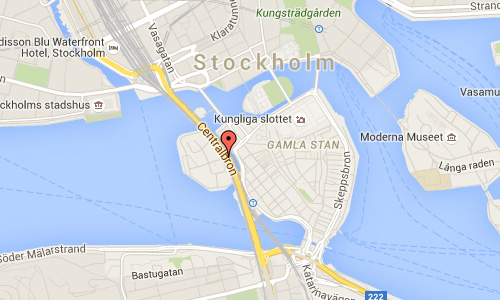 More information at en.wikipedia.org.