International Volvo Photo Locations Part 195


311 Sterling Place is the address in Prospect Heights, Brooklyn, New York, USA where this photo has been made.
Prospect Heights is a neighborhood in the northwest of the New York City borough of Brooklyn. The traditional boundaries are Flatbush Avenue to the west, Atlantic Avenue to the north, Eastern Parkway – beginning at Grand Army Plaza – to the south, and Washington Avenue to the east. In the northern section of Prospect Heights are the Vanderbilt Rail Yards, built over as part of the Pacific Park (formerly Atlantic Yards) project. The Barclays Center, home to the NBA's Brooklyn Nets basketball team and the NHL's New York Islanders ice hockey team, is located in the northwestern corner of the neighborhood in Pacific Park at Flatbush and Atlantic Avenues.
Compared to other Brooklyn neighborhoods, Prospect Heights is relatively small and is notable for its cultural diversity as well as its tree-lined streets. Prospect Heights has seen rapid demographic changes over the last decade, and its shifts are exemplified by a mixture of older buildings under reconstruction, rows of classic 1890s brownstones, and newly built luxury condominiums. The neighborhood is served by the New York Police Department's 78th Precinct.
In the late 2000s and early 2010s, the neighborhood experienced controversy over a development project by developer Bruce Ratner, initially designed by the architect Frank Gehry, for the portions of Prospect Heights and Fort Greene known as Pacific Park (formerly Atlantic Yards). This included the construction of the Barclays Center, an arena to serve as a new home for the Brooklyn Nets basketball team, as well as housing and commercial space in a cluster of high-rise buildings much taller than the borough's existing low-rise architecture. A number of community groups opposed the project, claiming abuse of the principles of eminent domain, among other concerns. Supporters of the project believed in its potential for reinvigorating an unattractive space.
The area has many Italianate and Neo-Grec rowhouses, and much of the neighborhood has been designated a New York City historic district. The Prospect Heights Historic District covers an area roughly bounded by Flatbush Avenue, Sterling Place, Washington Avenue, and St. Marks Avenue, though a section of the historic district extends as far north as Pacific Street.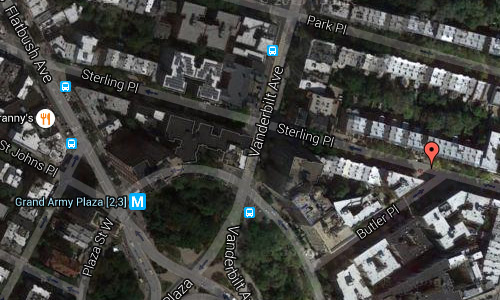 More information on en.wikipedia.org and www.nycgo.com.