International Volvo Photo Locations Part 205


Bredgade (lit. "Broad Street) is one of the most prominent streets in Copenhagen, Denmark. Running in a straight line from Kongens Nytorv for just under one kilometer to the intersection of Esplanaden and Grønningen, it is one of the major streets in Frederiksstaden, a Rococo district laid out in the middle of the 18th century to commemorate the tercentenary of the House of Oldenburg's accession to the Danish throne. It is lined with a number of fine mansions as well as other historic buildings. Many law firms, trade unions, fashion stores and art galleries are based in the street.
In Medieval times, Bredgade was little more than a track used for driving cattle in and out of the city, but by the end of the 16th century it had developed into the broadest road outside the Eastern City Gate (which at the time was located where Strøget meets Kongens Nytorv today), a fact reflected in the street's name (Broad Street). The street was mainly lined by large gardens with small houses and pavilions.
When the course of the Eastern Rampart was changed over the first century, the whole area, now known as New Copenhagen, was incorporated into the fortified city. At that point Bredgade was renamed Norgesgade (English: Norway Street) to commemorate the King's possessions to the north and escape the rural connotations of the old name.
With the planning of Frederiksstaden around 1750, Bredgade saw a major building boom which included the construction of many fine mansions such as the Berckentinian Mansion, the Dehn Mansion and the Bernstorff Mansion. When Esplanaden was laid out at its far end in the 1780s, Bredgade's position as one of the most prominent streets of the city was consolidated even further.
The name Norgesgade never gained popularity and in 1877 the street's official name was finally changed back to Bredgade.
The Moltke's Mansion is a town mansion on the corner of Bredgade and Dronningens Tværgade in Copenhagen, Denmark. It is one of several town mansions in Frederiksstaden, although it actually predates the neighbourhood by half a century. It was built for Ulrik Frederik Gyldenløve between 1700 and 1702 and was originally known as Gyldenløve's Little Mansion (in contrast to his larger mansion, now known as Charlottenborg Palace, at Kongens Nytorv). It received its current name in 1842, after it was acquired by Adam Wilhelm Moltke, the first Danish Prime Minister under the Danish constitutional monarchy.
The Baroque mansion has rich sandstone decorations featuring elephants and lion heads and is also notable for its interior decorations by Erik Pauelsen.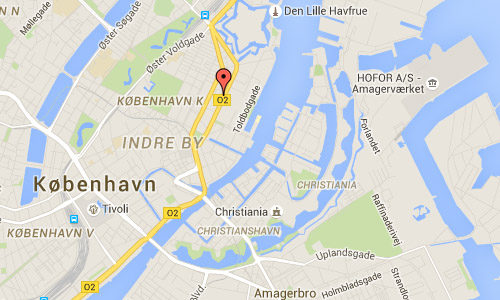 More information at da.wikipedia.org, en.wikipedia.org/wiki/Moltke%27s_Mansion and www.italian-1255.dk.