International Volvo Photo Locations Part 218


Schloss Mespelbrunn or Mespelbrunn Castle is a late-medieval/early-Renaissance moated castle on the territory of the town of Mespelbrunn, between Frankfurt and Würzburg, built in a tributary valley of the Elsava valley, within the Spessart forest. It is a popular tourist attraction and has become a famous Spessart landmark. Mespelbrunn is a community in the Aschaffenburg district in the Regierungsbezirk of Lower Franconia (Unterfranken) in Bavaria, Germany and a member of the Verwaltungsgemeinschaft (municipal association) of Mespelbrunn, whose seat is in Heimbuchenthal.
It is the site of Mespelbrunn Castle, one of the most famous landmarks of the Spessart region, and of the Wallfahrtskirche Hessenthal, for more than 700 years the destination of a Christian pilgrimage.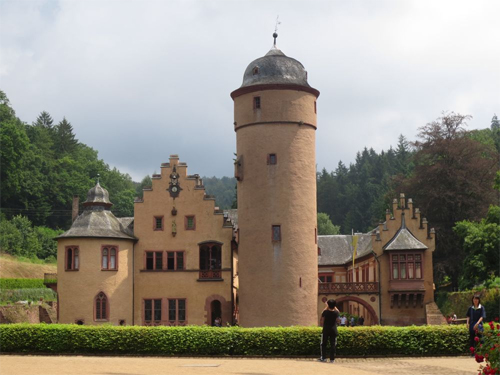 The first precursor of Mespelbrunn Castle was a simple house. The owner was Hamann Echter, vizedom of Aschaffenburg, a title which means that he was the representative of the ruling prince, the Archbishop of Mainz Johann von Nassau-Wiesbaden-Idstein (de) at the castle and town of Aschaffenburg. On 1 May 1412, Johann gave the site, a forest clearing next to a pond, to Echter, a knight, who constructed a house without fortifications. It was a reward for Echter's services against the Czechs. The Echter family (de) originates from the Odenwald region. Their name presumably means "der die Acht vollstreckt", the executor of the ostracism. In the 15th century the Spessart was a wild and unexploited virgin forest, used as a hideout by bandits and Hussites, who despoiled the regions nearby. Therefore in 1427 Hamann Echter, the son of the first owner, began to rebuild his father's house to a fortified castle with walls, towers, and a moat using the nearby lake.
The main building of Mespelbrunn Castle is built on an almost square base on the eastern side of a lake. On the whole northern, western and southern side, the court is surrounded by two storied houses. On the northeastern and southwestern corner, towers of similar height are added to the houses. These are decorated with stepped gables on the western side. The main entrance is on the left side of the southern building. On the western side, the court is limited by two framed transits to the water and the main tower in center, which surmounts the castle.
In the 1930s, economic pressures forced the Ingelheim family (de) to open the site to the public. Today, Mespelbrunn Castle is still owned by the family of the Counts of Ingelheim, who live in the southern wing of the castle, having moved out of the main rooms.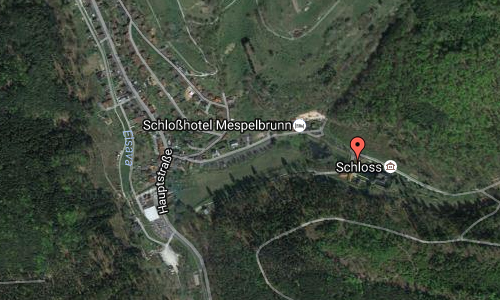 More information at www.schloss-mespelbrunn.de, en.wikipedia.org and www.spessart-erleben.de.