International Volvo Photo Locations Part 219


The Skywave house is located on Indiana Ave, between 7th street and Lincoln Avenue, in Venice, Los Angeles, USA.
Anthony Coscia, principal in Coscia Day Architecture and Design, created for himself and his wife a 2,250 square foot home on a 40 ft wide suburban lot in the artistic neighbourhood of Venice, Los Angeles, in California.
The Skywave house is a hovering sculptural form emerging from a single articulated plane that contorts to produce unique interior spaces over a tall-glassed in first level.
A curved sheet of steel provides shade and protection, while the increased sense of space is accomplished with large glass walls, an enclosed outdoor living room and the multi level open plan.
The Skywave House is a highly crafted, sculptural object that is more than just a stand-alone monument. This is a livable work of architecture that draws sustenance from its milieu, while reshaping that milieu through the framing and sequencing of perception. It doesn't just sit in space, it makes space.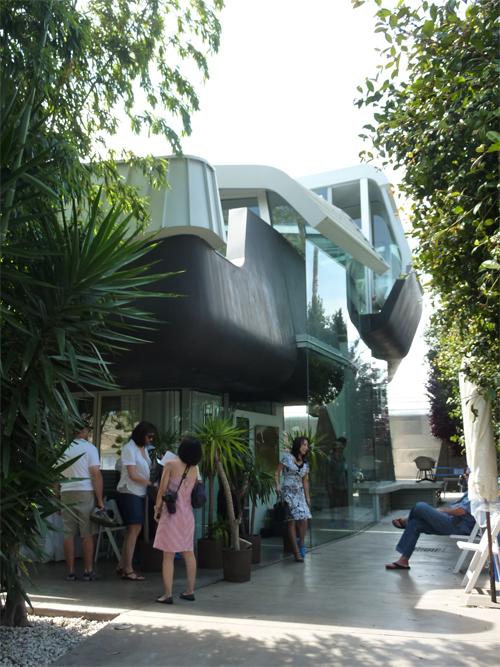 The most singular feature of the design is the continuous surface plane—a hovering, form-giving wrapper—that curls around and through it like a calligraphic brush stroke. This free skin loosely encloses the free-plan interior. No columns or walls encumber the views or the flow of living space, which unfolds upon three floating platforms connected by the full-height atrium. The stepping levels, or half-levels, provide a measure of privacy and spatial differentiation. The few partitions that do exist rise only to seven feet (2.13 m), then dissolve into glass panels that meet the continuous ceiling surface, which in turn blurs into the walls and floor. Detailed with minimalist precision, the frameless, transparent glazing draws the surrounding environment inside. The architect explains that the two-tone exterior cladding of black-toned stucco and white-painted sheet metal is inspired by the yin-yang—symbol of a balanced whole.
More information at skywavehouse.com, www.domusweb.it, www.homedsgn.com and cosciaday.com.