International Volvo Photo Locations Part 225


Bixby Creek Bridge, also known as Bixby Bridge, on the Big Sur coast of California, is one of the most photographed bridges in California due to its aesthetic design, "graceful architecture and magnificent setting." It is a reinforced concrete open-spandrel arch bridge. The bridge is 190 km south of San Francisco and 21 km south of Carmel in Monterey County along State Route 1.
Prior to the opening of the bridge in 1932, residents of the Big Sur area were virtually cut off during winter due to the often impassable Old Coast Road that led 18 km inland. At its completion, the bridge was built under budget for $199,861 (equivalent to $3.5 million in 2015) and was the longest concrete arch span at 98 m on the California State Highway System. It is one of the tallest single-span concrete bridges in the world.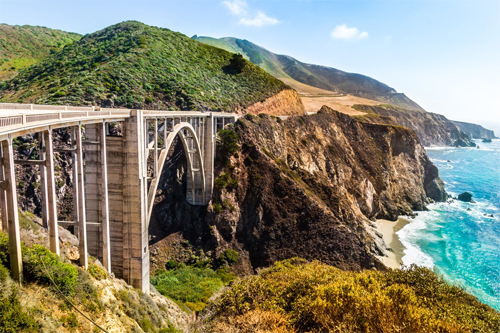 The bridge is "one of the most photographed features on the American West Coast" due to its pleasing aesthetic design and because of its location along the scenic Central Coast of California, and has frequently been used in automobile commercials. The bridge has become a regional landmark and was used in the opening sequences of the television series Then Came Bronson, the films Play Misty for Me and The Sandpiper. The bridge was also in the seventeenth episode of the first season of the NBC's show Heroes ("Company Man"), even though the scene was set in Texas. The bridge figures prominently in posters and other publicity material of the Big Sur International Marathon. An outline image of the bridge forms the logo for Central Coast ABC, the area's ABC Television Network affiliate on KSBW-TV (Channel 8.2).
More information at en.wikipedia.org and www.visitcalifornia.com.