International Volvo Photo Locations Part 226


Grand Lower Ave or Lower Grand is a underground part of Grand Avenue in Downtown Los Angeles, California, USA.
Grand Avenue is a major north-south thoroughfare in Los Angeles, California. In 2007, a $3 billion Grand Avenue Project was proposed to revive Downtown Los Angeles.
Originally called Charity Street (or Calle de la Caridad in Spanish), it is located just east of Hope Street, but contrary to myth, there was never a corresponding Faith Street, representing the trinity of virtue, "Faith, Hope and Charity." Olive Street (or Calle de Aceituna in Spanish) is situated to the east of Grand Street instead. Charity Street was renamed Grand by the Los Angeles City Council on February 15, 1887.
The Grand Avenue Project is a project currently under development with Grand Park, connecting the Music Center and City Hall, having opened in 2012. The Broad Museum and an apartment tower are under construction which will be linked by a public outdoor plaza.
In the 1984 sci-fi movie classic The Terminator, there was a famous scene with the Terminator chasing through this underground street.
In Entourage, the boys are back for even more designer GQ style, beautiful women, and Hollywood power lunches. And that takes place with Vincent Chase (Adrian Grenier) and Ari (Jeremy Piven) all over LA.. like Grand Avenue. It's a major north-south thoroughfare in Los Angeles, California. Scroll down to see more film locations identifed from Entourage.
In the movie "The Soloist" Jamie Fox plays a homeless man who lives on the streets of Los Angeles. Scenes of this movie were shot in this underground street. In the movie Lower Grand was a busy main street, normally the is empty. Hardly anyone goes down to Lower Grand. Usually it's only the the business men in their nice cars who are going into the parking garages.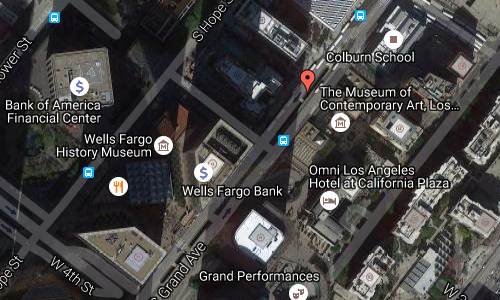 More information at en.wikipedia.org and www.ladowntownnews.com.