Volvo Photo Locations Part 238


Ingareds herrgård is stately lakeside mansion on Sävelången built anno 1890. The property is reached via a beautiful avenue that runs up to the gravel courtyard. Once inside, one is greeted by the grand hall, which rises to the roof ridge, and a splendid open fireplace. The library, billiard room, dining room and salon have views across the park-like garden, which meets all requirements. A spacious kitchen and pantry lie adjacent. The first floor currently houses four bedrooms and three offices, as well as a bathroom and WC. The attic conversion provides a large living room and two bedrooms, one with an open fireplace. The basement is divided into several storage spaces, including a cold store, and has ample space for additions such as a gym or home cinema. The 250 m2 garage has five doors on two levels and provides ample space for any hobby activity. The garage is controlled using smart technology. On the shoreline there is a sandy beach with private beach hut with sauna. Ingared is approximately 25 minutes from Göteborg. The house is privately owned.
During the late 1800s, Ingared was basically just a road crossing on a ridge with an inn, gardens, barns, and a manor located by the lake Sävelången. In 1975, Ingared had 393 inhabitants and in 2020 there were 2380 people here and we see an ever-increasing interest in settling here.
In the mid-1970s, the town began to be built up with housing estates and service buildings in the form of a library, primary and middle school, kindergarten, sports hall and shops, which have blossomed during the 1990s. During the early 2000s, Hemsjögården was built on Ingared's main street, Ingaredsgatan, which is a modern retirement home.
During the late 19th century, the Ture Berg family, who owned large lands in the area, lived at Ingareds Gård. The manor building itself was built in 1896 but underwent a major renovation in 1909. It was then bought by director Forshell with his family, who had five children. Viktor Forshell was director of Sweden's Förenade Konservfabriker.
Viktor Forshell sold Ingared's farm sometime around 1948 to Director Einar Hellsén, who founded and became managing director of Aktiebolaget Bil & Truck in 1929. The entrance to the manor building was the background for the brochure at the launch of the new exclusive Volvo 164. Director Hellsén was also consul general for Honduras in Gothenburg from 1950. At the time of the takeover, a very large and extensive renovation of the entire property, both exterior and interior, was carried out.
In 1971 the property was sold to a trader in Alingsås who in turn sold it in 1996 to the current owner. The current owner has carried out extensive maintenance when taking over.
In 2022, Ingareds herrgård came on the market for sale by Eklund Stockholm New York real estate brokerage.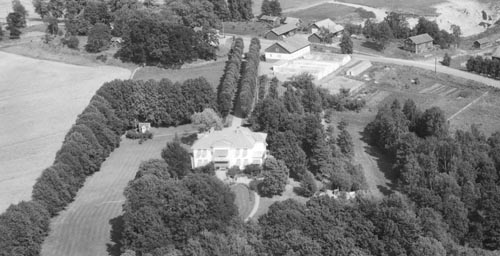 Ingared is a locality in the municipality of Alingsås located about eleven kilometers southwest of the main town along the old road towards Göteborg, Sävelångens at the northwest end, not far from today's European road E20 and Hemsjö with its famous large church. Ingared consists almost exclusively of residential areas, where the majority commute from there to work in Alingsås, Lerum and Göteborg.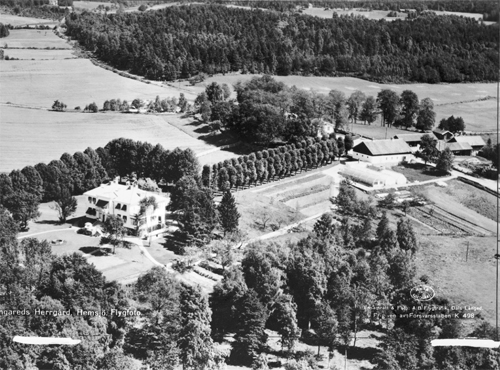 In summer there is a nice beach in Ingared with a jetty and a diving tower.
Ingared was from being little more than a crossroads on top of a ridge, with gästgivieri, gardens, barns, country house and lake to a proper place in the mid-70s, when the entire residential area was built on the surrounding meadows. Along with the necessary service buildings in the form of libraries, elementary school, kindergarten, child care centers, sports and business – deal – they filled in the sparse buildings that had already been in the hilly surroundings south of local road to Norsesund. Since then, it has continuously added new blocks, mainly north and northwest of the local road.
More information at esny.se/objekt/ingaredsgatan-17 and sv.wikipedia.org.
Thanks to Per Pettersson, who found this Volvo Photo Location!