Volvo Photo Locations Part 239


Di-edersekvensen is a sculpture at Diagonalen on Lindholmen in Göteborg, Sweden.
Di-edersekvensen consists of 12 parts painted steel plates created in 1968-69 and placed at Lindholmen Kaj in 1994.
The artist behind the art piece is Gert Olof Marcus, born November 10, 1914 in Gross Borstel in Hamburg in Germany. He died on December 23, 2008 in Stockholm Gert Marcus was a Swedish painter and sculptor.
Gert Marcus was born in Germany, as the son of a German lawyer Paul Marcus and Swedish Hilda Maria Dahl. He was initially a painter and was interested in how to create distance and volume only with pure colors, ie, without mixing them with black or white.
Apart from a few months spent in 1936-37 at Otte Sköld painting school and a period at the Ateneum in Helsinki 1937-38 was Gert Marcus self-taught. He became one of Sweden's most consistent Concretists, although he refrained from all isms. He lived in Stockholm since 1933, but for long periods he spent in Menton, Brittany, Paris and Massa Carrara in Italy.
He showed an early interest in Paul Cézanne's paintings, how to create spatial and volume using only pure colors and without the use of Renaissance perspective. This led to Gert Marcus developed a color theory that he would be faithful to his entire oeuvre. In 1955 he met in Paris artists Michel Seuphor, Nicolas Schöffer and Georges Vantongerloo. With the latter, Marcus developed a long and fruitful friendship. The correspondence between them was published in 2000 by the Academy of Arts.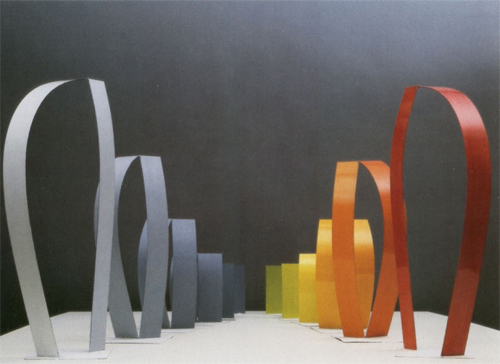 During the 1950s, Gert Marcus several large assignments. He made a mosaic wall in St. Michael's chapel in Mora in 1954, a wall mosaic in the Stockholm police headquarters in 1957, a choir wall in Vantörs Church in Stockholm and a wall mosaic of glass breakage in the Sergel theater foyer 1959. The latter is removed with the intention to set up in a future museum.
More information at www.gertmarcus.se and sv.wikipedia.org.