Places to visit:
The High Line
Gansevoort Street to West 34th Street (between 10th and 12th Avenues), New York
www.thehighline.org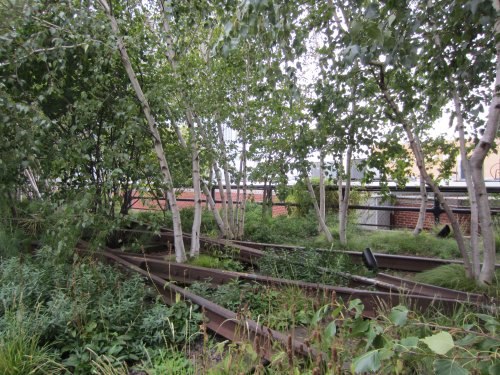 The High Line (also known as the High Line Park) is a 2.33 km New York City linear park built in Manhattan on an elevated section of a disused New York Central Railroad spur called the West Side Line.
The High Line Park is built on the disused southern portion of the West Side Line running to the Lower West Side of Manhattan. An unopened spur extends above 30th Street to Tenth Avenue.
Repurposing of the railway into an urban park began construction in 2006, with the first phase opening in 2009, and the second phase opening in 2011. The third and final phase officially opened to the public on September 21, 2014. A short stub above Tenth Avenue and 30th Street is still closed, but will open by 2017, once the Hudson Yards Redevelopment Project is completed. The project has spurred real estate development in the neighborhoods that lie along the line, and increased real estate values and prices along the route, as a "halo effect". Today, the park gets nearly 5 million visitors annually.
Whitney Museum of American Art
99 Gansevoort Street, New York
whitney.org
The Whitney Museum of American Art – known informally as the "Whitney" – is an art museum located in Manhattan. It was founded in 1931 by Gertrude Vanderbilt Whitney (1875–1942), a wealthy and prominent American socialite and art patron after whom the museum is named.
The Whitney focuses on 20th- and 21st-century American art. Its permanent collection comprises more than 21,000 paintings, sculptures, drawings, prints, photographs, films, videos, and artifacts of new media by more than 3,000 artists. It places a particular emphasis on exhibiting the work of living artists for its collection as well as maintaining an extensive permanent collection containing many important pieces from the first half of the last century. The museum's Annual and Biennial exhibitions have long been a venue for younger and less well-known artists whose work is showcased there.
The museum is located from May 1, 2015 in a new building designed by Renzo Piano located at 99 Gansevoort Street at Washington Street in the West Village/Meatpacking District neighborhoods of Lower Manhattan.
Chelsea Market
75 9th Avenue (between 15th and 16 Streets), New York
www.chelseamarket.com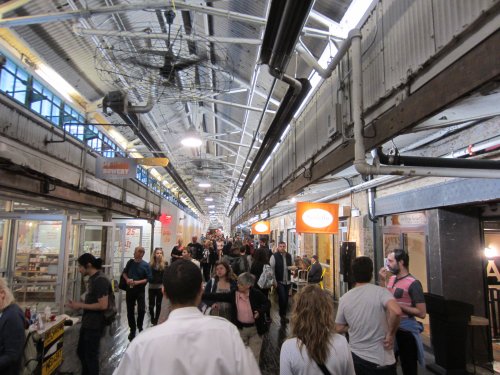 Chelsea Market is a food hall, shopping mall, office building and television production facility located in the Chelsea neighborhood of the borough of Manhattan, in New York City. It was built in the former National Biscuit Company (Nabisco) factory complex where the Oreo cookie was invented and produced.
Cooper Hewitt, Smithsonian Design Museum
2 E 91st St, New York
www.cooperhewitt.org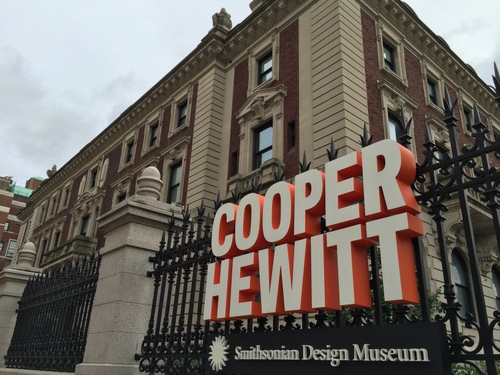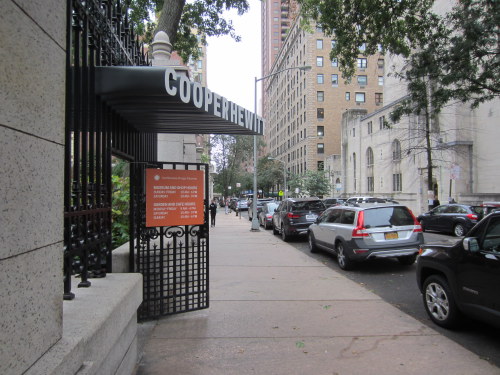 Cooper Hewitt, Smithsonian Design Museum is a design museum located in the Upper East Side's Museum Mile in Manhattan, New York City. It is one of nineteen museums that fall under the wing of the Smithsonian Institution and is one of three Smithsonian facilities located in New York City, the other two being the George Gustav Heye Center in Bowling Green and the Archives of American Art New York Research Center in the Flatiron District. It is the only museum in the United States devoted to historical and contemporary design. Its collections and exhibitions explore approximately 240 years of design aesthetic and creativity.
Silverstein Family Park
Greenwich St, New York
www.wtcevents.com
The Silverstein Family Park is open plaza featuring an iconic Jeff Koons sculpture and water features as well as trees and greenery that provide beautiful, naturally-shaded sitting areas with an array of comfortable benches. The Park affords plenty of space for a stage, tents, booths, etc. and serves as a calm and peaceful refuge from the busy Downtown area, located at the base of 7 World Trade Center.
Jeff Koons Balloon Flower (Red) is one of Koons' signature highly polished, public stainless steel sculptures. Red, shiny, and shooting water in summer, it's the perfect place to take a breather if you've navigated the tourist heavy South Street Seaport.
9/11 Memorial
180 Greenwich St, New York
www.911memorial.org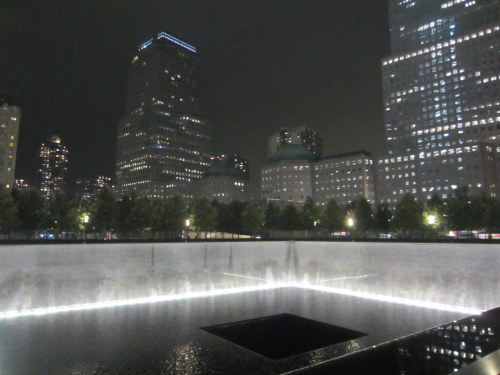 The National September 11 Memorial & Museum (known separately as the 9/11 Memorial and 9/11 Memorial Museum) are the principal memorial and museum, respectively. They commemorate the September 11, 2001 attacks, which killed 2,977 victims, and the World Trade Center bombing of 1993, which killed six. The memorial is located at the World Trade Center site, the former location of the Twin Towers, which were destroyed during the September 11 attacks. It is operated by a non-profit corporation whose mission is to raise funds for, program, own, and operate the memorial and museum at the World Trade Center site.
One World Trade Center
285 Fulton St, New York
www.wtc.com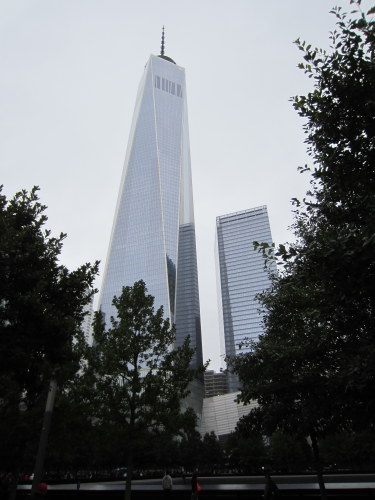 One World Trade Center (also known as the Freedom Tower, 1 World Trade Center, One WTC and 1 WTC) is the main building of the rebuilt World Trade Center complex in Lower Manhattan, New York City. It is the tallest building in the Western Hemisphere, and the sixth-tallest in the world. The supertall structure has the same name as the North Tower of the original World Trade Center, which was completely destroyed in the terrorist attacks of September 11, 2001. The new skyscraper stands on the northwest corner of the 16-acre (6.5 ha) World Trade Center site, on the site of the original 6 World Trade Center. The building is bounded by West Street to the west, Vesey Street to the north, Fulton Street to the south, and Washington Street to the east.
Westfield World Trade Center
185 Greenwich St, New York
www.westfield.com
Westfield World Trade Center is a shopping center at the World Trade Center complex which is operated and managed by Westfield Corporation. The mall opened on August 16, 2016. It replaces an earlier shopping center called The Mall at the World Trade Center, which was located in the concourse area of the original World Trade Center until it was destroyed on September 11, 2001.
Oculus – World Trade Center station
21 Dey St, New York
www.panynj.gov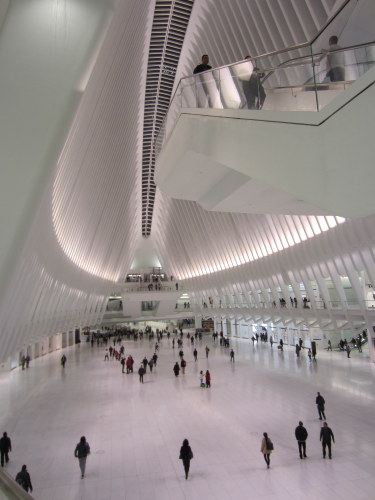 Oculus World Trade Center is a terminal station in Lower Manhattan for PATH rail service. It was originally opened on July 19, 1909, as Hudson Terminal, but was torn down, rebuilt as World Trade Center, and re-opened July 6, 1971. Following the September 11, 2001 attacks, a temporary station opened in 2003. This station serves as the terminus for the Newark – World Trade Center and Hoboken – World Trade Center routes. The main station house, the Oculus, opened on March 4, 2016, and the terminal was renamed the World Trade Center Transportation Hub, or World Trade Center for short.
FDNY Ladder Co. 10
124 Liberty Street, New York
www.fdnytenhouse.com
Central Park
Middle-upper Manhattan, New York
www.centralparknyc.org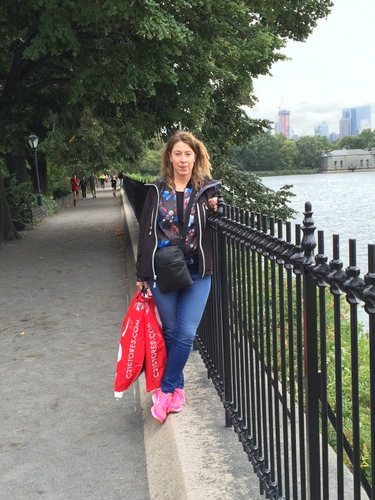 Central Park is an urban park in middle-upper Manhattan, within New York City. Central Park is the most visited urban park in the United States, with 40 million visitors in 2013. It is also one of the most filmed locations in the world.
St. Patrick's Cathedral
5th Avenue (between 50th and 51st Streets), New York
saintpatrickscathedral.org
The Cathedral of St. Patrick (commonly called St. Patrick's Cathedral) is a decorated Neo-Gothic-style Roman Catholic cathedral church in the United States and a prominent landmark of New York City. It is the seat of the archbishop of the Roman Catholic Archdiocese of New York, and a parish church, located on the east side of Fifth Avenue between 50th and 51st Streets in Midtown Manhattan, directly across the street from Rockefeller Center and specifically facing the Atlas statue.
One Dag Hammarskjold Plaza
1 Dag Hammarskjold Plaza, New York
www.rubenco.com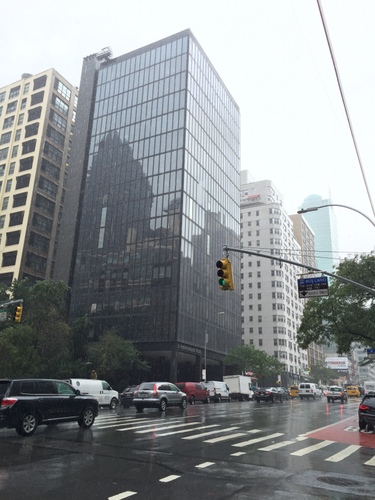 One Dag Hammarskjold Plaza is located at 885 2nd Avenue, New York City, New York. It is a 191 m tall skyscraper in New York City, New York. It was completed in 1972 and has 49 floors. It has 69,675 m² of floor area and is the 65th tallest building in New York. Its main usage is office space. Canada, France, Italy, the United Kingdom, Spain, Chile, Sweden, Belgium, Ireland, Austria, Turkey and Denmark have their permanent missions to the United Nations located in this building.
United Nations, Headquarters in New York
405 East 42nd Street, New York
www.un.org and visit.un.org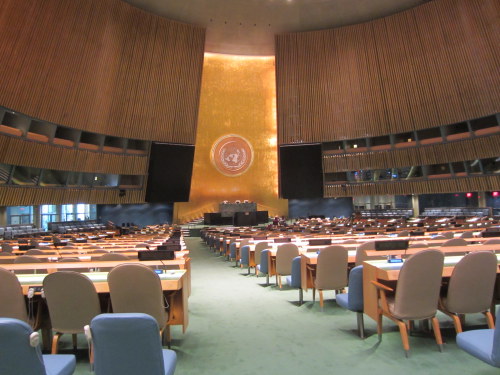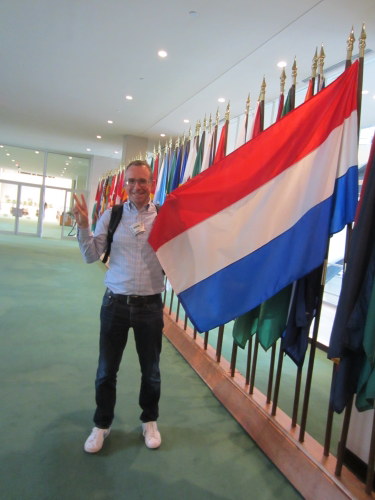 The headquarters of the United Nations is a complex in New York City designed by Brazilian architect Oscar Niemeyer. The complex has served as the official headquarters of the United Nations since its completion in 1952. It is located in the Turtle Bay neighborhood of Manhattan, on spacious grounds overlooking the East River. Its borders are First Avenue on the west, East 42nd Street to the south, East 48th Street on the north and the East River to the east. The term "Turtle Bay" is occasionally used as a metonym for the UN headquarters or for the United Nations as a whole.
Grand Central Terminal
89 E 42nd St, New York
www.grandcentralterminal.com
Grand Central Terminal is a commuter, rapid transit (and former intercity) railroad terminal at 42nd Street and Park Avenue in Midtown Manhattan. Built by and named for the New York Central and Hudson River Railroad in the heyday of American long-distance passenger rail travel, it covers 48 acres and has 44 platforms, more than any other railroad station in the world. Its platforms, all below ground, serve 41 tracks on the upper level and 26 on the lower, though the total number of tracks along platforms and in rail yards exceeds 100.
Grand Central Terminal has intricate designs both on its inside and outside. In addition, it contains a vast interior main concourse. The terminal is one of the world's most visited tourist attractions, with 21.9 million visitors in 2013.
New York Public Library
5th Ave at 42nd St, New York
www.nypl.org
The New York Public Library (NYPL) is a public library system in New York City. With nearly 53 million items, the New York Public Library is the second largest public library in the United States (behind the Library of Congress), and fourth largest in the world. It is an independently managed, nonprofit corporation operating with both private and public financing.
The library was developed in the 19th century, founded from an amalgamation of grass-roots libraries, and social libraries of bibliophiles and the wealthy, aided by the philanthropy of the wealthiest Americans of their age.
The Museum of Modern Art
11 West 53rd Street, New York
www.moma.org
he Museum of Modern Art (MoMA) is an art museum located in Midtown Manhattan in New York City, on 53rd Street between Fifth and Sixth Avenues.
MoMA has been important in developing and collecting modernist art, and is often identified as one of the largest and most influential museums of modern art in the world. MoMA's collection offers an overview of modern and contemporary art, including works of architecture and design, drawing, painting, sculpture, photography, prints, illustrated books and artist's books, film, and electronic media.
Solomon R. Guggenheim Museum
1071 5th Ave, New York
www.guggenheim.org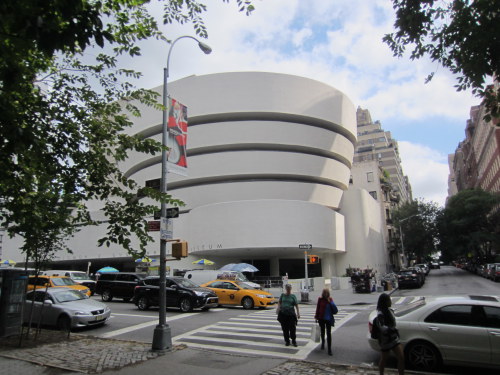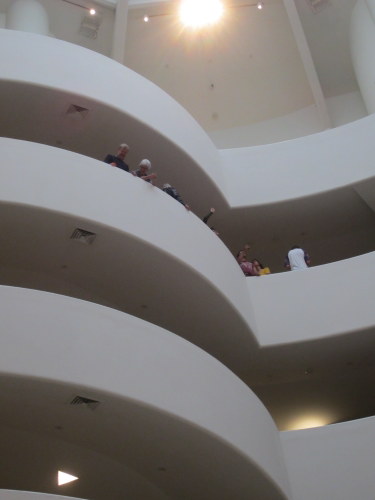 The Solomon R. Guggenheim Museum, often referred to as The Guggenheim, is an art museum located at 1071 Fifth Avenue on the corner of East 89th Street in the Upper East Side neighborhood of Manhattan, New York City. It is the permanent home of a continuously expanding collection of Impressionist, Post-Impressionist, early Modern and contemporary art and also features special exhibitions throughout the year.
In 1959, the museum moved from rented space to its current building, a landmark work of 20th-century architecture. Designed by Frank Lloyd Wright, the cylindrical building, wider at the top than the bottom, was conceived as a "temple of the spirit". Its unique ramp gallery extends up from ground level in a long, continuous spiral along the outer edges of the building to end just under the ceiling skylight. The building underwent extensive expansion and renovations in 1992 (when an adjoining tower was built). The museum's collection has grown organically, over eight decades, and is founded upon several important private collections, beginning with Solomon R. Guggenheim's original collection.
Zuccotti Park
Liberty St and Broadway, New York
en.wikipedia.org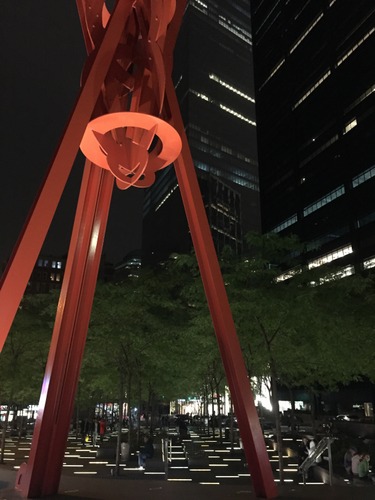 Zuccotti Park, formerly called Liberty Plaza Park, is a 3,100 m2 publicly accessible park in Lower Manhattan. The park was created in 1968 by Pittsburgh-based United States Steel, after the property owners negotiated its creation with city officials. It was named Liberty Plaza Park because it was situated beside One Liberty Plaza, which was located between Broadway, Trinity Place, Liberty Street, and Cedar Street. The park's northwest corner is across the street from Four World Trade Center. It has been popular with local tourists and financial workers.
The park was heavily damaged in the September 11 attacks and subsequent recovery efforts of 2001. The plaza was later used as the site of several events commemorating the anniversary of the attacks. After renovations in 2006, the park was renamed by its current owners, Brookfield Office Properties, after company chairman John Zuccotti. In 2011, the plaza became the site of the Occupy Wall Street protest camp, during which activists occupied the plaza and used it as a staging ground for their protests throughout Financial District, Manhattan.
Trinity Church
75 Broadway, New York
www.trinitywallstreet.org
Trinity Church, at 75 Broadway in lower Manhattan, is a historic, active, well-endowed parish church in the Episcopal Diocese of New York. Trinity Church is near the intersection of Wall Street and Broadway, in New York City, New York. During the September 11, 2001 attacks, as the 1st Tower collapsed, people took refuge from the massive debris cloud inside the church. Falling wreckage from the collapsing tower knocked over a giant sycamore tree that had stood for nearly a century in the churchyard of St. Paul's Chapel, which is part of Trinity Church's parish and is located several blocks north of Trinity Church. Sculptor Steve Tobin used its roots as the base for a bronze sculpture titled Trinity Root which stood in front of the church at the corner of Wall Street and Broadway until December, 2015 when it was moved by the church to its conference center in Connecticut. The move was controversial as the sculpture was seriously damaged and the artist has objected to its eviction.
New York Stock Exchange
11 Wall St, New York
www.nyse.com
The New York Stock Exchange, is an American stock exchange located at 11 Wall Street, Lower Manhattan. It is the world's largest stock exchange by market capitalization of its listed companies at US$19.3 trillion as of June 2016. The average daily trading value was approximately US$169 billion in 2013. The NYSE trading floor is located at 11 Wall Street and is composed of 21 rooms used for the facilitation of trading. The main building and the 11 Wall Street building were designated National Historic Landmarks in 1978.
Times Square
7th St and Broadway, New York
www.timessquarenyc.org
Times Square is a major commercial intersection and neighborhood in Midtown Manhattan, at the junction of Broadway and Seventh Avenue, and stretching from West 42nd to West 47th Streets. Brightly adorned with billboards and advertisements, Times Square is sometimes referred to as The Crossroads of the World, The Center of the Universe, the heart of The Great White Way, and the "heart of the world". One of the world's busiest pedestrian intersections, it is also the hub of the Broadway Theater District and a major center of the world's entertainment industry. Times Square is one of the world's most visited tourist attractions, drawing an estimated 50 million visitors annually. Approximately 330,000 people pass through Times Square daily, many of them tourists, while over 460,000 pedestrians walk through Times Square on its busiest days.
Bryant Park
6th Avenue (between W 40th St and W 42th St), New York
bryantpark.org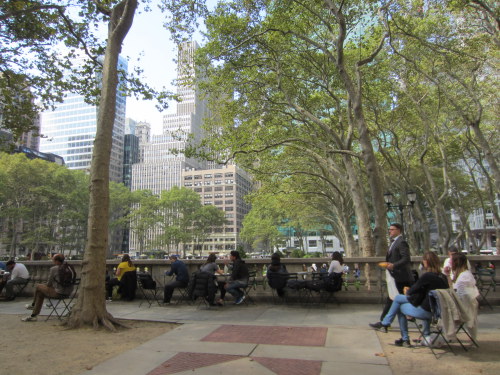 Bryant Park is a 38,860 m2 privately managed public park located in the New York City borough of Manhattan. Although technically the Main Branch of the New York Public Library is located within the park, effectively it forms the park's functional eastern boundary, making Sixth Avenue the park's primary entrance. Bryant Park is located entirely over an underground structure that houses the library's stacks, which were built in the 1980s when the park was closed to the public and excavated; the new library facilities were built below ground level while the park was restored above it. Even though it is part of the New York City Department of Parks and Recreation, Bryant Park is managed by the private not-for-profit corporation Bryant Park Corporation. The park is cited as a model for the success of public-private partnerships.
Flatiron Building
175 5th Ave, New York
en.wikipedia.org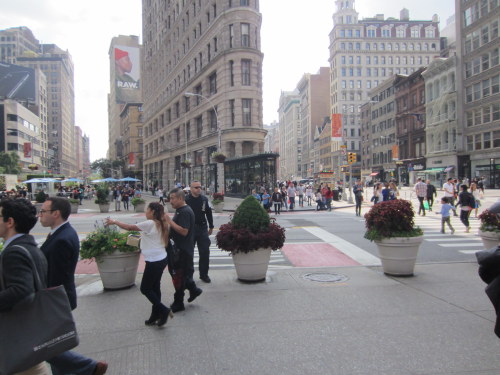 The Flatiron Building, originally the Fuller Building, is a triangular 22-story steel-framed landmarked building located at 175 Fifth Avenue in the borough of Manhattan, and is considered to be a groundbreaking skyscraper. Upon completion in 1902, it was one of the tallest buildings in the city at 20 floors high and one of only two skyscrapers north of 14th Street – the other being the Metropolitan Life Insurance Company Tower, one block east. The building sits on a triangular block formed by Fifth Avenue, Broadway, and East 22nd Street, with 23rd Street grazing the triangle's northern (uptown) peak. As with numerous other wedge-shaped buildings, the name "Flatiron" derives from its resemblance to a cast-iron clothes iron. The neighborhood around it is called the Flatiron District after its signature building, which has become an icon of New York City.
Lincoln Center for the Performing Arts and Hearst Plaza
Lincoln Center Plaza, New York
www.lincolncenter.org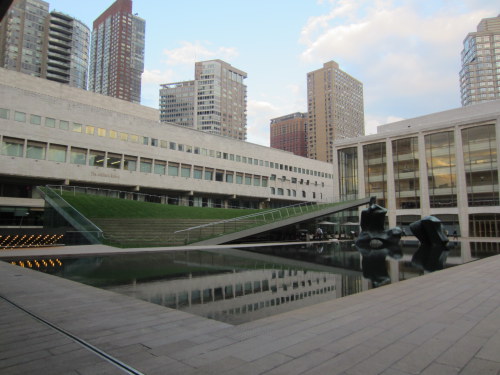 Lincoln Center for the Performing Arts is a complex of buildings in the Lincoln Square neighborhood of the borough of Manhattan in New York City. It hosts many notable performing arts organizations, which are nationally and internationally renowned, including the New York Philharmonic, the Metropolitan Opera, and the New York City Ballet.
Hearst Plaza consists of the Paul Milstein Pool and Terrace, graceful trees of Barclays Capital Grove which flank the square, shading guests as they stroll along the promontory. Overhead, the dramatic curves of the sown Laurie M. Tisch Illumination Lawn provide comfortable seating and aerial views of the Lincoln Center campus. In the pool, you'll find Henry Moore's Reclining Figure sculpture.
Verdi Square
Amsterdam Ave & W. 73 St., New York
www.nycgovparks.org
Verdi Square is a small triangle of land enclosed by a railing, located on Manhattan's Upper West Side. On the north side, the park is enclosed by the Florentine Renaissance palazzo of the Central Savings Bank, now Apple Bank for Savings; that trapezoidal structure, with a vast vaulted Roman banking hall 65 feet high, was designed by York and Sawyer and built in 1926–28.
Brooklyn Bridge Park
334 Furman St, Brooklyn, NY
www.brooklynbridgepark.org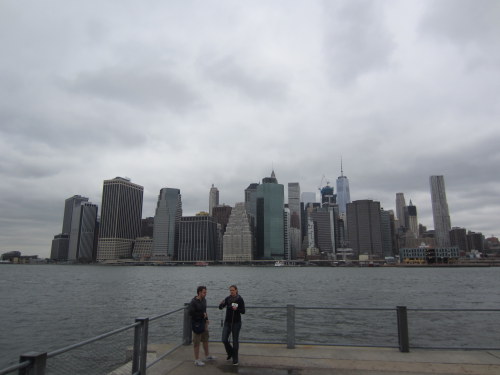 Brooklyn Bridge Park is an 85-acre waterfront park on the Brooklyn side of the East River in New York City. The park has revitalized 2.1 km of Brooklyn's post-industrial waterfront from Atlantic Avenue in the south, under the Brooklyn Heights Promenade and past the Brooklyn Bridge, to Jay Street north of the Manhattan Bridge. The site includes Brooklyn Piers 1–6, the historic Fulton Ferry Landing, and the preexisting Empire–Fulton Ferry and Main Street Parks. Two Civil War-era structures, Empire Stores and the Tobacco Warehouse, will also be integrated into the park.
Brooklyn Bridge Park is overseen by Brooklyn Bridge Park Corporation, a not-for-profit entity responsible for the planning, construction, maintenance, and operation of the park. The Corporation's mission is to "create and maintain a world class park that is a recreational, environmental and cultural destination enjoyed by residents of, and visitors to, New York City".
Brooklyn Bridge
New York City (Civic Center, Manhattan – Dumbo/Brooklyn Heights, Brooklyn)
en.wikipedia.org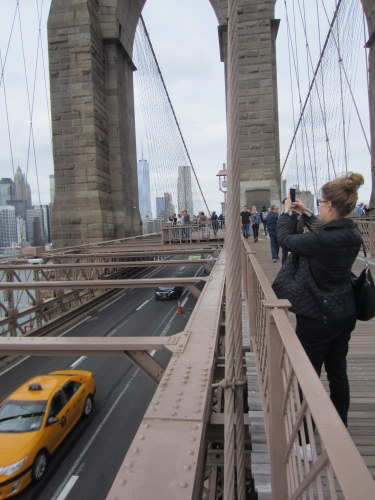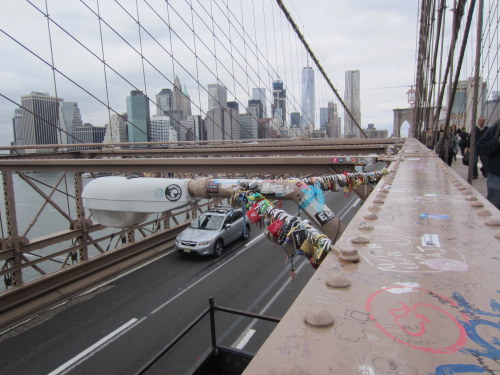 The Brooklyn Bridge is a hybrid cable-stayed/suspension bridge in New York City and is one of the oldest bridges of either type in the United States. Completed in 1883, it connects the boroughs of Manhattan and Brooklyn by spanning the East River. It has a main span of 486.3 m and was the first steel-wire suspension bridge constructed. It was originally referred to as the New York and Brooklyn Bridge and as the East River Bridge, but it was later dubbed the Brooklyn Bridge. Since its opening, it has become an icon of New York City and was designated a National Historic Landmark in 1964.
Manhattan Bridge
New York City (Manhattan-Brooklyn)
en.wikipedia.org
The Manhattan Bridge is a suspension bridge that crosses the East River in New York City, connecting Lower Manhattan at Canal Street with Downtown Brooklyn at the Flatbush Avenue Extension. The main span is 448 m long, with the suspension cables being 983 m long. The bridge's total length is 2,089 m.
The bridge opened to traffic on December 31, 1909. It was designed by Leon Moisseiff, and is noted for its innovative design. As the first suspension bridge to employ Josef Melan's deflection theory for the stiffening of its deck, it is considered to be the forerunner of modern suspension bridges and this design served as the model for many of the long-span suspension bridges built in the first half of the twentieth century. The Manhattan Bridge was also the first suspension bridge to utilize a Warren truss in its design.
DUMBO (Down Under Manhattan Bridge Overpass)
dumbo.is & dumbonyc.com
Dumbo (or DUMBO, short for Down Under the Manhattan Bridge Overpass) is a neighborhood in the New York City borough of Brooklyn.
The area was originally a ferry landing, characterized by 19th and early 20th century industrial and warehouse buildings, Belgian block streets, and its location on the East River by the imposing anchorage of the Manhattan Bridge. The entirety of Dumbo was bought by developer David Walentas and his company Two Trees Management in the late 20th century and remade into an upscale residential and commercial community first becoming a haven for artist galleries and presently a center for technology startups. The large community of tech startups earned DUMBO the moniker as "the center of the Brooklyn Tech Triangle". In that time, Dumbo has become Brooklyn's most expensive neighborhood, as well as New York City's fourth richest community overall, due in part to the large concentration of technology startups, its close proximity to Manhattan and the prevalence of converted industrial buildings into spacious luxury residential lofts. The neighborhood currently serves as the corporate headquarters for e-commerce retailer Etsy and home furnishing stores company West Elm.
St. Ann's Warehouse
45 Water St, Brooklyn, NY
stannswarehouse.org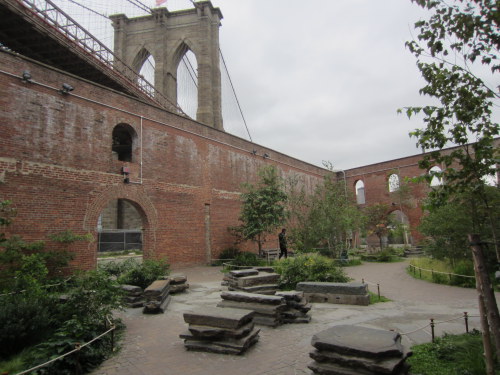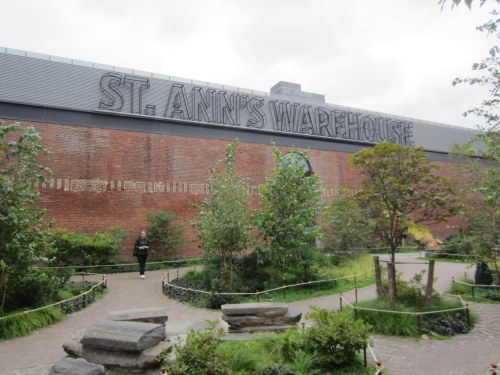 St. Ann's Warehouse (SAW) is a performing arts institution in Brooklyn. Formerly the Church of St. Ann and the Holy Trinity on Montague Street, in 1980 the site was converted into a venue for classical music. Initially known as Arts at St. Ann's, proceeds from the stage's performances were used to aid in renovating the building.
St. Ann's Warehouse moved to the historic Tobacco Warehouse in Brooklyn Bridge Park in 2015.
Places to eat:
Friedman's Restaurant
Located in Chelsea Market, 75 9th Avenue, New York
www.friedmansrestaurant.com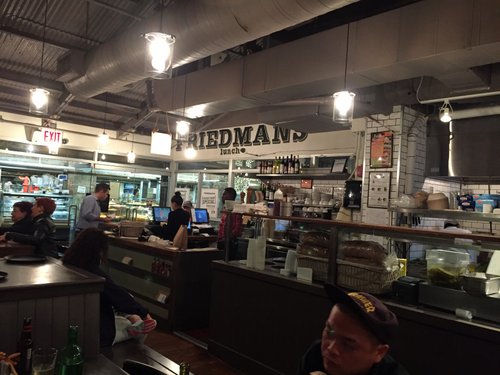 Friedman's is a family run business, which operates locations throughout New York City. Friedmans was named after the famous economist Milton Friedman who popularized the phrase "there ain't no such thing as a free lunch." This phase has gone on to be used in science, economics, finance, statistics, technology, sports, & now food. However, to put it simply "to get one thing we like, we usually have to give up another thing we like."
The first location opened in 2009 in the Chelsea Market.
Our mantra is simple. "Eat good food" and this is what we strive to deliver to our guests. For us, it has two meanings. Firstly, eat food that tastes good. Secondly, be proud of the food you serve. We know where our food comes from. We communicate regularly with our farmers and are proud to serve antibiotic free meats & local vegetables. Our mission is for you to love, respect, & enjoy, not only the food you serve, but also the team you work with.
Blue Smoke Battery Park City
255 Vesey St, New York
www.bluesmoke.com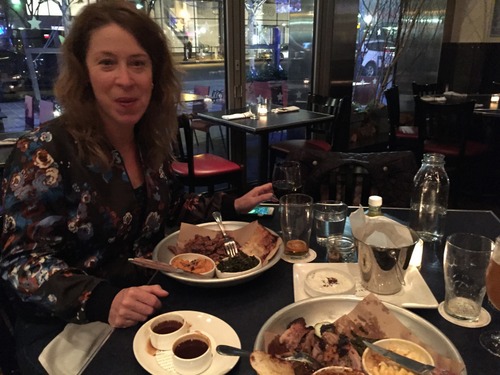 Founded by Danny Meyer's Union Square Hospitality Group, Blue Smoke celebrates the diverse culinary traditions of the American South with a range of soulful barbecue classics, alongside revived family recipes and new favorites from Executive Chef Jean-Paul Bourgeois. An all-American beverage menu complements the Southern cooking with a wide range of whiskeys, wines, cocktails, and craft beers from coast to coast.
Blue Smoke's second location opened in the heart of Battery Park City in 2012, where guests can enjoy outdoor seating and special menu items like Southern Table, a four-course family-style feast.
Momofuku Nishi
232 Eight Avenue, New York
nishi.momofuku.com
Momofuku Nishi (which means "west") opened in January 2016 and is Momofuku's first restaurant on the west side. Located in New York City's Chelsea neighborhood, guests can choose from a la carte offerings for lunch or dinner. Nishi's Smoked Bo Ssäm, Lobster Chow Mein, and Fried Chicken meals meant for sharing are also available for dinner. Walk-ins for lunch, dinner, and weekend brunch are encouraged.
Eataly Le Verdure
200 Fifth Avenue, New York
www.eataly.com
Just steps away from our abundant produce department, Le Verdure is our vegetable-centric restaurant that honors seasonal local ingredients with preparation that focuses on flavor. Every day, our chefs create delicious and satisfying dishes that are inspired by our local farms' harvest.
Tables are available on a first-come, first-served basis; we do not accept reservations.
FIKA 52 & LEX
600 Lexington Avenue, New York
www.fikanyc.com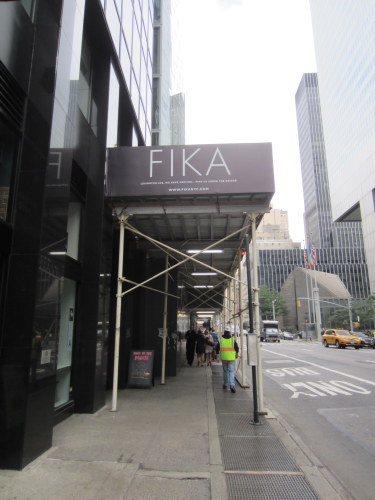 In September of 2006, FIKA opened its doors to its very first location at Central Park South, on Manhattan's 58th street. Swedish tradition and appreciation of a coffee-centric lifestyle served as inspiration for founder and co-owner Lars Åkerlund who saw an immediate love connection between Sweden and New York.
Tarallucci e Vino
9 East 90th Street @ Cooper Hewitt, Smithsonian Design Museum
www.taralluccievino.net
Our new café at Cooper Hewitt, Smithsonian Design Museum, along with the adjoining Arthur Ross garden and terrace, is open daily and is accessible without an admissions ticket. Visitors enter through the new 9 East 90th Street entrance.
"Tarallucci e Vino at Cooper Hewitt is a celebration of both food and design, and I am thrilled to be offering our visitors and our neighbors the delicious cuisine that Tarallucci e Vino is known for."
Le Pain Quotidien – Bryant Park
70 West 40th Street (between Fifth & Sixth), New York
www.lepainquotidien.com
Across the street from Bryant Park and in the center of New York's lively midtown district, our store is one of the busiest in the Le Pain Quotidien family! With festivals and events happening almost daily in the park, and countless businesses nearby, we have the privilege of serving our rustic Belgian fare to a diverse cross-section of the city. At the front of the restaurant, tall standing tables invite diners in a hurry to enjoy a quick grab & go meal while our long, high-ceilinged dining room accommodates Midtown lunchers who prefer to linger a little longer over a tartine or nourishing salad.
Bread & Butter
757 3rd Avenue (2nd & 3rd Ave), New York
www.breadbutternyc.com
Bread and Butter is a very popular and affordable dining choices with multiple locations throughout Manhattan. Our menu has a wide selection of foods from American, Italian, Mexican, Japanese and Korean cuisine that made fresh daily. We offer quick and delicious foods that you can order just the way you like them. Bread and Butter is a perfect place for your breakfast and lunch needs. Please come and enjoy our delicious food.
Shopping:
Mood Fabrics
225 W 37th St, New York
www.moodfabrics.com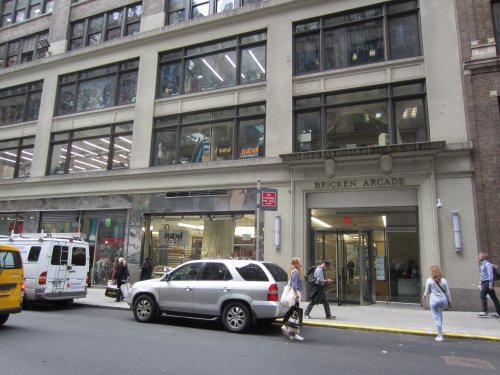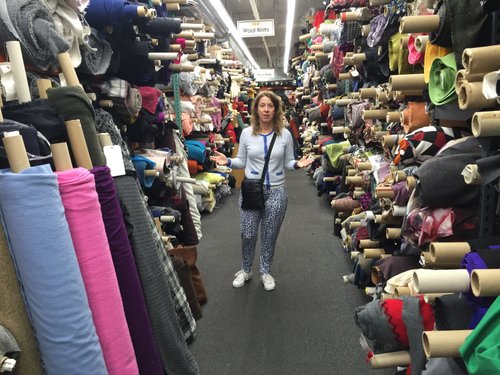 Without question, Mood Fabrics is the number-one shopping destination for fashion fabric in the world: The NYC flagship store alone plays host to more than 1,200 customers every day. Named one of "Fashion's 50 Most Powerful" by The New York Daily News, Mood Fabrics has played a vital role in the fashion world for more than two decades, and has built an impeccable reputation based on honesty, creativity and hard work. The company prides itself on being a family business that is the manifestation of founder Jack Sauma's dream, and a true American success story.
Century 21 Dept. Store
22 Cortlandt Street, New York
c21stores.com
Century 21 is a chain of department stores in the northeastern United States. The largest location is in Lower Manhattan, across the street from the World Trade Center.
Designer Shoe Warehouse
79th and Broadway, New York
www.dsw.com
Designer Shoe Warehouse or DSW is a speciality branded footwear retailer with several large shoe outlets in NYC.
Bloomingdale's
1000 Third Avenue 59th Street and Lexington Avenue, New York
www.bloomingdales.com
Bloomingdale's is an upscale department store owned by Macy's, Inc. It was founded in 1861.
Macy's
151 West 34th Street, New York
www.macys.com
Macy's is a department store owned by Macy's, Inc. It is one of two divisions owned by the company, with the other being Bloomingdale's. Macy's has conducted the annual Macy's Thanksgiving Day Parade in New York City since 1924 and has sponsored the city's annual Fourth of July fireworks display since 1976. Macy's Herald Square is the largest department store in the world. The flagship store covers almost an entire New York City block, features about 1.1 million square feet of retail space, includes additional space for offices and storage, and serves as the endpoint for Macy's annual Thanksgiving Day parade.
Barnes & Noble Booksellers
555 Fifth Avenue, New York
www.barnesandnoble.com
Barnes & Noble, Inc. is a Fortune 500 company, the largest retail bookseller in the United States, and a leading retailer of content, digital media and educational products in the country. The company is known for large retail outlets, many of which contain a café serving Starbucks coffee. Most stores sell books, magazines, newspapers, DVDs, graphic novels, gifts, games, music, and Nook e‑readers and tablets.
Saks Fifth Avenue
611 5th Avenue, New York
www.saksfifthavenue.com
Saks Fifth Avenue is an American luxury department store owned by the oldest commercial corporation in North America, the Hudson's Bay Company. Its main flagship store is located on Fifth Avenue in Midtown Manhattan, New York City.
Places to stay:
The Bryant Park Hotel
40 West 40th Street, New York
bryantparkhotel.com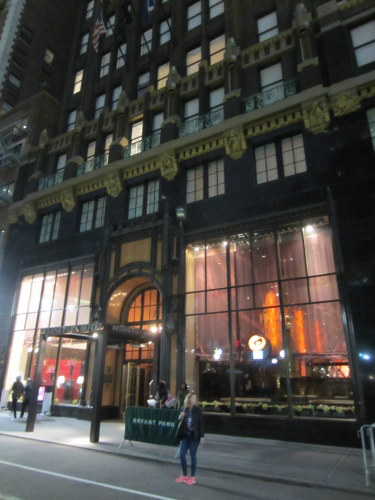 Thw Bryant Park Hotel is located in the American Radiator Building (since renamed to the American Standard Building) and this is a landmark skyscraper located at 40 West 40th Street, in midtown Manhattan. It was conceived by the architects John Howells and Raymond Hood, and built in 1924 for the American Radiator Company. The Bryant Park Hotel has emerged since opening in 2001 as a "Designer Luxury Hotel" receiving countless awards for service and accommodations. The hotel caters to the fashion culturati, Hollywood and Film Industry, as well as cosmopolitans, both native and transient.
Transportation:
Penn Station
www.njtransit.com & www.amtrak.com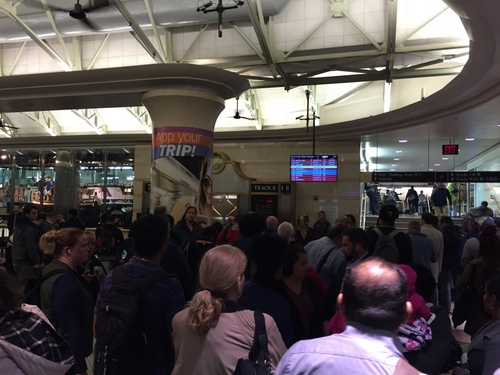 Pennsylvania Station, also known as New York Penn Station or Penn Station, is the main intercity railroad station in New York City. Serving more than 600,000 commuter rail and Amtrak passengers a day, it is the busiest passenger transportation facility in North America. Penn Station is in the midtown area of Manhattan, close to Herald Square, the Empire State Building, Koreatown, and the Macy's department store. Entirely underground, it sits beneath Madison Square Garden, between Seventh Avenue and Eighth Avenue and between 31st and 34th Streets.
Newark Airport Express
newarkairportexpress.com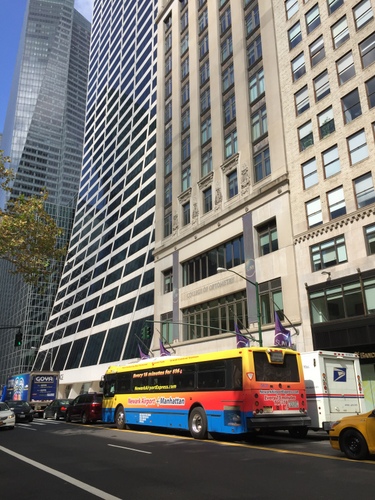 Looking for a way to get to Newark Airport from Manhattan that is quick and affordable? Book your bus ticket with Newark Airport Express and just sit back, relax and enjoy the ride. Direct motorcoach service between Newark Liberty International Airport and Manhattan every 15 minutes for just $16!
Newark Liberty International Airport EWR
www.airport-ewr.com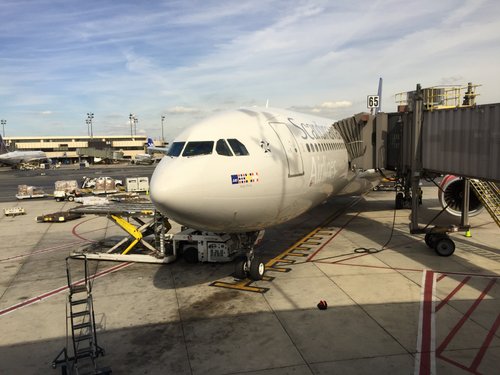 Newark Liberty International Airport is an international airport located about 24 km southwest of Midtown Manhattan (New York City). The airports in the New York metropolitan area combine to create the largest airport system in the United States, the second-largest in the world in terms of passenger traffic and largest in the world in terms of total flight operations. In 2015 Newark Airport handled 37.5 million passengers, JFK handled 56.8 million and LaGuardia Airport handled 28.4 million.
New Jersey Transit
www.njtransit.com
New Jersey Transit Corporation, marketed as NJ Transit is a state-owned public transportation system serving the US state of New Jersey; along with portions of New York, Orange, and Rockland counties in New York State; and Philadelphia County in Pennsylvania. It operates bus, light rail, and commuter rail services throughout the state, notably connecting to major commercial and employment centers both within the state and in the adjacent major cities of New York and Philadelphia.
MTA MetroCard
web.mta.info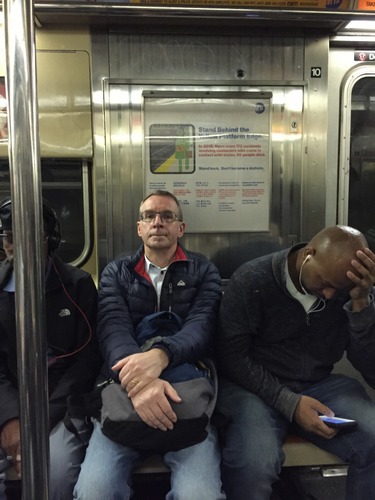 The MetroCard is the payment method for the New York City Subway; New York City Transit buses, including routes operated by Atlantic Express under contract to the Metropolitan Transportation Authority (MTA), MTA Bus, and Nassau Inter-County Express systems (NICE); PATH; the Roosevelt Island Tramway; AirTrain JFK; and Westchester County's Bee-Line Bus System. It is a thin, plastic card on which the customer electronically loads fares.
Guides:
Scandinavian Traveler SAS
scandinaviantraveler.com
Scandinavian Traveler is an online magazine from Scandinavian Airlines, that will take you that famous extra mile.
Here you find tips and inspiration about places and sights from interesting people, stories you won't find anywhere else. The magazine brings together exciting people and places as well as traveling stories.
Here you will find a wealth of content – videos, destination guides and maps to make your life easier. In short: this is a complete online lifestyle and travel magazine featuring some of the best writers and photographers in Scandinavia.
New York City Official Visitor Guide
www.nycgo.com
NYC & Company provides resources for visitors to discover everything they need to know about what to do and see in NYC.