International Volvo Photo Locations Part 237


Das Neues Schloss is located at Schloßplatz 4 in Stuttgart in Germany.
Neus Schloss or The New Palace, one of the last large city palaces to be built in Southern Germany, is the magnificent 18th Century Baroque residence of the Kings of Württemberg from 1746 to 1797 and from 1805 to 1807 (often exchanging this honor with the nearby Ludwigsburg Palace). It was commissioned by the young Duke Carl Eugen of Württemberg, was built and modified by Nikolaus Friedrich Thouret, Leopold Retti, Philippe da la Guepière, Reinhard Heinrich Ferdinand Fischer. The palace is located on the southern edge of the Stuttgart Schlossplatz in the center of the city adjacent from the Old Castle on the Schillerplatz in front of the colossal Jubiläumssäule at the center of the Schlossplatz. Public tours of the building are only permitted by special arrangement, as the building contains some government offices.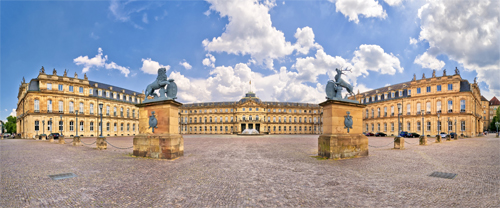 Richard von Weizsäcker was born in an attic apartment of the New Castle on 15 April 1920. He was the president of the Federal Republic of Germany from 1984 to 1994.
The reconstruction of the castle followed the destruction thereof in 1944 from 1958 to 1964. Today the New Castle is the home of the ministries of the Baden-Wuerttemberg state government and representation rooms.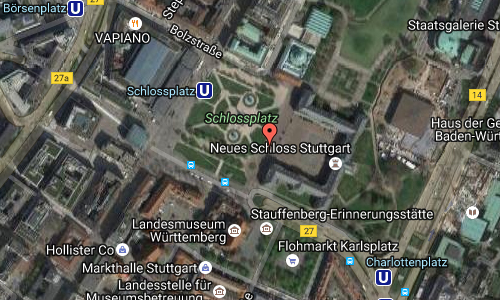 Thanks to Per Pettersson for finding this Volvo Photo Location!
More information at de.wikipedia.org and www.neues-schloss-stuttgart.de.