International Volvo Photo Locations Part 236



The Two Byres ("An Dà Bhàthach" in Gaelic) is a modern, eco-friendly house available for holiday lets on the Isle of Skye, rated 5 stars by Visit Scotland in 2014.
Set in the crofting community of Hallin, on the Waternish peninsula, the house faces out over Loch Bay and Loch Dunvegan and offers uninterrupted panoramic views stretching from the Cuillin mountain peaks, Macleod's Tables, Dunvegan Head, the Minch all the way to the Outer Hebrides on the horizon.
The house is designed by local award winning architects to comfortably accommodate six, in light, spacious accommodation, in a resolutely modern wooden construction which blends more and more into the surrounding countryside as time and weather turn the larch cladding to silver.
Underfloor heating provides constant warmth and a wood-burning stove can be lit to give that extra touch. Three decks open the living areas out to make the most of the sea air from sunrise to sunset.
The house is equipped and maintained to the highest standards.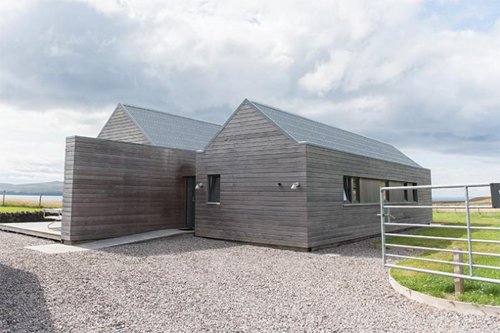 Waternish or Bhatairnis/Vaternish is a peninsula approximately 12 km long on the island of Skye, Scotland, situated between Loch Dunvegan and Loch Snizort in the northwest of the island, and traditionally inhabited and owned by Clan MacLeod whose clan seat is at the nearby Dunvegan Castle. The current clan chief is Hugh Macleod of Macleod. It contains the hamlets of Stein and Lusta in Loch Bay to the south east, Halistra, Hallin and Trumpan further north and Gillen to the west, all of which are accessed from the A850 road by crossing the Fairy Bridge. The highest point is Ben Geary (284 m) and the most northerly is Waternish Point. The name Waternish is derived from the Norse vatnenes or "headland of the pond".
The history of the peninsula is a long (and often bloody) one involving clan feuds, massacres, de-population during the Highland Clearances, and eventual re-vitalisation. Originally consisting of small crofting communities, Waternish now has a growing population and is home to various arts and crafts enterprises. Whilst the main industry on Waternish is tourism, there has also been a revival in recent years of crofting or small-scale agriculture. The local school is called Knockbreck. The school has struggled recently due to an ageing population which has resulted in only 4 students currently attending and the school has been scheduled for closing in summer 2015. The local pub is the Stein Inn, which dates back to 1790 and is the oldest on Skye.
Trumpan was the site of the skirmish known as the Battle of the Spoiling Dyke and the churchyard is the burial ground of Rachel Chiesley, Lady Grange.
More information at en.wikipedia.org, www.thetwobyres.co.uk and www.visitscotland.com.