International Volvo Photo Locations Part 255


Westerkade is a street in the Scheepvaartskwartier (Shipping Quarter) in Rotterdam and runs from the ferry harbor on the banks of the Nieuwe Maas to the Parkkade.
Around 1850 they began a large-scale urban expansion towards the west. This was known as the Tweede Nieuwe Werk (Second New Work). The street Westersingel, Westplein and Westerstraat recall this westward expansion. For 1850, the northerly Westerstraat was the southernmost dike. This was part of the Eerste Nieuwe Werk (First Newer Work). The Newer Work can therefore be seen as an alternative name for the Maritime Quarter. After this there was a more southern dike built that can actually be seen as the Willemskade and westerly located Westerkade.
Rotterdam is a city in the Netherlands, located in South Holland, within the Rhine–Meuse–Scheldt river delta at the North Sea. Its history goes back to 1270 when a dam was constructed in the Rotte river by people settled around it for safety. In 1340 Rotterdam was granted city rights by the Count of Holland and slowly grew into a major logistic and economic centre. Nowadays it is home to Europe's largest port and has a population of 633,471 (2014, city proper), ranking second in the Netherlands.
The city of Rotterdam is known for the Erasmus University, riverside setting, lively cultural life and its maritime heritage. The near-complete destruction of Rotterdam's city centre during World War II (known as the Rotterdam Blitz) has resulted in a varied architectural landscape including sky-scrapers, which are an uncommon sight in other Dutch cities. Rotterdam is home to some world-famous architecture from renowned architects like Rem Koolhaas, Piet Blom, Ben van Berkel and others. Recently Rotterdam was listed eighth in The Rough Guide Top 10 Cities to Visit and fifth in Lonely Planet's Best in Travel 2016 and was voted 2015 European City of the Year by the Academy of Urbanism.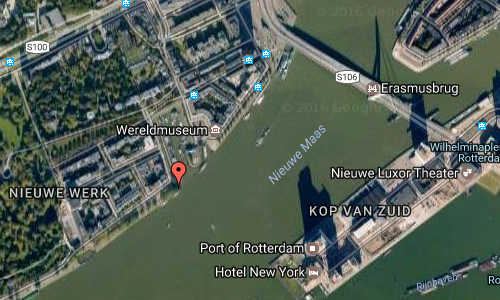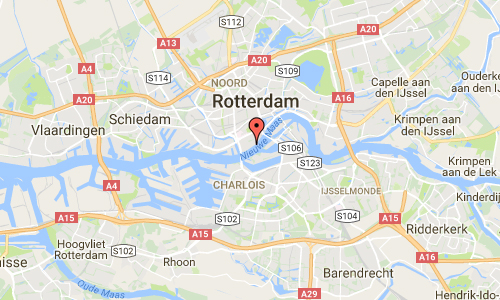 More information at en.wikipedia.org and en.rotterdam.info.