International Volvo Photo Locations Part 258



Bailiffscourt Hotel and Spa is located on Climping St in Climping, West Susses, United Kingdom, formerly part of the European Union.
Bailiffscourt is the ultimate country escape. Sink into a comfortable sofa, warmed by a crackling log fire and let us charm you with our friendly, efficient service. Families and dogs are most welcome and encouraged to roam, exploring our extensive grounds and the beach.
The Bailiffscourt Chapel is a deconsecrated chapel in the grounds of Bailiffscourt Hotel, a luxury hotel near the hamlet of Atherington in West Sussex, England. Originally associated with the Norman Abbey of Séez, it was founded in the 11th century and rebuilt in its present simple Gothic form in the 13th century. It later fell out of use, but after Atherington's former church was destroyed by coastal erosion it was used again for public worship for a time—and as late as 1952 the building was again in use as a chapel of ease. Situated outside Bailiffscourt—a mock-medieval mansion built in 1935 by Lord Moyne on the site of an ancient manor house—on the only stretch of open seafront land for miles in each direction, the chapel is now used principally for wedding and civil ceremony blessings. English Heritage has listed it at Grade II* for its architectural and historical importance.
The parish of Climping, sometimes spelt Clymping, covers a large coastal area next to the English Channel and the River Arun in West Sussex. The land, a combination of silty brickearth and alluvium, is prone to erosion, and large parts of the parish have been lost to the sea since the Middle Ages. The former villages of Ilsham, Cudlow and Atherington are now depopulated, their former churches have been destroyed, and their parishes combined with Clymping.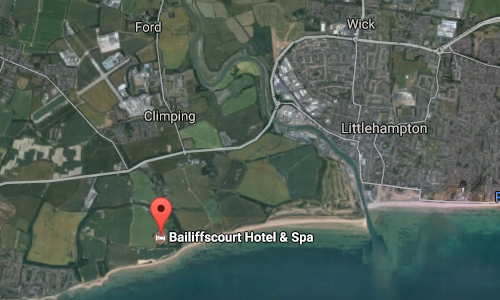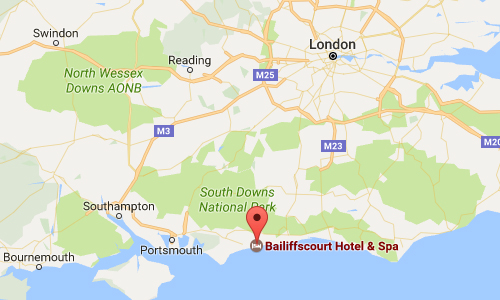 More information at en.wikipedia.org, www.arbuturian.com and www.hshotels.co.uk.