Volvo Photo Locations Part 258


From lake Torneträsk you get an excellent view on Lapporten (Swedish: "The Lapponian Gate") or Tjuonavagge, a U-shaped valley in Lapland in northern Sweden.
Lapporten is one of the most familiar natural sights of the mountains there. The valley is bounded to the southwest of the mountain Nissuntjårro (1,738 m) and in the northeast of Tjuonatjåkka (1,554 m). In the middle of the valley lies Lake Čuonjájávri, 950 metres above sea level.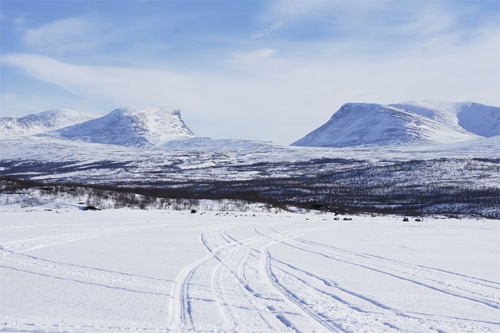 Torneträsk or Torne träsk (Saami: Duortnosjávri, Finnish/Meänkieli: Tornio or Torniojärvi) is a lake in Kiruna Municipality, Lapland, Norrbotten County in Sweden, in the Scandinavian mountain range. Träsk is the local word for lake (in Standard Swedish it means "swamp"). It is the sixth largest lake in Sweden, with a total area of 330 square kilometres (130 sq mi) and a length of 70 kilometres (43 mi). The lake drains to the south-east through Torne älv. South-west of the lake lie the Abisko National Park and the UNESCO World Heritage Site Laponian area.
Torneträsk originated from the remnant of a glacier, which has given the lake its depth of 168 metres (551 ft), making it the second deepest lake in Sweden. It is usually ice-covered from December through June, with variations dependent on temperature variations.
The terrain is easy to walk but has no marked trail. Lapporten is in the Nissuntjårro Natura 2000 site.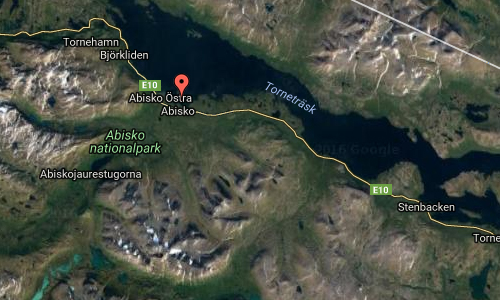 More information at www.sverigesnationalparker.se and sv.wikipedia.org.
Thanks to Per Pettersson for finding this Volvo Photo Location!