Volvo Photo Locations Part 269



Andsjön is a lake in Åre kommun in Jämtland and is part of Indalsälvens main basin. The lake has an area of 0,956 square kilometers and is located 512.2 meters above sea level.
The lake is a popular place during winter time for ice drives. Volvo used to invited regularly journalist to this place to test drive cars.
In the winter of 2017, several journalists from all over the world visited this lake to test drive Volvos Cross Country line up: Volvo V90 Cross Country, Volvo XC90 and Volvo V40 Cross Country.
Undersåker is a locality situated in Åre Municipality, Jämtland County, Sweden with 438 inhabitants in 2010. Edsåsdalen lies within the Undersåker locality approximately 8 kilometres from the railway station.
Åre Municipality (Swedish: Åre kommun) is a municipality in Jämtland County in northern Sweden. Its seat is located in Järpen.
The present municipality was formed in 1974 through the amalgamation of "old" Åre Municipality with the surrounding municipalities Hallen, Kall, Mörsil and Undersåker. The largest village, Järpen, situated in Undersåker, was chosen as the seat of the new entity.
Åre (Swedish pronunciation: [o:re]) is a locality and one of the leading Scandinavian ski resorts situated in Åre Municipality, Jämtland County, Sweden with 1,417 inhabitants in 2010. It is however, not the seat of the municipality, which is Järpen. 25% of the municipal industry is based on tourism, most notably the downhill skiing and biking resorts in Åre and Storlien. The growth in tourism has resulted in the development of hotels, recreational and shopping opportunities in the area.
Tourism in Åre started as King Oscar II in 1882 supervised construction of the railroad to Trondheim in Norway. With this new railroad many people came to Åre to breathe the fresh air and to walk to the top of Åreskutan. They were soon known as "air-guests" (luftgäster).
There was no hotel, but in 1888 Albin Wettergren opened a restaurant by the railroad station. In 1891 Åre Tourist Station opened and even more guests were attracted to the village.
A woman from Östersund saw this increasing tourism as a great opportunity to open a hotel and did so in 1895. It was called "Hotell Åreskutan". Also Albin Wettergren opened a hotel ("Grand Hotell"). These were only a few of all the hotels that were going to be founded in Åre.
In 1910, the Åre Bergbana was built and was the third one in Sweden after the one in Skansen (1898) and the one in Kirunavaara (1907). This was a more convenient way for the air-guests to reach the top of Åreskutan.
In 2008 the hotel Copperhill Mountain Lodge opened on the top of the Förberget Mountain in Åre, Sweden. Designed by American architect Peter Bohlin it is the only mountain hotel in Scandinavia referred to as a Design Hotel
The airport is situated 99 kilometres eastward, outside Östersund's core, on the Frösön islet. Åre Östersund Airport is an international airport and the ninth biggest in Sweden with roughly 390 000 passengers 2005. The airport is one of few Swedish airports with incoming foreign charter traffic.
The European route E14 runs through Åre from Trondheim via Östersund to Sundsvall, where it merges with the European route E45.
Åre has also railway communications. Norrtåg operates Mittbanan from Storlien via Östersund to Sundsvall. Östersund is connected to Stockholm, Gothenburg and Malmö through long distance X 2000 (high speed trains), InterCity and night train.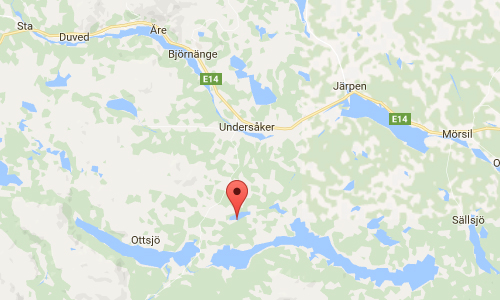 More information at sv.wikipedia.org, www.bild.de, en.wikipedia.org and www.visitare.com.