International Volvo Photo Locations Part 265


The iconic Flatiron Building is located on the point where 5th Avenue meets Broadway and 23rd Street in New York.
The Flatiron Building, originally the Fuller Building, is a triangular 22-story steel-framed landmarked building located at 175 Fifth Avenue in the borough of Manhattan, New York City, and is considered to be a groundbreaking skyscraper. Upon completion in 1902, it was one of the tallest buildings in the city at 20 floors high and one of only two skyscrapers north of 14th Street – the other being the Metropolitan Life Insurance Company Tower, one block east. The building sits on a triangular block formed by Fifth Avenue, Broadway, and East 22nd Street, with 23rd Street grazing the triangle's northern (uptown) peak. As with numerous other wedge-shaped buildings, the name "Flatiron" derives from its resemblance to a cast-iron clothes iron.
The building, which has been called "one of the world's most iconic skyscrapers and a quintessential symbol of New York City", anchors the south (downtown) end of Madison Square and the north (uptown) end of the Ladies' Mile Historic District. The neighborhood around it is called the Flatiron District after its signature building, which has become an icon of New York City.
The Flatiron District is a neighborhood in the New York City borough of Manhattan, named after the Flatiron Building at 23rd Street, Broadway and Fifth Avenue. The Flatiron District encompasses within its boundaries the Ladies' Mile Historic District and the birthplace of Theodore Roosevelt, a National Historic Site. The Flatiron District was also the birthplace of Silicon Alley, a metonym for New York's high technology sector, which has since spread beyond the area.
As of the 2000s, many publishers have their offices in the district, as well as advertising agencies, and the number of computer- and Web-related start-up companies in the area caused it to be considered part of "Silicon Alley" or "Multimedia Gulch", along with TriBeCa and SoHo.
A famous landmark is the sidewalk clock outside 200 Fifth Avenue. It was erected in 1909.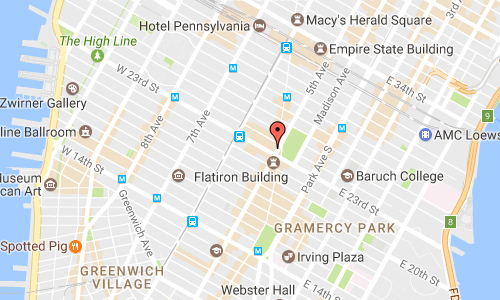 More information at en.wikipedia.org, www.aviewoncities.com and www.nyc-architecture.com.