International Volvo Photo Locations Part 310



Sansome street is a street in the financial center of San Francisco in California, USA.
At the begining of Sansome Street, there is the famous One Sansome Street building, also known as Citigroup Center. It is an office skyscraper located at the intersection of Sutter and Sansome Streets in the Financial District of San Francisco, California near Market Street. The 168 m, 41 floor, 54,578.0 m2 office tower was completed in 1984.
The One Sansome Street tower is built adjacent to the site of the ornate Anglo and London Paris National Bank, which was completed in 1910. Designed by architect Albert Pissis, the bank building was granite clad with 12 m high Doric columns. The historic architecture of the bank building serves as a conservatory for the skyscraper today.
Keker & Van Nest LLP is a premier litigation boutique located in San Francisco, California. For more than thirty years, Keker & Van Nest has tried and litigated complex, high-stakes civil and criminal cases throughout the nation. Areas of practice include intellectual property, professional liability, class actions, general contract and commercial litigation, antitrust, white collar crime, and appellate.
The Financial District is a neighborhood in San Francisco, California, that serves as its main central business district. It is home to the city's largest concentration of corporate headquarters, law firms, insurance companies, real estate firms, banks, savings and loans, and other financial institutions.
The area is marked by the cluster of high-rise towers in the triangular area east of Grant Avenue, south of Washington Street, west of the Embarcadero that rings the waterfront, and north of Market Street. The city's tallest buildings, including 555 California Street and the Transamerica Pyramid, and many other tall buildings, such as 101 California Street and 345 California Street are located there. Montgomery Street ("Wall Street of the West") is the traditional heart of the district.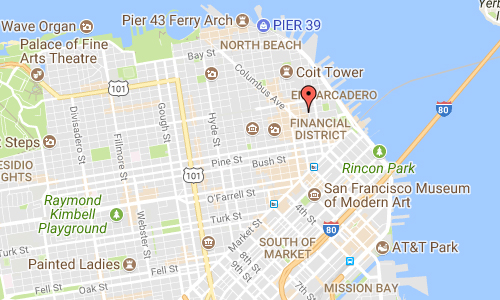 More information at www.sftravel.com/ and www.primitivelogic.com.
Thanks to Changyoung Jeong for finding this location!