Between februari 28 and march 7th in 2018, Malin and I spent a week in Marrakesh or Marrakech, the capital of Morocco. We stayed a week in an old Riad in the Medina, the old city of Marrakesh. From there we visited the known and unknown spots in the center and outside. We also made a day trip to the Atlas Mountains. We enjoyed the wonderful weather, the great people we have met, the delicious Moroccan food, a lot of old and new culture, modern and berber arts. Here a some of the highlights that we have enjoyed in Marrakesh!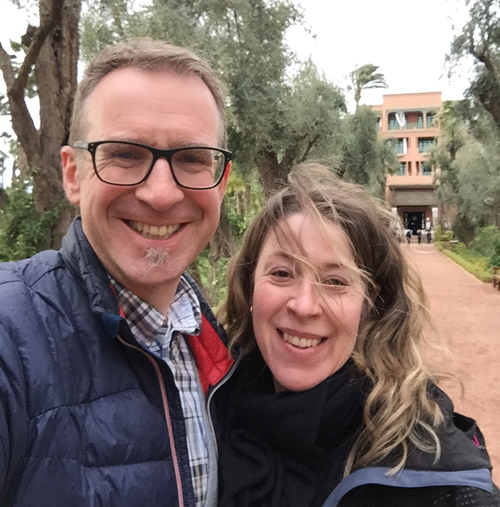 Remember, you'll find more photos here and under < travels >.
Places to visit – places to eat – places for drinks – places for shopping – places to stay – other tips
Djemaa El Fna
Unesco declared the Djemaa El Fna a 'Masterpiece of World Heritage' in 2001 for bringing urban legends and oral history to life. Berber musicians strike up the music and Gnaoua troupes sing while henna tattoo artists beckon to passers by and water-sellers in fringed hats clang brass cups together, hoping to drive people to drink. This is a show you don't want to miss and it's a bargain too. Applause and a few dirhams ensure an encore.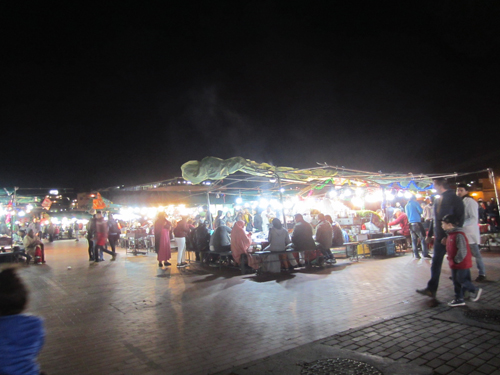 The main attraction of the square is at the beginning of the evening when all the food counters start preparing and offering you fresh meals! We went by a few times but didn't dare to eat there. But you should try it I have heard, maybe only if you are sure you have a strong stomach…To nab prime seats on makeshift stools (women and elders get preference) around musician circles, arrive early in the evening.
Musée Yves Saint Laurent
Rue Yves St Laurent in Ville Nouvelle in Marrakesh
Located very near the Jardin Majorelle – acquired by Yves Saint Laurent and Pierre Bergé in 1980 – the musée YVES SAINT LAURENT marrakech occupies a new 4,000 m² building. It includes a 400m² permanent exhibition space devoted to the work of Yves Saint Laurent and designed by Christophe Martin.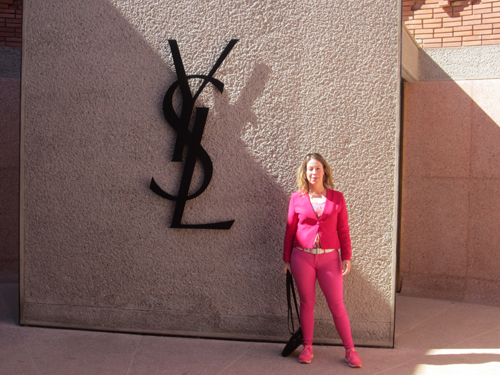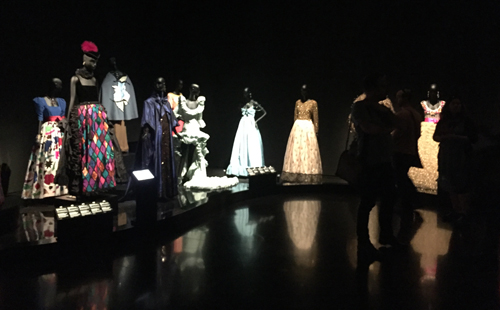 Jardin Majorelle
Avenue Yacoub El Mansour & Moulay Abdullah in Marrakesh
The Jardin Majorelle in Marrakech is one of the most visited sites in Morocco. It took French painter Jacques Majorelle (1886-1962) forty years of passion and dedication to create this enchanting garden in the heart of the "Ochre City".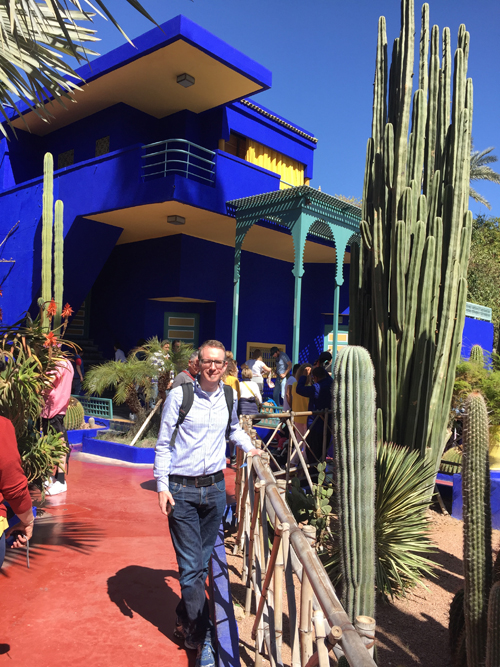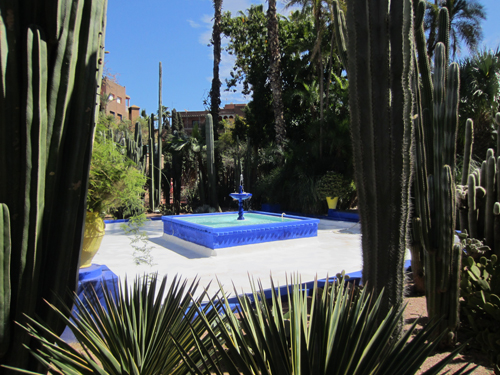 Musée Berbère
Jardin Majorelle in Marrakesh
Located in the Jardin Majorelle the Berber Museum is houses in the former painter's studio of Yves Saint Laurents partner Pierre Bergé which has been transformed into a museum open to the public. The museum is dedicated to Berber culture, housing the personal Berber collection of Yves Saint Laurent and Pierre Bergé.
Bahia Palace
Rue Riad Zitoun El Jedid in Marrakesh
The Bahia Palace is a palace and a set of gardens located in Marrakesh, Morocco. It was built in the late 19th century, intended to be the greatest palace of its time. The name means "brilliance". It was intended to capture the essence of the Islamic and Moroccan style. There is a 8,000 m² garden with rooms opening onto courtyards.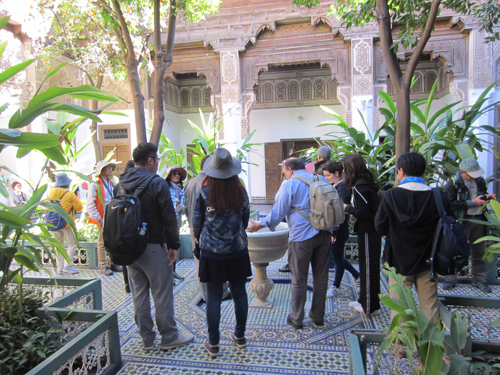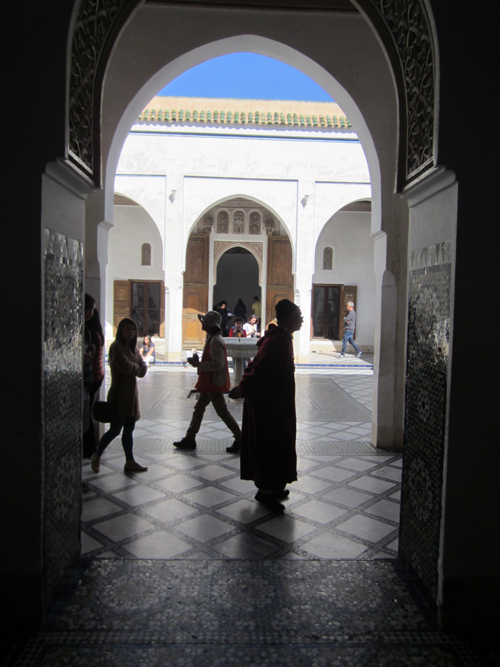 Set up at the end of the 19th century by Si Moussa, grand vizier of the sultan, for his personal use, this palace would bear the name of one of his wives. Here, the harem, which includes a vast court decorated with a central basin and surrounded by rooms intended for the concubines. As the black slave Abu Ahmed rose to power and wealth towards the end of the 19th century, he had the Bahia palace built by bringing in craftsmen from Fez.
Saadian Tombs
Bab Agnaou palais Saadien، Rue de La Kasbah, Marrakesh
The Saadian tombs are sepulchres in Marrakech, Morocco, which date to time of the Saadian dynasty sultan Ahmad al-Mansur (1578-1603). They are located on the south side of the Kasbah Mosque. The tombs were discovered in 1917 and were renovated by the Beaux-arts service. The tombs have, because of the beauty of their decoration, been a major attraction for visitors of Marrakech.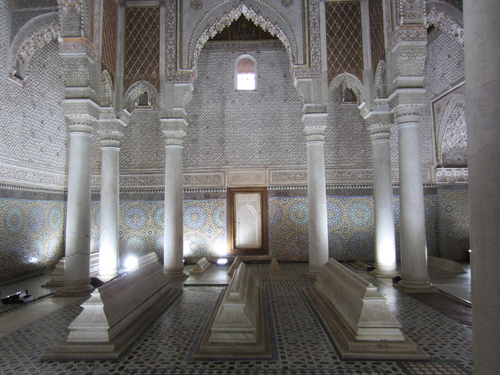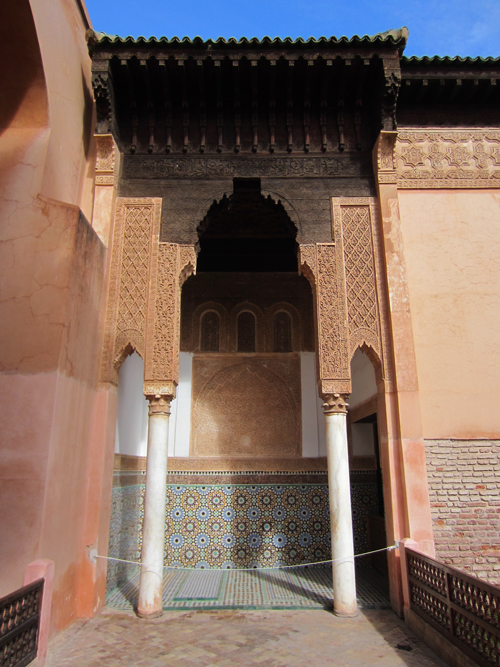 Be preparerad to wait in line because it is a populair place to visit. But worth waiting for!
El Badi Palace
Behind Place des Ferblantiers in Marrakesh
El Badi Palace meaning The incomparable palace, is a ruined palace located in Marrakesh, Morocco. It was commissioned by the sultan Ahmad al-Mansur of the Saadian dynasty sometime shortly after his accession in 1578. The palace's construction was funded by a substantial ransom paid by the Portuguese after the Battle of the Three Kings. It is currently a popular tourist attraction.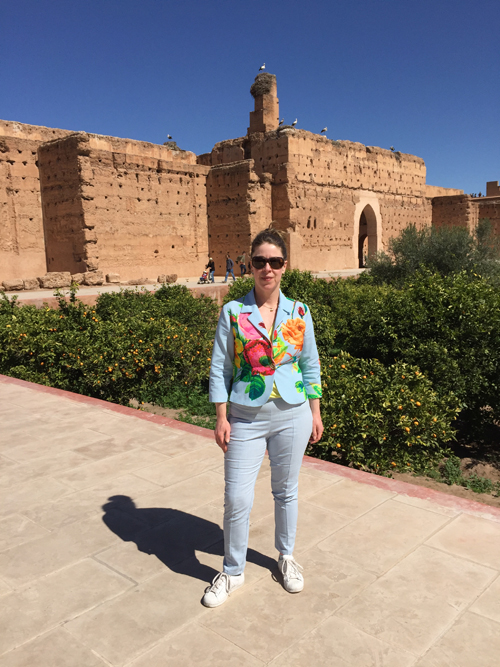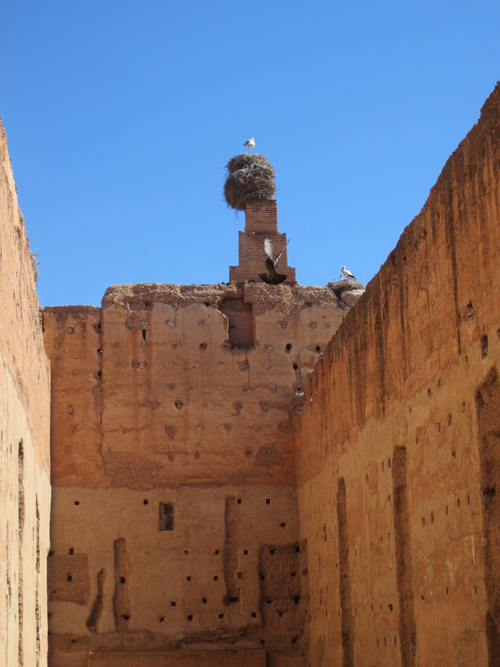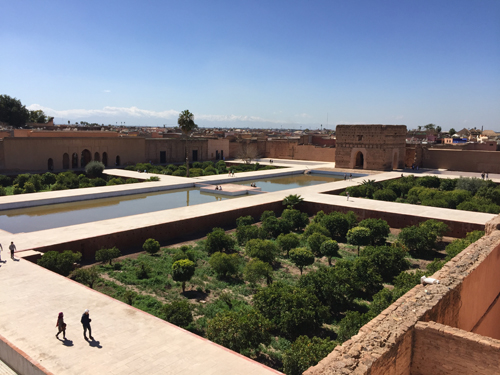 The complex contains a museum, with exhibits such as a restored 12th-century minbar that once stood in the Koutoubia Mosque.
Musée de Marrakech
Place Ben Youssef, Marrakech-Médina
The Museum of Marrakech is an art museum and is housed in the Dar Menebhi Palace, constructed at the end of the 19th century by Mehdi Menebhi. The palace was carefully renovated by the Omar Benjelloun Foundation and converted into a museum in 1997. The house itself represents an example of classical Moorish architecture, with fountains in the central courtyard, traditional seating areas, a hammam and intricate tilework and carvings. The museum's large atrium was originally a courtyard, and is now covered in glass and fabric. It contains a huge, centrally draped chandelier-like ceiling piece consisting of metal plates decorated with fine geometric and epigraphic cuttings. Several features of the original courtyard, including the floor-set basins and mosaics have been retained. The museum holds exhibits of both modern and traditional Moroccan art together with fine examples of historical books, coins and pottery of Berber, Moroccan Jewish and Islamic cultures.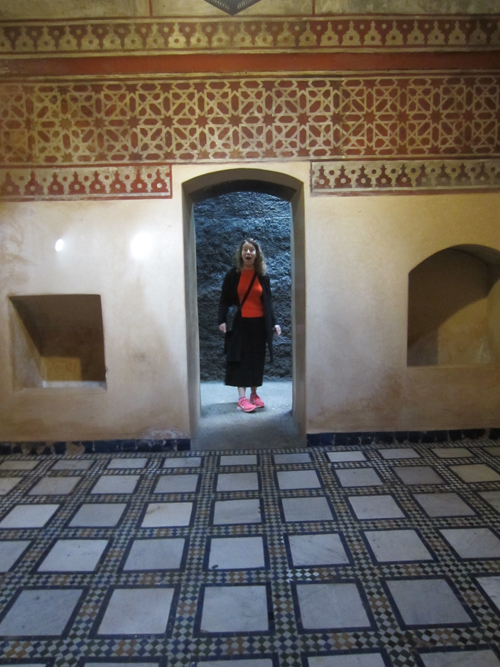 Maison de la Photographie
46 Souq El Fassi, Marrakesh
The Maison de la Photographie of Marrakech is a private foundation created by Hamid Mergani and Patrick Manac'h in 2009. The collection contains photos, glass negatives, post cards, journals, maps, prints, documentaries. They organize thematic exhibitions with original prints, not only in the Maison de la Photographie located in the old medina of Marrakech, but with itinerant exhibitions in schools, and partnerships with other cultural institutions.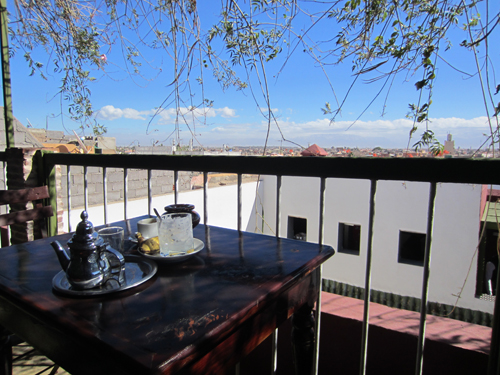 Koutoubia Mosque
Rue El Koutoubia & Ave Mohammed V in Marrakesh
The Koutoubia Mosque is the largest mosque in Marrakesh, Morocco. It is located in the southwest Medina quarter of Marrakesh. The mosque is ornamented with curved windows, a band of ceramic inlay, pointed merlons, and decorative arches; it has a large plaza with gardens, and is floodlit at night. The minaret, 77 meters in height, includes a spire and orbs. It was completed under the reign of the Berber Almohad Caliph Yaqub al-Mansur (1184 to 1199), and has inspired other buildings such as the Giralda of Seville and the Hassan Tower of Rabat.
Musée de Mouassine
5 Derb El Hammam in Marrakesh
The Douira Museum in the Mouassine quarter of the Marrakech medina is a stunning example of late 16th century / early 17th century Saadian architecture. Located in close proximity to the Mouassine mosque, at the end of Derb el Hammam just off from the Mouassine Fountain, the building features a house and a "douiria" – a reception apartment. The property was purchased by Patrick Manac'h (owner and curator of La Maison de la Photograhie) in 2012 from a local inhabitant. Soon after, upon discovering what lay hidden beneath various layers of paint and plaster added over the course of generations of "home improvements", the slow process began of restoring the building to its former glory and what was to become the Douiria Museum Mouassine Marrakech.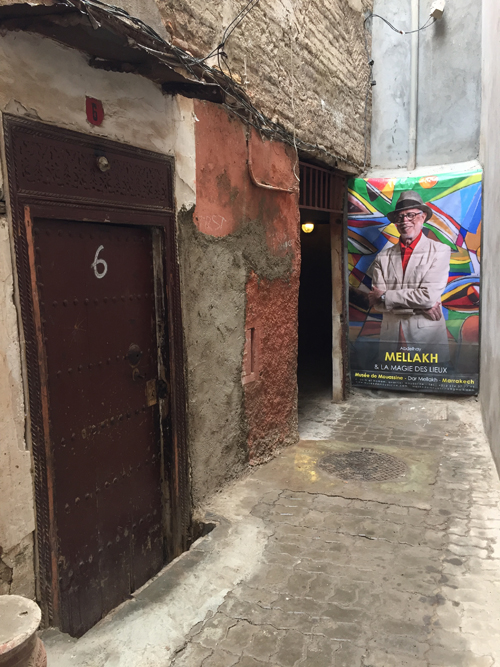 www.museedemouassine.com and www.darzaman.co.uk
Dar Bellarj
9-7 Toualate Zaouiate Lahdar in Marrakesh
Flights of fancy come with the territory at Dar Bellarj, a stork hospital (bellarj is Arabic for stork) turned into Marrakesh's premier arts centre. Each year the nonprofit Dar Bellarj Foundation adopts a program theme, ranging from film to women's textiles and storytelling. Calligraphy demonstrations, art openings, craft exhibits and arts workshops are regular draws, and admission is usually free (there's a charge for some events).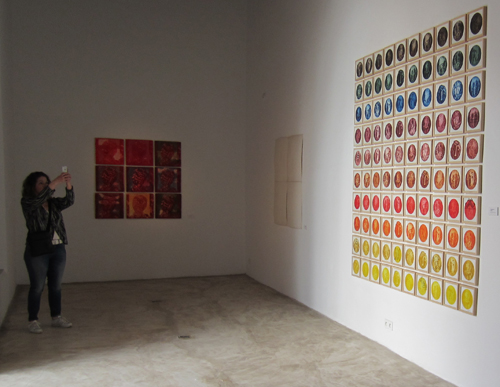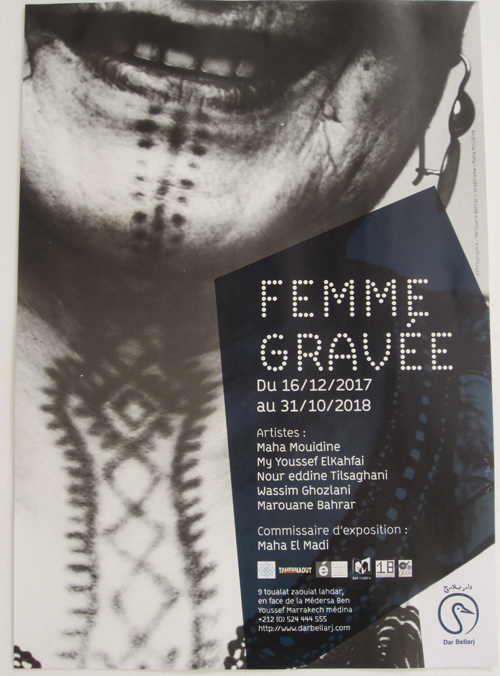 Le Jardin Secret
121 Rue Mouassine in Marrakesh
The riad-museum Le Jardin Secret (The Secret Garden) is one of the largest and most ancient palaces of the Medina of Marrakech. It is a place that has kept ancient structures intact that are of an extraordinary cultural value, linked to the art of gardens, architecture and Arab hydraulics. The riad rises up in the Mouassine quarter and comprises two large gardens and one of the highest towers of the medina. You will find a boutique, a bookshop and two cafes inside Le Jardin Secret. The cafes offer you up fresh, homemade products that you can eat in lush and peaceful settings.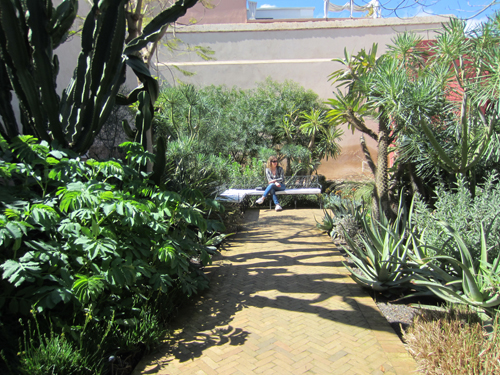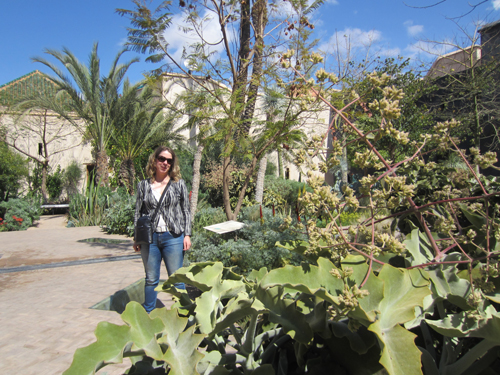 www.lejardinsecretmarrakech.com
Hassan Hajjaj at Riad Yima
52 Derb Aajane Rahba Lakdima in Medina in Marrakesh
Hassan Hajjaj is a Moroccan born, contemporary artist – better known as "The Andy Warhol of Morocco". Branching out from his roots, Hajjaj (born Larache), now works between the cities of Marrakech, London and New York; making a name for himself on both the underground and mainstream art worlds.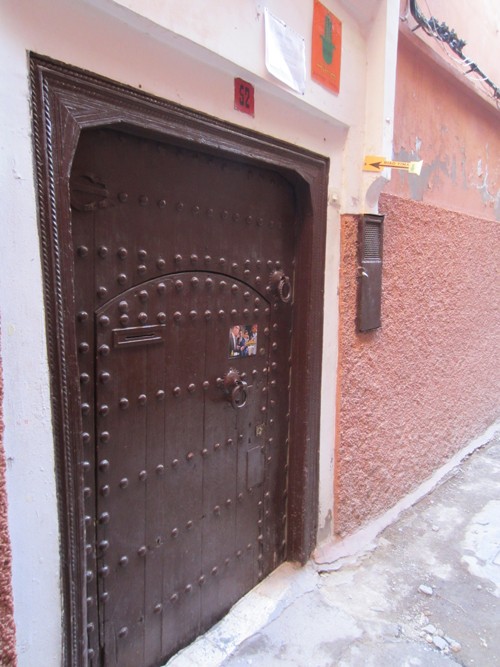 His contemporary works come in the format of film & photography, as well as a combination of mixed media pieces in a vibrant "pop art" genre. Hassan Hajjaj spoke in an interview with ArtNet News about his influences, and although naturally inspired by a range of photographers who's images have appeared in various magazine spreads; the majority of his influence comes from music and his presence in the underground music scene over the years of his life. His photographs and films take on an aspect of story telling, documenting the present moment, or taking a look into the potential of the future, always giving the viewer an impression of the human characters involved.
Museum of African Contemporary Art Al Maaden – MACAAL
Sidi Youssef Ben Ali in Al Maaden outside Marrakesh
Spanning 900 m² of exhibition space across two floors, this museum showcases contemporary African artwork from all corners of the continent. Located within the Al Maaden golf resort, 12 intriguing in situ sculptures lie dotted across the course and are free to stroll around. The garden cafe serves light food and a small shop sells handcrafted items.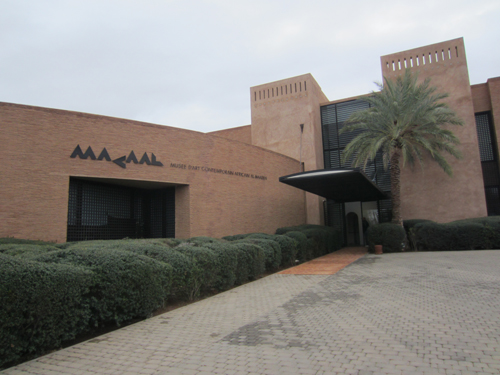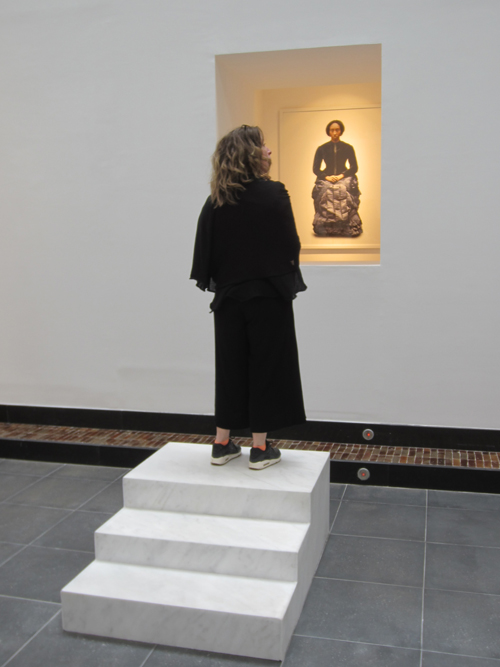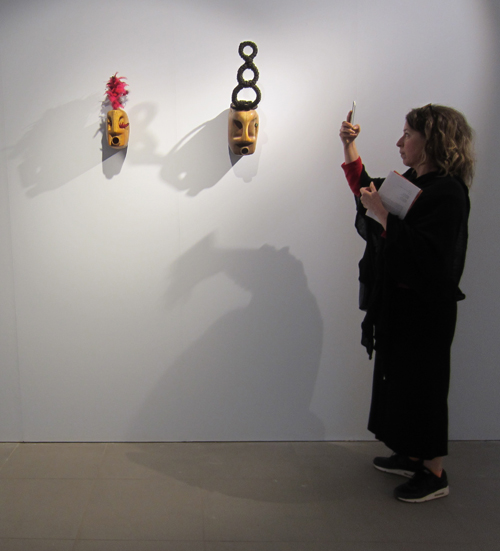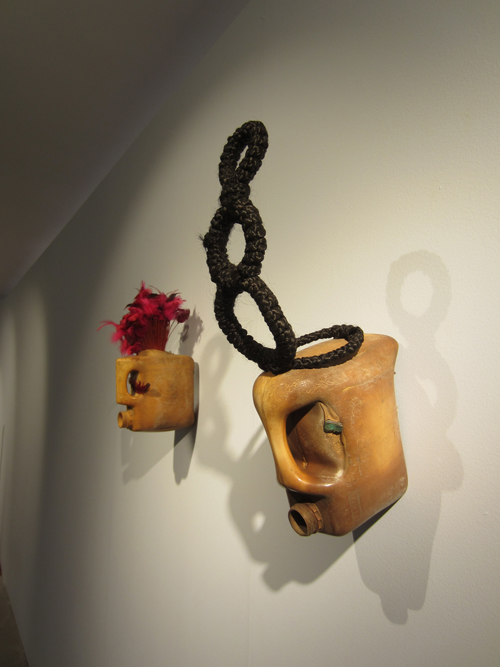 Ensure the taxi drops you by the main entrance within the complex and check in at reception before heading out towards the golf-course to see the sculpture park.
Galerie Noir sur Blanc
48 rue Yougoslavie, 1er étage, Gueliz in Ville Nouvelle in Marrakesh
The Galerie Noir sur Blanc showcases major Moroccan talent complemented by temporary exhibits focused on local artists.
David Bloch Gallery
8 bis Rue des Vieux Marrakchis In Ville Nouvelle in Marrakesh
Artists from both sides of the Mediterranean strike fine lines between traditional calligraphy and urban graffiti in a series of temporary exhibitions. Catch the work of up-and-coming abstract artists.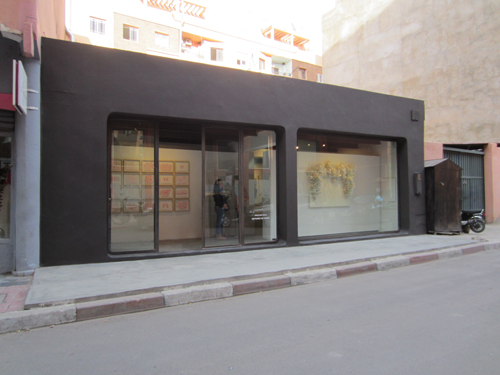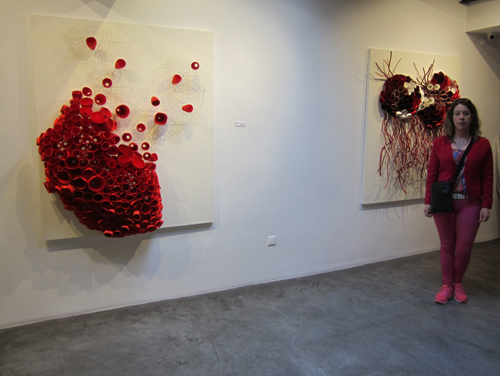 Matisse Art Gallery
43 Passage Ghandouri in Ville Nouvelle in Marrakesh
On the right along the Passage Ghandouri pedestrian corridor, you'll spot the polished black-marble front of Matisse Art Gallery. Local artists such as Mahi Binebine and Farid Belkahia have shown their work here.
Gallery 127
2nd fl, 127 Ave Mohammed V in Ville Nouvelle in Marrakesh
Like any worthwhile Chelsea gallery, this one is up a dim, once-grand staircase, in an industrial-chic chamber with the obligatory exposed brick-and-concrete wall. It exhibits a range of new and vintage works by international photographers (mostly Mediterranean) with shows varying from straightforward travel photography to more interpretive works.
MACMA – Museum of Art and Culture of Marrakech
61, Rue Yougoslavie in Passage Ghandouri, Gueliz, Marrakech
The Museum of Art and Culture of Marrakech is a private museum. It opened its doors on February 26, 2016, at the initiative of a gallery owner and passionate collector, Nabil El Mallouki.
This museum, designed in a refined design by the architect Amine Tounsi, is dedicated to the permanent enhancement of the artworks presented, chosen for their originality.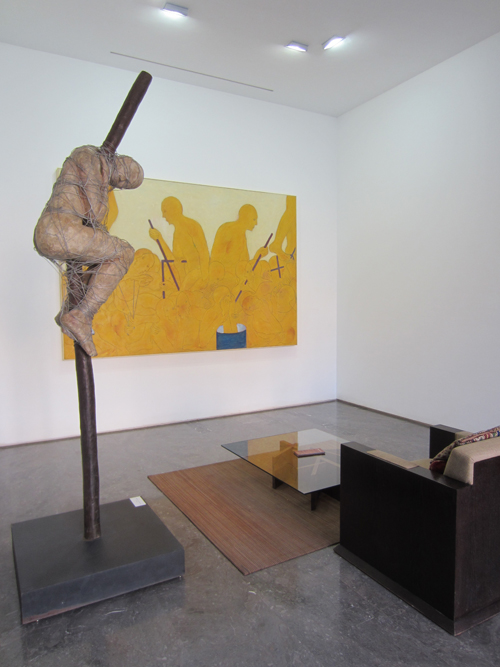 La Mamounia Gardens
Ave Houmane El Fetouaki in Marrakesh
On their trips to Marrakesh, Winston Churchill and Franklin D Roosevelt spent their downtime here, among the rose bushes and ornamental shrubbery that belong to the luxurious La Mamounia Hotel. These days the garden isn't as elegantly kept up as it must have been in its glory days, but it's still a relaxing spot to get away from the hurly-burly of the city. Don't dress too scruffily if you want the doormen at the hotel gate to let you in.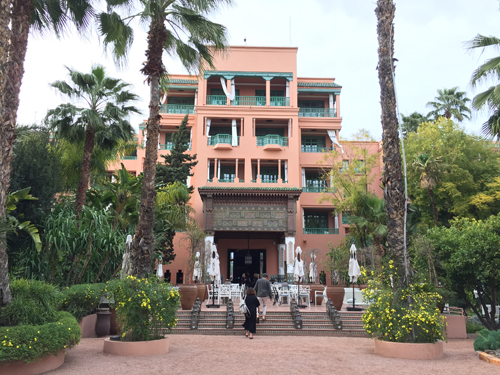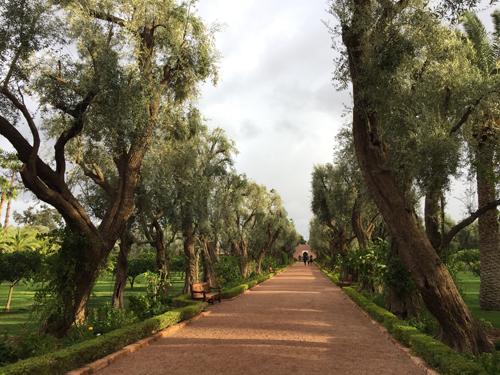 A day in the Atlas Mountains with lunch at Kasbah du Toubkal
Kasbah du Toubkal (1820m), just 60km from Marrakech (so day excursions from Marrakech easily arranged), is situated in Imlil at the foot of Jbel Toubkal, the highest peak in North Africa. Described by Condé Nast Traveller as "having the best rooftop views in North Africa", it is a Berber hospitality centre (hotel/auberge stressing hospitality over traditional hotel service) for individuals and groups. Stay for a few hours or a week!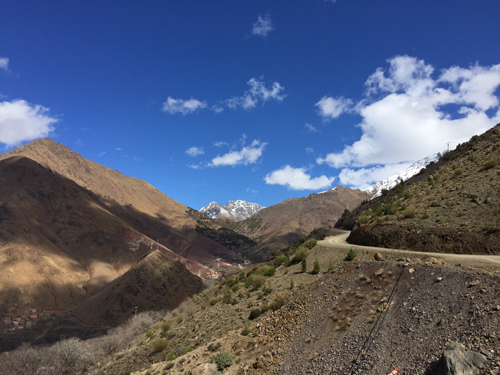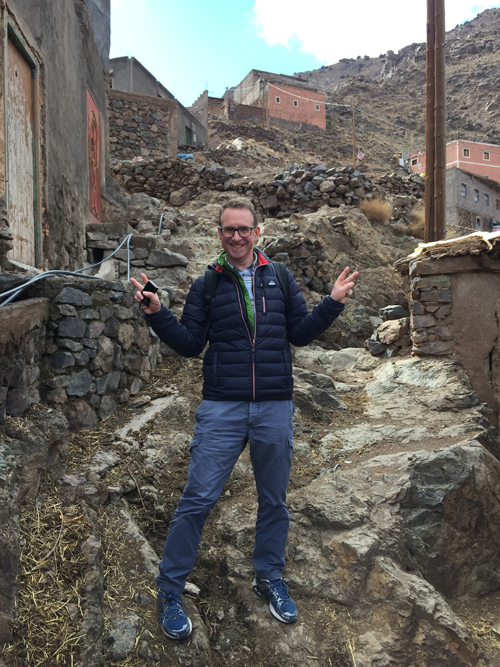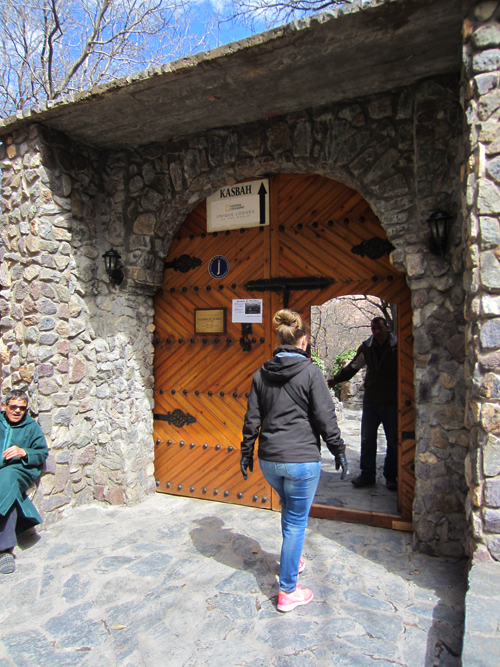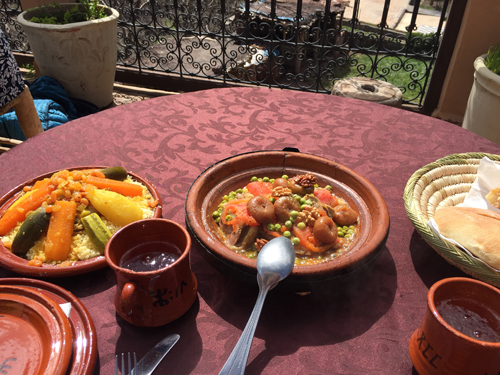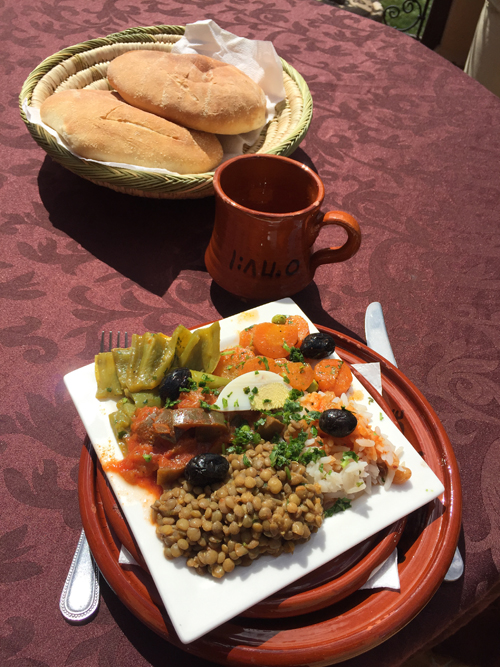 We booked a one day excursion to Kasbah du Toubkal in the Atlas Mountain with the following program (more info):
09.00 Depart Marrakech by minibus
10.45 Arrive Imlil, visit village and walk to Kasbah
12.30 Lunch at Kasbah du Toubkal
14.00 Start of short trek to outlying Berber village for mint tea in a Berber house.
16.00 Depart Imlil
17.30 Return to your hotel, Marrakech
Amal Center
Rues Allal ben Ahmad & Ibn Sina in Ville Nouvelle in Marrakesh
Do good while eating delicious food – double bonus. The Amal Center supports and trains disadvantaged Moroccan women in restaurant skills and you get to feast on their flavours. So many Marrakesh restaurants reflect poorly on local cuisine, but here you get the real home-cooking deal.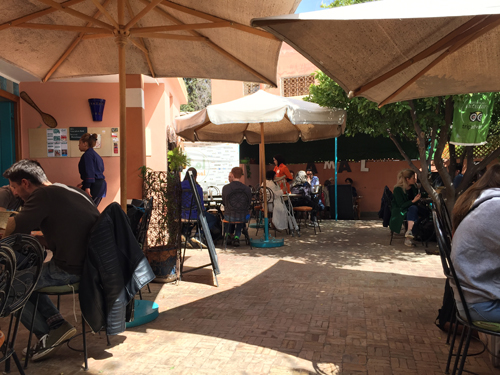 The menu changes daily but there's always at least three options of starters, mains and dessert; on Fridays couscous is always the star of the show. Prices are locally focused so the restaurant's clientele is a happy mix of local families, expats and in-the-know tourists. Even better, if the spicy zing of your tajine has got your tastebuds craving more, they're now running cooking classes.
Dar Anika
112 Soulka Riad Zitoun El Kedim in Medina Marrakesh
The small terrace, framed by palms and trailing bougainvillea, is all about romantic candlelit dining. The main courses offer a tastebud tour of Moroccan dishes often missing from medina menus. For a sweet-savoury kick order the chicken seffa medfouna (chicken topped with raisin, almond and cinnamon spiked vermicelli) or go full-hog and pre-order (four hours in advance) the camel tanjia.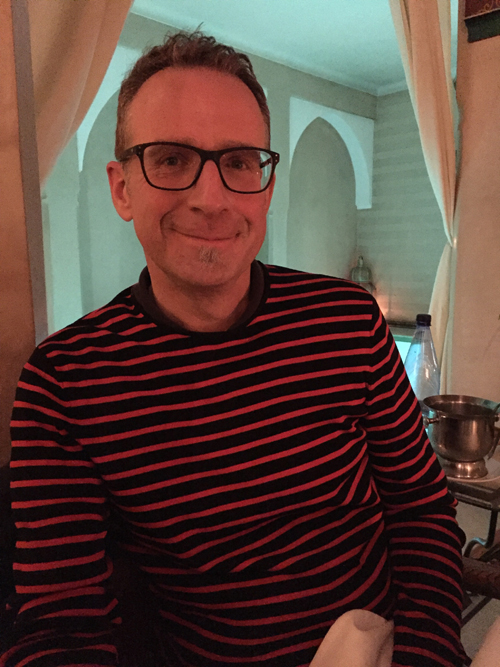 Nomad
1 Derb Arjan (close to the Place des Épices) in Marrakesh
Nomad's rooftop terrace is one of the medina's buzziest eating venues. The small menu adds contemporary tweaks to North African staples such as a spice-packed Tunisian lamb brik (pastry), while keeping the punters happy by also serving up a flavoursome burger. Desserts such as apple and beetroot clafoutis and hibiscus panna cotta add an interesting end-of-dinner twist.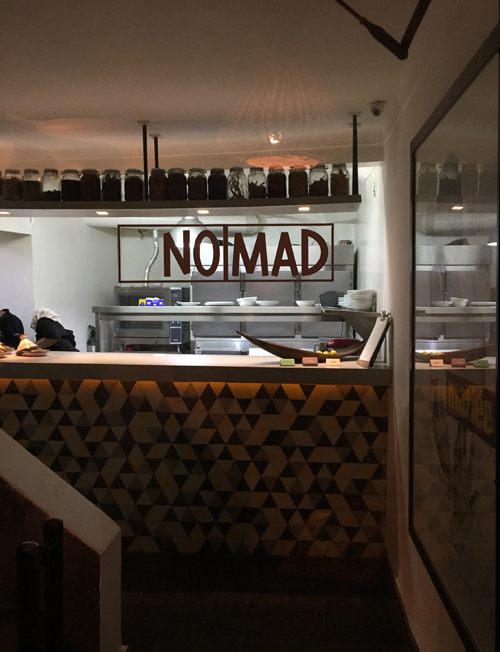 Café des Épices
Place Rahba Kedima (also known as the Place des Épices) in Marrakesh
A travellers institution parked in prime position on Rahba Kedima (also known as the Place des Épices). Watch the henna artists and basket sellers tout for business from your shady stool while munching on sandwiches or sipping a fresh beetroot, apple and ginger juice. We like the Paris Marrakech burger stuffed with cheese and aubergine.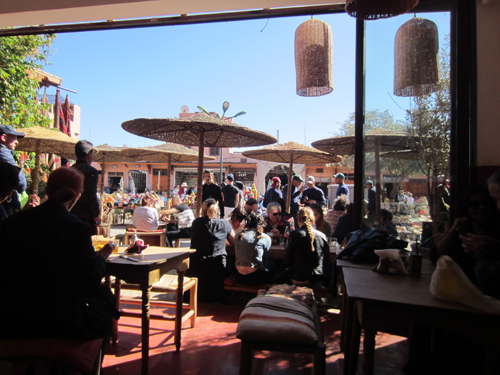 Le Jardin
32 Souk Sidi Abdelaziz in Marrakesh
Habitual visitors to the ancient labyrinthine streets of the Marrakech Medina will be familiar with the Café des Épices, a reknown meeting point and perfect location for a respite from shopping excursions in the souks. Many will also be aware of Kamal Laftimi's other much heralded establishment, Le Jardin, in which he and interior architect Anne Favier have created a true magical oasis located within a beautifully renovated 16th Century building.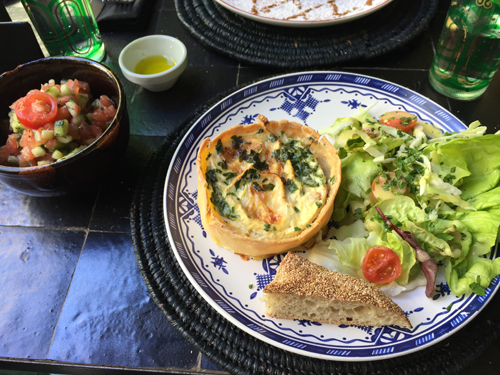 Terrasse Des Épices Restaurant
Sidi Abdel Aziz 15 Souk Cherifia in Marrakesh
Hidden on a rooftop deep within the northern quarter of the souks, this all-day (and evening) restaurant is a popular spot for expats, tourists, and trendy locals. The menu mixes Moroccan and international cuisine from fish tagine and tanjia (beef or lamb cooked slowly for several hours over charcoal in an earthenware jug) to pasta dishes, goat cheese salad, and tenderloin steaks. The contemporary variations on a Moroccan theme extend also to the decor—intimate cushioned booths are lit by woven lampshades and decorated with modern artwork. In the evening, the lantern-lit terrace provides the perfect ambience for cocktails and music.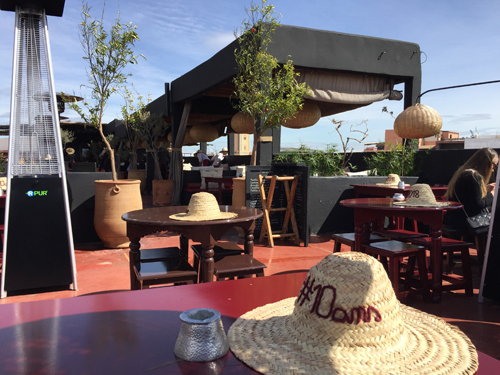 Le Foundouk
55 Souq El Fassi in Marrakesh
A spidery iron chandelier lit with candles sets the mood for fine dining, with a choice of Moroccan and European menus. When the food lives up to the decor, it's fabulous, and when not, well, at least you got your money's worth for atmosphere. It's a great choice just for drinks at the bar as well.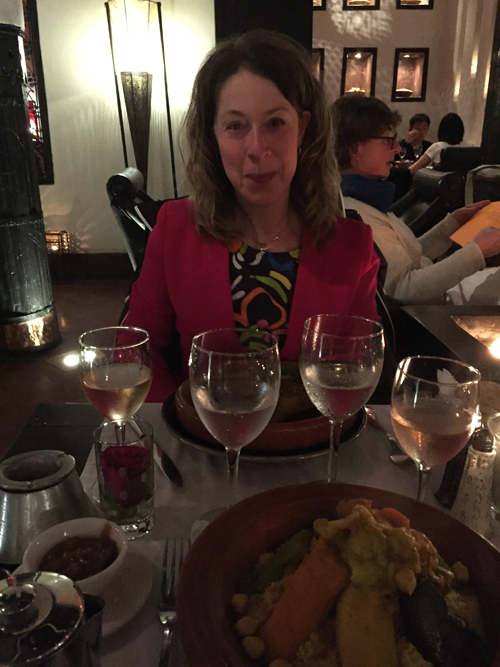 Un Déjeuner à Marrakech
2-4 Rue Riad Zitoun El Jedid and Douar Graoua in Marrakesh
Popular with the lunching crowd, Un Déjeuner dishes up a Mediterranean menu that jumps from Tangier shrimp to steak, mozzarella salad and pumpkin balls. The cactus-lined roof terrace is the place to be on a blue-skied, breezy Moroccan spring day.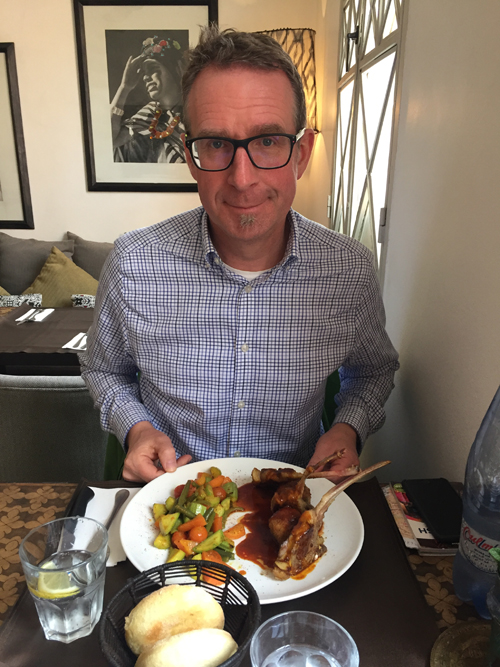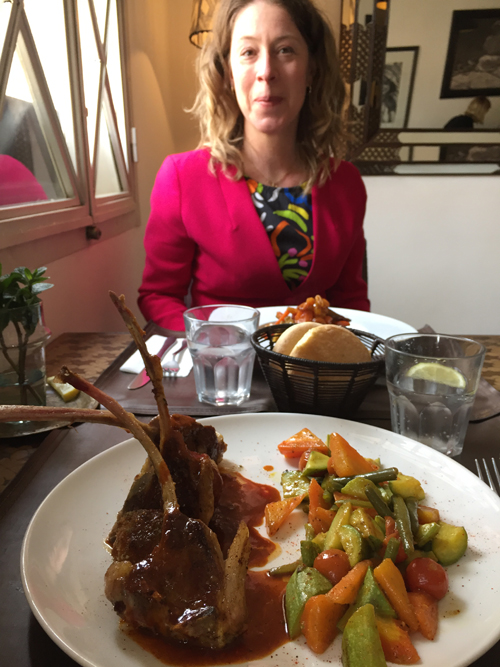 Kasbah Café
Rue de La Kasbah in Marrakesh
Kasbah Cafe is a cafe and restaurant near the Saadian Tombs, one of the highlights of Marrakech, and a great site where to admire the andalusian art. Try to get a table outside on the roof terrass and enjoy the chill out atmosphere tasting one of our selected plates. Get closer to the blue sky and let all your senses feel this moment. We serve lunch, diner, and a wide choice of natural juices and shakes to enjoy at any moment.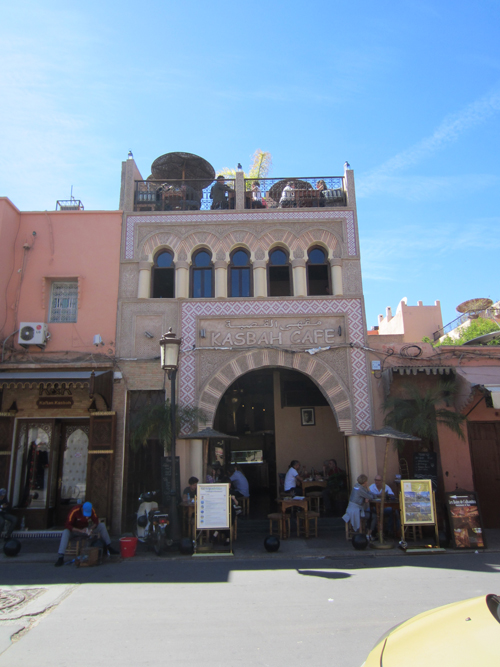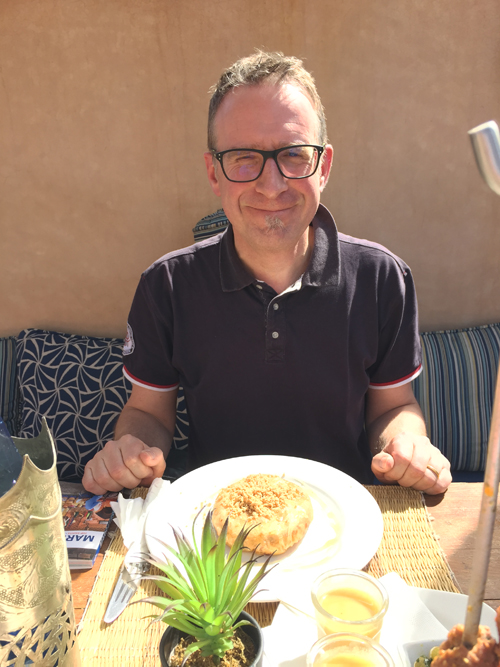 Hotel La Mamounia – Bar Italien
Ave Houmane El Fetouaki in Marrakesh
La Mamounia is one of the most glamorous and iconic hotels in Morocco. Merging art deco chic with Moorish extravagance, it's a visually striking place, colorful, ornate and luxurious. A jet set favorite for decades (Churchill was a fan and was said to have called it be the loveliest spot in the whole world), the place has an impressive reputation and its standards remain dazzlingly high. The various bars and restaurants are evidence of this. L'Italien is a Michelin-starred affair, beautifully located overlooking the orangery, with a dramatic jewel-toned interior. The adjoining bar area is the perfect setting for a pre-dinner martini before an unforgettable gourmet experience in the restaurant proper. We ordered only a simple tea but enjoyed every second of it there!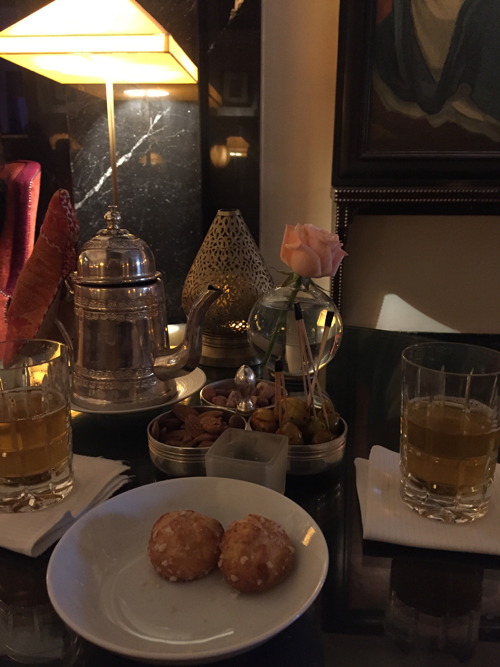 Grand Cafe de la Poste
Angle Boulevard El Mansour Eddahbi et Avenue Imam in Malik Guéliz in Marrakech
Ideally located in the heart of Guéliz, Ville Nouvelle, this elegant restaurant gets back in touch with the authentic living ambiances of Marrakesh. The decor is in complete harmony with the Moroccan culture: it offers a pub mixing Moorish and colonial spirit up. Le Grand Café de la Poste offers a French cuisine with Mediterranean accents.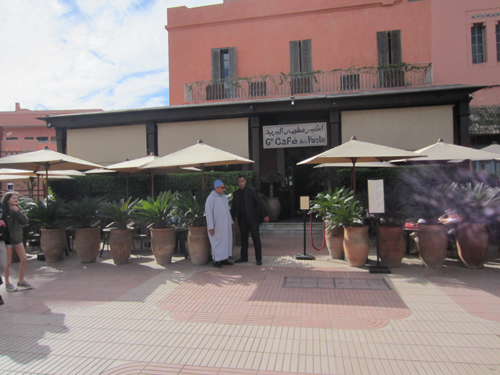 www.grandcafedelaposte.restaurant
Kosybar
Place des Ferblantiers or Rue de Berrima in Marrakesh
Kosy Bar is not just a bar, but also operates as a very decent restaurant, tucked away in the corner of the Place des Ferblantiers. Its dark hallway and elegant downstairs bar area create an urbane welcome, although you'll be heading upstairs to eat – either in one of the salons on the middle floor or, if the weather is good and there is any space left, upstairs on the roof terrace – a fantastic spot that overlooks the square below and offers views of the massive stork nests around the wall of the El Badi Palace and on right down to the Koutoubia Mosque.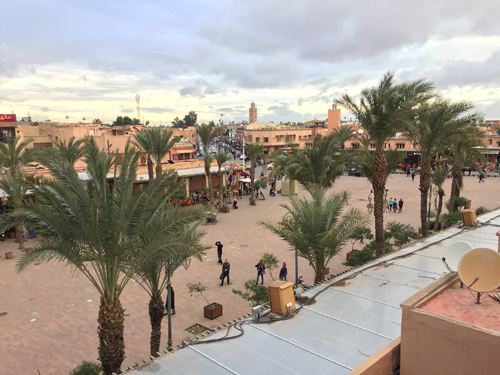 The location makes this a pretty useful lunching spot if you're wandering around the Medina. The daytime menu offers mostly sandwiches, soups and salads.
Souk in the Medina
The most popular place for shopping for visitors of Marrakesh is the Souk (or Souq) in the Medina. Marrakesh has the largest traditional market (souk) in Morocco, with some 18 souks selling wares ranging from traditional Berber carpets to modern consumer electronics. Crafts employ a significant percentage of the population, who primarily sell their products to tourists.
"The souk offers an incredible shopping experience with a myriad of narrow winding streets that lead through a series of smaller markets clustered by trade. Through the squawking chaos of the poultry market, the gory fascination of the open-air butchers' shops and the uncountable number of small and specialist traders, just wandering around the streets can pass an entire day."
Souk Cherifa
Under the Terrasse Des Épices Restaurant at Sidi Abdel Aziz 15 in Marrakesh
Short-circuit souq fatigue and head straight for this converted fondouq where younger local designers congregate on the upper floor. Pick up funky cushion covers at Sisi Morocco, colourful kaftans and clutches made from carpets at Khmissa, contemporary embroidered linens from La Maison Bahira, and top quality argan oil, amlou (argan-nut butter) and beauty products at Arganino.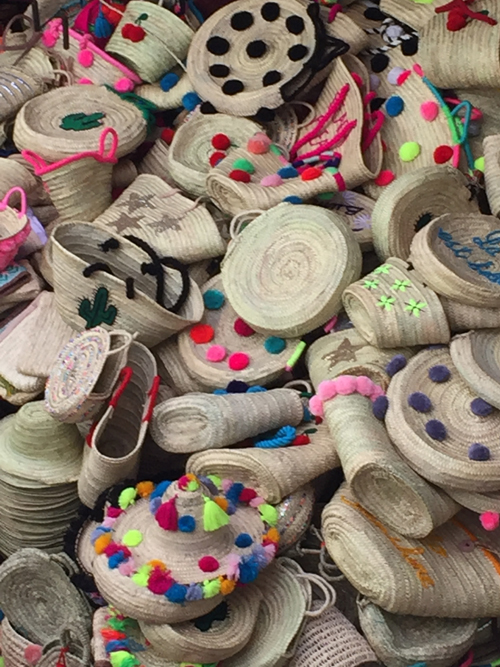 Les Femmes De Marrakech – Coopérative Artisanale de Couture
17 Derb Melali Bousekri / 67 Souq Kchachbia in Marrakech
A showcase for Marrakesh's women mâalems (master artisans), the cooperative is eye-opening and a total bargain. Original, handcrafted designs include handbags made from water bottle caps wrapped in wool, hand-knitted kissa (hammam gloves) and black-and-white kaftans edged with red silk embroidery. Ask cooperative director Souad Boudeiry about getting tunics and dresses tailor-made.
Ensemble Artisanal Arts & crafts in Ville Nouvelle
Ave Mohammed V in Marrakesh
To get a jump-start on the souqs, come to this government-sponsored showcase across from Cyber Park to glimpse expert artisans at work and see the range of crafts and prices Marrakesh has to offer. The set prices are higher than in the souqs, but it's hassle-free shopping and the producer gets paid directly.
Max & Jan – Concept
14 Rue Amsefah, Sidi Abdelaziz in Medina Marrakesh
If you're looking for unique souvenirs and clothes in Marrakech that don't scream, "I paid too much for a rug," then this will be your jam. Max&Jan melds western style with Moroccan design to birth inspired homewares, clothing and accessories. You might find a dress that combines a traditional jabador and a basketball jersey, or a tea light holder in bold colors.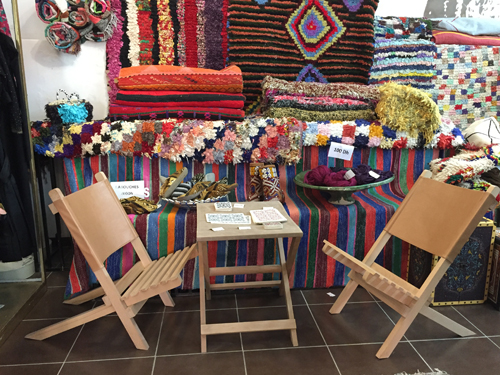 Moroccan Fashion & Lifestyle Brand by Designer Jan Pauwels and Maximilien Scharl. Flagship Store in Marrakech Medina at 14 Rue Amsafah, Sidi Abdelaziz
33 Rue Majorelle Fashion & accessories in Ville Nouvelle
33 Rue Yves Saint Laurent in Marrakesh
Over 60 designers, mostly from Morocco, are represented here and co-owner Yehia Abdelnour dedicates much of his time to sourcing local maâlems (master craftsmen) who make the majority of what's on view. Recent finds include super-cool clutches made in vintage upholstery from the Harakat sisters, silk harem pants from couturier Maroc'n Roll and plaited, pop-art charm bracelets from Zinab Chahine.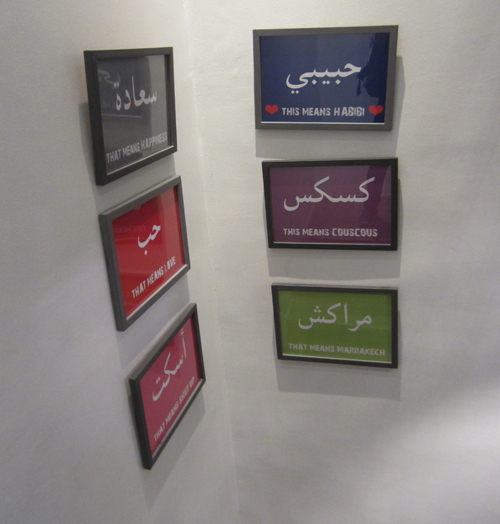 V.Barkowski
Arset Aouzel, 170 in the Medina of Marrakech
The Belgian designer and creative director Valérie Barkowski, who was behind a lot of international brands before opening the beautiful designed Dar Kawa, opened a shop.
So better save some room in your suitcases for bed linen and bath towels! The shop is quiet and a bit hidden so you must look well not to miss it.
Topolina
Dar el Bacha in Marrakech
At Topolina, tribal-printed loafers are displayed up against the shop's bright yellow walls like works of art. Topolina's owner and designer, Isabelle Topolina, has an exquisite eye for unusual color combinations, patterns, and rich fabrics. You'll be hard-pressed to settle on just one pair.
Akbar Delights & Moor
Rue des Vieux Marrakchis Marrakech Guéliz
Perhaps the most upmarket – certainly one of the most expensive – boutiques in Marrakech, Akbar Delights is pristine in its choice of imported luxury fabrics from Kasmir and India and locally made garments, footwear and accessories. Tucked away in Gueliz it's yet another surprise find for most people, but the glittering array of scarves, baboush, jewellery and assorted other clothing and accessories, while not cheap, won't fail to impress.
www.akbardelightscollections.com
Art Ouarzazate
15 Zinkat Rahba in Marrakesh
Tried and tested techniques in weaving, leather work and embroidery are transformed into high-fashion dandy jackets, sari-grafted coats and wire-rimmed 'papillon' dresses by dynamic duo Samad and Malek. Beyond the clothes racks there are also bags, babouches (leather slippers) and quirky poufs and cushions for sale.
Michèle Baconnier
6, Rue des Vieux Marrakechis in Ville Nouvelle Marrakesh
Designer Michèle Baconnier is known for her re-designs of that quintessential Moroccan slipper, the babouche. Her store in the new town of Marrakech, Gueliz, also sells women's and children's clothing, jewelry, household accessories, such as gorgeous blankets and throws.
Laly Marrakech
Rue Riad Zitoun el Kdim in Marrakesh
Moroccan casual clothing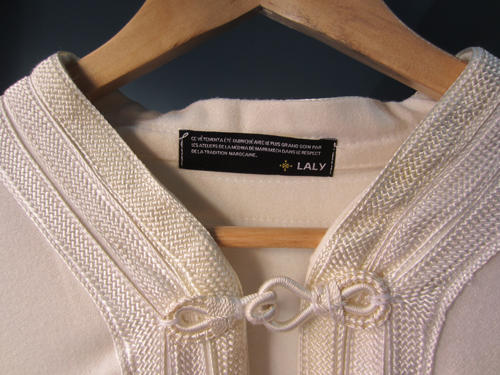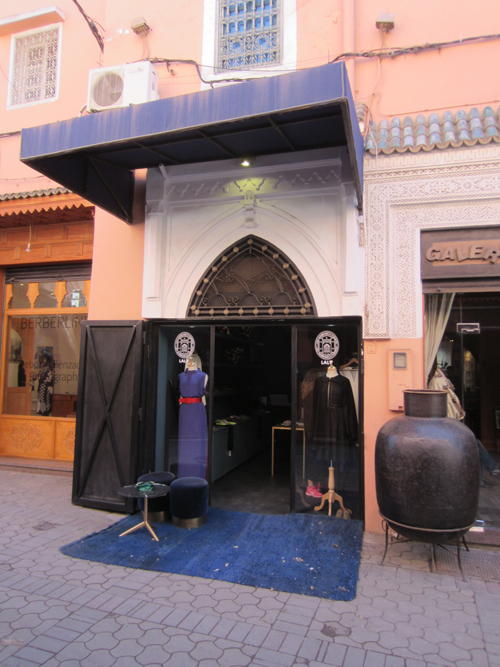 www.facebook.com/Lalymarrakech
Warda La Mouche
127 Rue Kennaria in Medina, Marrakesh
Warda la Mouche is located just steps away from the souks in the Marrakesh Medina. Moroccan embroidered tunics made by Moroccan couturiers are gorgeous and cost about 50 Euros. The boutique combines tradition with modernity in both it's fabric and styles.
Carrefour
Supermarket in Ville Nouvelle at Eden Centre on Ave Mohammed V in Marrakesh
Huge, well-stocked supermarket full of international products, an alcohol section and items hard to find elsewhere.
Riad Al Loune
77 Derb el Kadi, Azbezt in Medina in Marrakesh
We stayed a week in this great Riad in Medina, the old center of Marrakesh.
In the Medina, this Riad features a rooftop terrace with lounge chairs and a small outdoor swimming pool. The wellness room on the terrace offers body treatments and massages, and a hammam is also available in this Riad. Individually decorated with a different color, each room at Riad Al Loune has a private bathroom with free toiletries, a sitting area and a view of the patio. Provided with free Wi-Fi, they are furnished in a typical Moroccan-style with Zellige. Moroccan specialties are served for dinner and night entertainment and shows are organized upon request. Guests are invited to relax in the spacious living room or in the patio. Jamaâ El Fna Square is an 8-minute walk away and the Madrasa Ben Youssef is a 5-minute walk away. Marrakech Train Station is 3.2 km away and the Airport is 4.8 km from Riad Al Loune. Medina is a great choice for travelers interested in markets, street markets and shopping.
Couples in particular like the location – they rated it 9.2 for a two-person trip.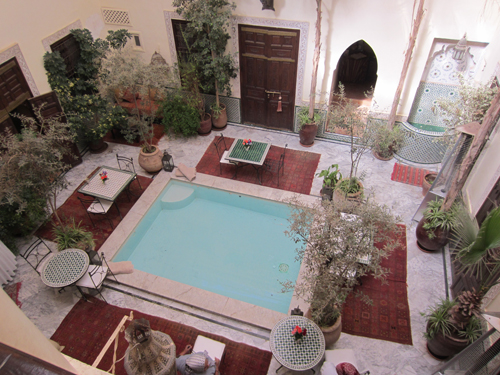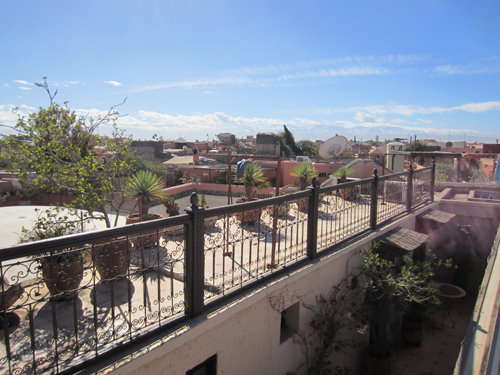 www.riadalloune.com or www.booking.com
en.wikipedia.org
www.lonelyplanet.com
Visit Marrakech
hg2.com
My Little Kech
New York Times Style Magazine
www.mmontague.com
Remember, you'll find more photos here and under < travels >.