International Volvo Photo Locations Part 328



221 W 2nd Street Parking is a roof top parking on South Broadway and W 2nd St in central Los Angeles, California.
Its location is close to the Los Angeles Times building, the Los Angeles Police Department Headquarters and Los Angeles Cityhall.
From this rooftop parking, you get an great view on the LA skyline. Buildings visible on these photos are Million Dollar Theater building and Gas Company Tower (or Deloitte Tower).
The Million Dollar Theatre at 307 S. Broadway in Downtown Los Angeles is one of the first movie palaces built in the United States. It opened in 1917 with the premiere of William S. Hart's The Silent Man. It's the northernmost of the collection of historical movie palaces in the Broadway Theater District and stands directly across from the landmark Bradbury Building. The theater is listed in the National Register of Historic Places.
The Million Dollar was the first movie house built by entrepreneur Sid Grauman. Grauman was later responsible for Grauman's Egyptian Theatre and Grauman's Chinese Theatre, both on Hollywood Boulevard, and was partly responsible for the entertainment district shifting from downtown Los Angeles to Hollywood in the mid-1920s.
Sculptor Joseph Mora did the elaborate and surprising exterior Spanish Colonial Revival ornament, including bursts of lavish Churrigueresque decoration, statues, longhorn skulls, and other odd features. The auditorium architect was William L. Woollett, and the designer of the 12-story tower was Los Angeles architect Albert C. Martin Sr.
For many years, the office building housed the headquarters of the Metropolitan Water District of Southern California.
Ira Yellin (then the owner of Grand Central Market) acquired the building in 1989. In 2017, the building was sold to Langdon Street Capital, and the theater and retail space were leased to fashion startup CoBird.
The exterior of the theater, along with the Bradbury Building across the street, appear prominently in several films shot on location, including D.O.A. (1950) and Blade Runner (1982). The theatre was featured in the videogame Grand Theft Auto V as the Ten Cent Theatre.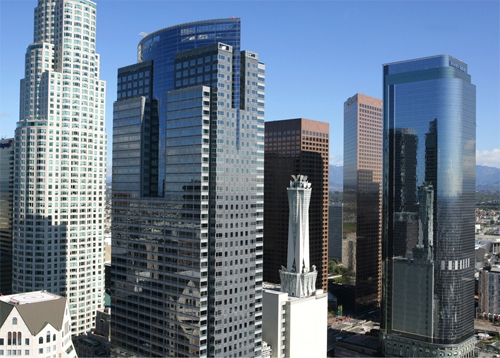 Gas Company Tower is a 52-story, 228.3 m class-A office skyscraper on Bunker Hill in downtown Los Angeles, California. Located on the north side of Fifth Street between Olive Street and Grand Avenue, across from the Biltmore Hotel, the building serves as the headquarters for the Southern California Gas Company, which vacated its previous offices on Eighth- and Flower-streets in 1991, and is home to the Los Angeles offices of Arent Fox and Sidley Austin.
In 2014, Deloitte became the first tenant to have their logo affixed to the peak of the building which had been left plain since the building was completed. This giant accounting firm moved from nearby Two California Plaza, where it had been since 2000.
More information at www.milliondollar.la, en.wikipedia.org/wiki/Million_Dollar_Theater and en.wikipedia.org/wiki/Gas_Company_Tower.