International Volvo Photo Locations Part 345



808 S Olive Street Parking is located on S Olive St and W 8th St in Los Angeles, USA.
Olive street is located in South Park, a commercial district in southwestern Downtown Los Angeles, California. It is the location of the Los Angeles Convention Center, the Staples Center, and the "L.A. Live" entertainment complex.
"The District includes all property within a boundary that begins on the north at 9th Street and the 110 Freeway and runs east to Flower Street then south to Olympic Boulevard, east on Olympic Boulevard to mid-block across Hill Street then south to 11th Street then east to mid-block across Broadway forming the northern boundary. From there the eastern boundary runs south across 12th Street, past Pico Boulevard, past 14th Street, past 15th Street, across Venice Boulevard to the centerline of 17th Street. From there the southern boundary runs west along 17th Street/Santa Monica Freeway across Broadway, past Hill Street, past Olive Street, past Grand Avenue, past Hope Street, past Flower Street, across Figueroa Street to behind the Convention Center along Convention Center Drive. From there the western boundary runs north along L.A. Live Way (Cherry Street) across Pico Boulevard, past 12th Street, past Chick Hearn Court (11th Street) across Olympic Boulevard to 9th Street and the Harbor (110) Freeway."
Bordering the district are Pico-Union on the west, West Adams on the southwest, South Los Angeles district on the southeast, the Warehouse District on the southeast, and the Financial District on the northeast. Major thoroughfares include Venice, Pico and Olympic Boulevards, Grand Avenue, and Figueroa Street. The Blue Line light rail line and Expo Line light rail line stop in the district at the Pico/Chick Hearn station.
At the beginning of 21st century the area began to rapidly transform with infill development. Luxury apartments and condominiums with ground floor retail began construction in the 2000s. The district's proximity to the University of Southern California, as well as the Blue Line light rail line, have made it an attractive area for young professionals. As with many neighborhood transformations, this change in demographics has a few concerned about displacement and gentrification issues.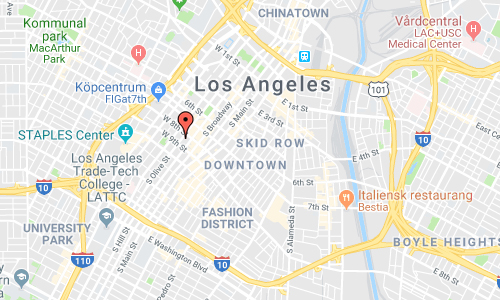 More information at en.wikipedia.org and www.parkme.com.
Great photography for Volvo Car USA by Marlyne and Patrick Curtet! (www.behance.net and curtet.com)