International Volvo Photo Locations Part 351



Børnehuset Frederiksvej Kindergarten is located on Frederiksvej in Frederiksberg, west of Copenhagen in Denmark.
Frederiksvej Kindergarten was started in 2011 as a competition won by COBE in collaboration with Preben Skaarup landscape architects, Søren Jensen engineers and Learning Spaces consultants. The kindergarten is officially inaugurated by the city mayor on February 4, 2016 to mark the completion of the project.
The kindergarten aims to create a small village setting for children that break away from the traditional, large scale institutional daycare environment. The small scale village atmosphere at Frederiksvej Kindergarten is achieved by dividing the building into 11 small houses joint together with different orientation. The various play programs in the kindergarten are centered around two winter gardens that resulted in these small, individualized spaces where children can establish their own play niches within the building.
"We wanted to create a kindergarten in a class of its own. A place that provides the best possible settings for our children to grow up in, and promotes their learning and creativity. Children are our most valuable resource and it is important that they get a good and safe childhood. Today there is a tendency towards building bigger and bigger kindergartens. But it is important for us to create intimacy and space for the children's small worlds in the kindergarten, where they spend a large part of their day.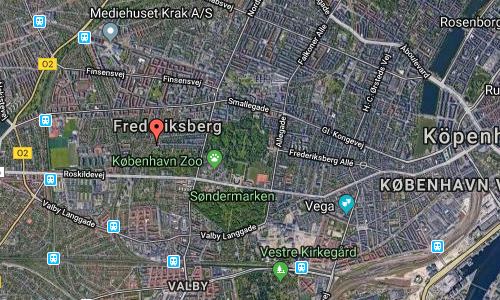 More information at archdaily.com and arkitekturbilleder.dk.