Volvo Photo Locations Part 328



Arkitekturskolan KTH is located at Osquars backe in Stockholm, Sweden.
Arkitekturskolan KTH or the School of Architecture at Osquars Backe 9 on the Royal Institute of Technology's campus at Valhallavägen in Stockholm was built in 2013-2015. It was designed by Tham & Videgård Arkitekter and replaced the School of Architecture's former building on Östermalmsgatan.
At the turn of the year 2006-2007, Akademiska Hus together with KTH and in collaboration with Sweden's architects went out with an open invitation to design a new school building for the School of Architecture KTH and entrance to KTH. Tham & Videgård Architects was given the task of designing the new school.
A detached oval four-storey house was placed in the adjoining courtyard space. The facades of stainless steel cortens steel are curved and made up of frames with offset openings and glass sections. The idea of ​​the curved contour is to shorten the visual length of the facades and open views of the corners. It also provides a varied shadow and light game. In height and color, the building connects to the surrounding older buildings' brick facades.
Inside, the clean concrete is visible in the facade, as is the stairwell. The lighter walls are clad in wood. A central hall forms a natural exhibition space in the building. It links to studios, exhibition rooms, computer rooms and workshops. In the entrance hall you will find Jonas Dahlberg's sound artwork An imagined city from 2015. On floors 3, 4 and 4 are the drawing rooms with open planes and three meters in ceiling height, but with the possibility of subdivision into smaller room formations. On floor 2 you will find offices, service functions, meeting rooms and kitchenette. Adjoining the penthouse are roof terraces.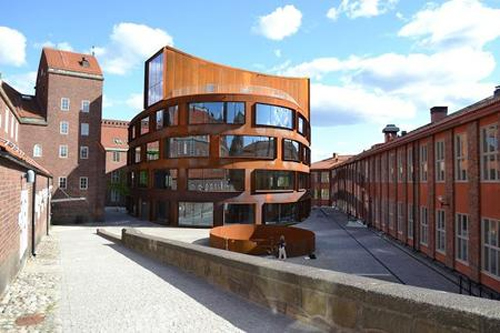 On October 12, 2015, the building was inaugurated. The construction cost for the 8,800 square meters amounted to just over SEK 400 million.
It was awarded the Kasper Salin Prize in 2015 and in the same year it was nominated for Construction of the Year. The building took first place in the architectural competition of the Stockholm Building of the Year 2016 with the motivation: "A finely adapted addition in a narrow environment where the facade's rust-red corten steel, with its organic form, gives both a soft and uplifting impression. A generous house that makes the visitor feel both curious and invited."
More information at sv.wikipedia.org, www.volvocars.com and akademiskahus.se.