Volvo Photo Locations Part 329



Skagershuset is located on Skagersvägen in Årsta, a suburb in Stockholm, Sweden.
Skagershuset is a multi-dwelling house with wooden facade on Skagersvägen 22-26 in the Årsta district of southern Stockholm. Skagershuset has its name after the street where it is located, and the street in turn is named after Lake Skagern (on the border between Värmland and Västergötland ). The house was ready for occupancy in December 2013 and was named the winner of the Stockholm Building of the Year 2014. The Skagershuset was among the ten nominations for the Wood Prize 2016, this among 139 participating grants.
The new building is an example of the application of Promenadstaden , an overview plan for Stockholm, which wants to strengthen central Stockholm by densifying neighboring suburbs and where, among other things, creating a denser, more cohesive, more diverse and vibrant urban environment. In this plan, Årsta is covered by "the expansion of the central city".
In a former green area in the corner Sköntorpsvägen / Skagersvägen / Vindomsvägen in Årsta, between 2012 and 2013, a slab house with 33 apartments was erected. The builder and contractor were Åke Sundvall Projekt and Åke Sundvall Byggnads, who employed OWC Arkitekter to design the building. The Skagershuset was built in a culturally interesting area with narrow houses from the 1940s and 1950s, designed by, among others, the architect firm Wejke & Ödéen . OWC Architects chose to link exterior to the surrounding buildings. The facades, however, received no surface of plaster or brick (otherwise usually in classic narrow houses in Årsta) but a cladding of fire-impregnated cedar from Moelven Wood AB, which consists of three different types of panel profiles with widths between 93 and 193 millimeters.
The building height is four floors and a retracted penthouse. The facade faces north and the street is closed while the south side was opened with balconies and terraces. The frame and facade of the house are made of wood. The entire complex was manufactured at the Moelven Building Module in the form of 112 prefabricated volume elements, which were transported to the site. In this way, the house could be pre-manufactured "under the roof" in a climate-protected environment and the production time could be limited to one year.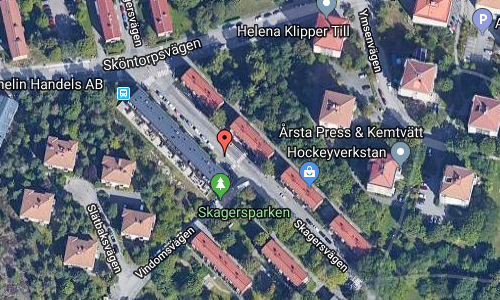 More information at sv.wikipedia.org, svenskttra.se and skagershuset.se.