International Volvo Photo Locations Part 417



La Barceloneta is a neighborhood in the Ciutat Vella district of Barcelona, Catalonia, Spain. The neighborhood was constructed during the 18th century for the residents of the Ribera neighborhood who had been displaced by the construction of the Ciutadella of Barcelona. The neighborhood is roughly triangular, bordered by the Mediterranean Sea, the Moll d'Espanya of Port Vell, and the El Born neighborhood. This neighborhood has its own flag, and is serviced by its own stop on the Barcelona Metro line 4. This is a good starting point for whatever itinerary there may be to adventure through La Barceloneta. The yellow line, L4, which is the metro line that stops at La Barceloneta, is the most popular for pickpocketing. The neighborhood can also be discovered by taking Las Gorondrinas, which leave from the front port of the Columbus monument. This way the marine strip can be discovered, but the real charm of this neighborhood is by getting lost in the side streets or alleyways. Torre Sant Sebastià is the terminus of the Port Vell Aerial Tramway; opened in 1931, it connects La Barceloneta with Montjuïc across Port Vell.
La Barceloneta is known for its sandy beach (which made an appearance in Don Quixote, book 2) and its many restaurants and nightclubs along the boardwalk. Over the past several years the quality of the sand on the beach has become a source of continued controversy. In February 2008, the World Health Organization began an inquiry designed to ascertain whether the sand meets WHO beach health and safety guidelines.
With its modernity, La Barceloneta continues to inhabit the scent of salt and marine life. For many, this is considered a luxury. La Barceloneta also attracts many cruise ships to dock.
Among the attractions on Barceloneta's beach are German artist Rebecca Horn's "Homenatge a la Barceloneta" monument, and, where the beach gives way to the Port Olímpic, Frank Gehry's modern "Peix d'Or" sculpture.
In the center of the neighborhood, there is a small museum, called "Casa de la Barceloneta", which is housed in a preserved building dating back to 1761. Admission to the museum serves as an insight into the evolution of the neighborhood and its history. The house has a stone façade with letters and number engraved that are inscriptions of the plots used in construction.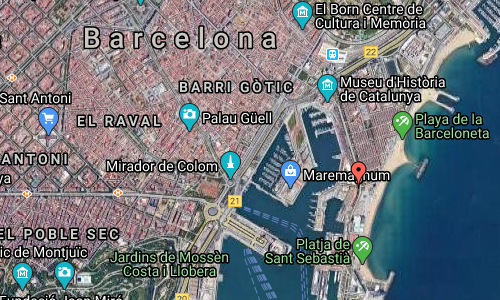 More information at en.wikipedia.org.