International Volvo Photo Locations Part 424



Bryan Cave is located on Broadway in Santa Monica, USA. Bryan Cave Leighton Paisner LLP is an international law firm with 25 offices worldwide, headquartered in St. Louis, Missouri, United States.
Santa Monica is a beachfront city in western Los Angeles County, California, United States. Situated on Santa Monica Bay, it is bordered on five sides by different neighborhoods of the city of Los Angeles: Pacific Palisades to the north, Brentwood on the northeast, West Los Angeles on the east, Mar Vista on the southeast, and Venice on the south. Due to a favorable climate and close proximity to Los Angeles, Santa Monica became a famed resort town by the early 20th century attracting many celebrities, like Marion Davies, to build magnificent beach front homes on Roosevelt Highway (PCH).
The city has experienced a boom since the late 1980s through the revitalization of its downtown core, significant job growth and increased tourism. Popular tourists sites include Pacific Park on the Santa Monica Pier and Palisades Park atop a bluff over the Pacific Ocean. Santa Monica's environmental and sustainability strategies are focused on community-wide carbon neutrality by 2050 or sooner.
The Downtown District is the home of the Third Street Promenade, a major outdoor pedestrian-only shopping district that stretches for three blocks between Wilshire Blvd. and Broadway (not the same Broadway in downtown and south Los Angeles). Third Street is closed to vehicles for those three blocks to allow people to stroll, congregate, shop and enjoy street performers.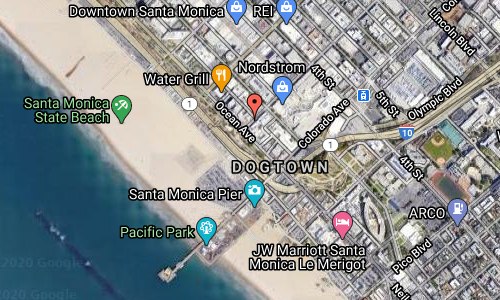 More information at en.wikipedia.org and santamonica.com.