International Volvo Photo Locations Part 434



The Chapman is located on the corner of South Broadway and West 8th Street in Los Angeles, USA.
The Chapman building was originally built in 1912 as one of the tallest and most lavish of its day. It is a classic example of early-century architecture and has a long heritage as a marquee address in downtown Los Angeles.
The Chapman stands above Broadway at the very core of Historic Downtown. This neighborhood is also part of the Broadway Theatre District, an area that houses the largest concentration of historic theatres in the nation, dating back to the '20s and '30s and standing as an homage to the lavish Golden Age of theatre and film.
The Chapman Building is also known as the Los Angeles Investment Company Building.
The Los Angeles Investment Company was started by Charles Elder and two friends in 1899 in a little back room at Fourth and Broadway. By 1912, his bank was competing with the largest in the country and he had built his own headquarters at Eighth and Broadway for a record $1 million.
Over the next few years, Charles Elder and his company had a tremendous influence on real estate development in the city. He became 'one of the best-known men in Los Angeles,' according to the LA Times in 1913, and his Los Angeles Investment Company Building was one of the largest and most opulent in the city.
With thirteen floors above a 'high basement,' the building was one of the few examples of a thirteen-story building within the height limit of the time, which was 150 feet. The interior of the first floor featured solid mahogany and pillars of grain marble. The bank vault was immense, with the largest doors that could be found at the time.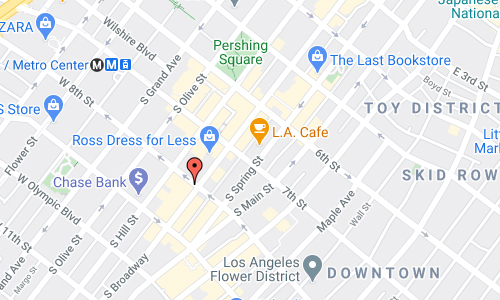 More information at chapmanflats.com.