International Volvo Photo Locations Part 461



Kirkstone Pass is a mountain pass in the English Lake District, in the county of Cumbria. It is at an altitude of 454 metres.
It is the District's highest pass traversed by road, the A592 road between Ambleside in Rothay Valley and Patterdale in Ullswater Valley. The road gradient approaches 1 in 4. The picturesque view down into Patterdale has Brothers Water as its focal point.
The Kirkstone Pass Inn stands close to the summit. Once a vital coaching inn, it now caters primarily for tourists. It is the third-highest public house in England.
The name of the pass comes from a prominent stone, the Kirkstone, which stands a few yards from the A592 on the Patterdale side of the inn. Its shadow resembles a steeple; 'kirk' means church in old Norse and was a variant in related Old English.
In local names the climb from Ambleside is known as The Struggle.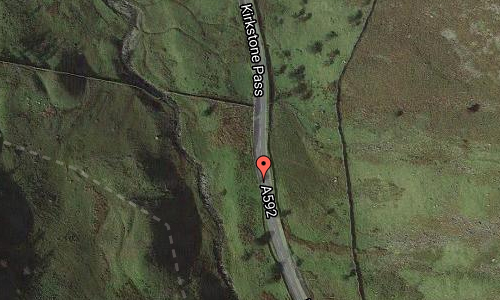 More information at en.wikipedia.org and visitcumbria.com.