International Volvo Photo Locations Part 460



Military Road or A3055 runs between Freshwater Bay and Compton Bay on the Isle of Wight, United Kingdom.
Compton Bay is a bay located on the southwest section of the Isle of Wight, England. Its north western edge is defined by the distinctive white chalk cliff of Freshwater Cliff, named after adjacent Freshwater Bay, which forms a small cove with the village of Freshwater situated just behind. Its north eastern edge is formed from the soft red and orange lower cretaceous rocks of Brook Bay, which are rapidly eroding.
Due to the lack of grazing on the cliffs above the bay, the native chalk ecosystem has thrived. Atop the cliffs, the Island's county flower, the pyramidal orchid, can be found, while the rare Glanville fritillary butterfly also lives in large numbers supported by the native flowers. There are also other hardy plants, such as common gorse bushes and wild cabbage.
The bay is popular with wave and kite surfers due to the waves that form when the prevailing south-westerly wind is blowing onshore. The beach is gently shelving and consists mostly of sand, with a few lengths of submerged rock, although at high tide the sea covers the beach almost completely. The car park and its public facilities are owned by the National Trust, as is the coastal strip of land. The Isle of Wight Coastal Path runs along the cliff around the bay.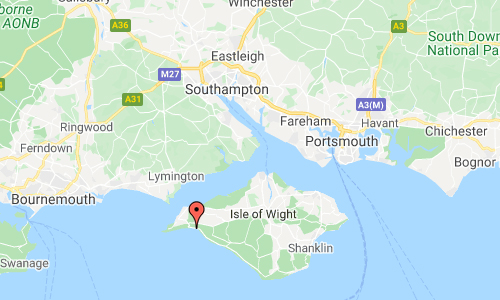 More information at en.wikipedia.org and visitisleofwight.co.uk.