Volvo Photo Locations Part 367



Norra Hamngatan is a street within the Nordstaden district in Göteborg. It is about 700 meters long and extends from Packhusplatsen to Nils Ericsonsgatan.
The street got its name in 1846, after its location north of Stora Hamnkanalen, formerly Stora Hamnen (from the city's founding in 1621 until the middle of the 18th century). But as early as 1671, the name changed often; Store Hambnens Gatha, Storhamnegatan (1676), Norra store Hamne-gatan (1765) are some of the early names.
The buildings pictured in the Volvo photo are on Södra Hamngatan.
Bohusbanken was one of Sweden's smallest commercial banks. It was founded in 1919 and sold in 1993 to the insurance company WASA, which changed its name to WASA Banken. WASA in turn merged into Länsförsäkringar a few years later and in 1998 Länsförsäkringar WASA Bank was formed. Bohusbanken was mainly aimed at wealthy private individuals and medium-sized companies.
In 1998, Danske Bank in Sweden began using the name Bohusbanken as a trademark for its branches in the Göteborg area. In 2011, the use of the name Bohusbanken was discontinued, as all Swedish branches were renamed Danske Bank.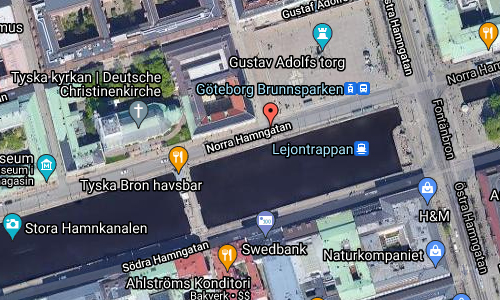 More information at sv.wikipedia.org.