Volvo Photo Locations Part 371



Lindéngruppen AB headquarters is located at Bruksgården on Ruuthsesplanaden in Höganäs, Skåne.
Lindéngruppen is a Swedish, family-owned company based and founded by Ulf G. Lindén, who in 1974–1981 was the managing director of the then listed AB Wilh. Becker, which was subsequently merged with AB Volvo. In the years 1981–1987, while he was Deputy CEO of AB Volvo, Lindén built up his own corporate operations in parallel, starting by buying out the shares in the listed AB Wilh. Beckers in 1985.
Lindéngruppen is one of Sweden's largest family companies. It is, as the sole owner of AB Wilh. Becker, the full owner of the industrial paint manufacturer Beckers Group and of Colart, the largest international group in artistic materials. Since 2013, the company is also a half-owner of Höganäs AB, specializing in metal powder manufacturing.
Lindéngruppen is behind the art gallery Färgfabriken in Liljeholmen and Becker's Artists' Scholarship.
The Linden group was inherited after Ulf G. Lindén's death in 2009 by his daughter Jenny Lindén Urnes.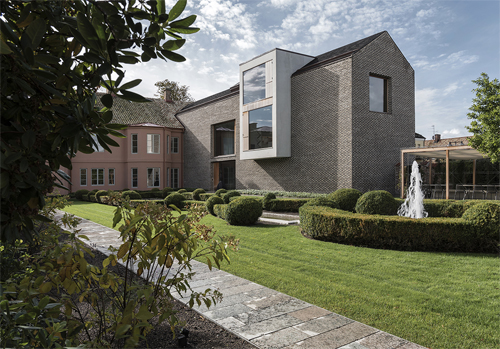 Bruksgården in Höganäs was built in 1805 as the home for the managing director of Höganäs AB, a business now owned by Lindéngruppen. Bruksgården is located in an area that is classified as being of national interest, where the main building and its wings are considered to be of the highest cultural value.
Between 2009 and 2016, Petra Gipp Architects were responsible for the an extensive conversion and addition and great care and consideration was given to this historically valuable environment, both in terms of the building itself and its surroundings – the town, the square, and the garden. Because the present day is allowed to make a mark, to take a place in the archive that Bruksgården constitutes as a building, a program and a site, all of the layers of time are clarified and respected.
The extension, an interpretation of the Skanian longhouse, has been deliberately designed for a contemporary impression. The addition is a coherent sculptural structure in brick and cast concrete, with obvious impressed and protruding sections. The project is based on tactile materials that are possible to work with in a sculptural way. The dark brick, used for both the walls and roof, are bound together with mortar. The mortar presses into the inner spaces where it, in the interaction with the inner materials, concrete and plaster, is redefined in order to shape the inner rooms. A central aspect of the project is the art, which integrates the inner and outer sequence of the rooms, floorplan and organisation in a conscious way.
More information at lindengruppen.com, miesarch.com and gipparkitektur.se.