Volvo Photo Locations Part 381



Övre Djupedalsgatan is a street located in Göteborg, Sweden. The street runs between Vegagatan and Linnegatan, crossing Nordhemsgatan.
The street is located in the district Olivedal.
Olivedal is named after the manor Olivedal which was located about 170 meters northwest of Linnéplatsen approximately at Olivedalsgatan 20. Olivedahl has been known since 1813, named after Olivia Melin (1803-1881), daughter of Olof Melin (1764-1834) in his first marriage to Elisabeth Stockman (1773-1815). In connection with the laying of Rosengatan from Linnégatan to Vegagatan, the property's Olivedal's last green areas were built on. The manor's main building was moved and rebuilt in 1930 at Stora Härsjön in Lerum municipality, where it was completely destroyed in a fire on March 22, 1944.
Kråkestan used to be a nickname for the Olivedal district. It was the idyllic farm Olivedal, which in its time was located near the gates of Slottsskogen, which was the origin of the name. There were so many noisy crows and quays that Slottsskogen's park rangers could often earn extra money by shooting crows for Olivedal's owners. Even after the entire property was built with stone houses, the nickname Kråkestan survived in folklore until the 1940s .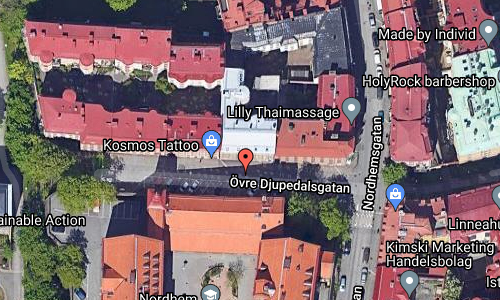 More information at sv.wikipedia.org.