International Volvo Photo Locations Part 496



Largo da Ribeira Velha is located at Marina da Ribeira in Peniche, Portugal.
Marina da Ribeira is a small port, located by the fishing docks and the pier from where the boats to the Berlengas islands depart. It has paid parking, a few shops and fine restaurants with typical dishes.
Peniche is a seaside municipality and a city located in the Leiria District of Central Portugal.
The city was built on a rocky peninsula which is considered by geologists a unique example of the Toarcian turnover during the worldwide Early Jurassic extinction.
Peniche is known for its long beaches, which are popular for recreational activities and sports such as surfing, windsurfing, bodyboarding and kite surfing. These beaches are consistently windy and have good surf breaks with Supertubos, i.e., waves forming fast and powerful tubes, considered among the best in Europe. The area has been called the "European Pipeline", after the Banzai Pipeline in Hawaii.
Peniche Fortress is a notable example of Portuguese coastal defences. During the authoritarian rule during the 20th Century, known as the Estado Novo, or Second Republic, it was used as a prison for communists and other opponents of the regime.
Peniche, with its scenic harbour, white windmills, chapels and long sandy beaches has inspired famous artists like Maurice Boitel.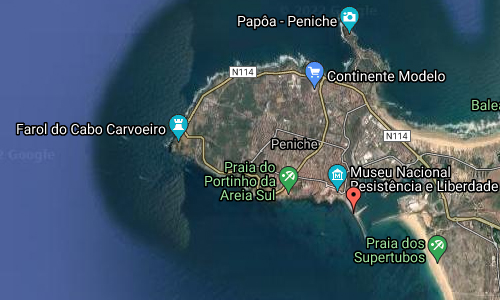 More information at en.wikipedia.org and www.allaboutportugal.pt.