Volvo Photo Locations Part 389



Norra Strandvägen is a street located in Mölle, Sweden. From this point, you get a great view on Kullaberg, the national park.
Mölle is a locality situated in Höganäs Municipality, Skåne County, Sweden.
It is best known for its scenic harbour and its location adjacent to the Kullaberg Nature Reserve. Its harbour, situated on the Kattegat Strait, provides services for marine fishing, watersports outings and tour excursions along the coast, especially the rocky shore of Kullaberg to the north. Fodor characterizes Mölle as "a small town set in spectacular isolation on the dramatic headland of the Kulla Peninsula".
As a historic seaside resort, Mölle has hosted numerous technical and professional conferences such as: the Swedish Network of European Economists, Joint Swedish-Russian International Workshop on Information Theory and the Royal Society (United Kingdom) of Tropical Medicine and Hygiene.
Mölle was a lively 19th century fishing village, some of whose stately buildings survive to the present. It was earlier and still is today an enclave of relatively affluent residents, who initially made their fortunes from fishing. There are extant two sizeable 19th century hotels, which are perched high above the harbour. Other historic buildings surviving are the 1910 Villa Italienborg, built by a scrap dealer whose architectural ideas derived from a visit to the Italian Riviera. Villa Africa is a two-story historical residence erected by a Mölle sea captain to woo his bride to move from South Africa.
In the latter part of the 19th century Mölle was renowned as a center for erotic entertainment, especially mixed sex bathing (considered marginally scandalous in that era); thus it attracted visitors from throughout Sweden as well as various parts of Europe. There was even a weekly train from Berlin to Mölle up until the First World War.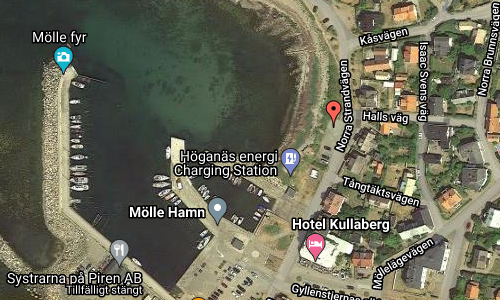 More information on en.wikipedia.org and hoganas.se.