Volvo Photo Locations Part 390



Hotel Rusthållargården is located on Stora Vägen in Arild, Skåne in Sweden.
The history of Rusthållargården dates back to 1675.
The gravel from an old watchtower that was demolished at Krapperup Slott had to lay the foundation for the house which was then called Flundrarp 1 and was the largest farm in the village. Under Karls XI's rule, it became a "rust farm" where the owner kept soldiers and horses for the king in the event of war, thus the farm became tax-exempt.
During the beginning of the 19th century, the owner of the farm received a contract from the lord of the castle at Krapperup with permission to run a pub business. The brandy was made in the "distillery" (the current stone house between the villas and the main building). Eventually he had the courtyard built and then also built the limestone staircase which still remains at the entrance from the road. The stones in this also originate from Krapperup Castle. The business eventually developed into a boarding house and in 1904 it was sold to Johannes Gudmundsson, the first same family to still own and run the business. Hotel Arild, as the name was then, was a homely, personal and cozy hotel. The restaurant had a Scanian inn atmosphere and the hotel became well known with a high reputation.
The facility has since been developed, changed, undergone renovations and extensions. Still as when it once began, the care, personality and quality of our guests are the values ​​of the business.
Arild is a locality situated in Höganäs Municipality, Skåne County, Sweden. It is located in the bay of Skälderviken in north-western Scania, approximately 30 km north of Helsingborg in Sweden. The village was mostly concentrated around the chapel and the shoreline but has come to extend uphill towards Kullaberg, creating height differences between the various parts of the village. The coastline surrounding the village and the majority of the northern shore of the Kullen peninsula is mountainous.
Two established hotels and taverns are located in Arild, namely Rusthållargården, founded in 1892 as Hotel Arild, and Strand Hotell, founded in 1904 as Troedssons pensionat. When tourism in Arild reached its peak during the 19th century several other hotels operated in and around the village, most notably Turisthotellet Kullen, located uphill in the village.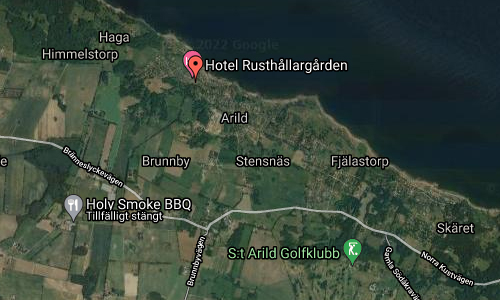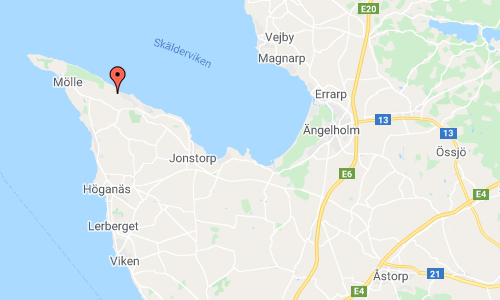 More information on en.wikipedia.org and rusthallargarden.se.