International Volvo Photo Locations Part 502



The Boulevard Office Park is located on Searle Street in Woodstock, Cape Town in South Africa
The Boulevard Office Park currently offers approximately 38 000sqm GLA of added value, space and productivity to the well-established Boulevard precinct. Although planned as a standalone development of approximately 10 000sqm GLA, the extension has been designed to connect with the existing precinct at the common podium level, thus allowing for amenity sharing and architectural continuity.
The Boulevard Office Park, situated along Searle Street in Woodstock with premium grade offices to let. The building was the winner of the SAPOA Award of Excellence 2010 in the new office development category. This landmark development has excellent visibility and image to meet the requirements of office users. The Boulevard has proved to be popular with both international and national tenants ranging from financial to creative sectors. There are 7 individual, premium grade buildings that have been erected on a podium above 3 parking basements providing ample parking. Extensive CCTV coverage and on site personnel ensure a high level of security in the park.
Woodstock is a suburb of Cape Town, South Africa, between the docks of Table Bay and the lower slopes of Devil's Peak, about 1 kilometre east of the city centre of Cape Town. Woodstock is served by Woodstock and Esplanade railway stations, and has the postal code 7925 for street addresses and 7915 for post office box deliveries.
Notwithstanding the lower parts of Woodstock becoming run down in the second half of the 20th century, with litter, crime and drugs becoming a serious issue, the face of Woodstock has changed dramatically over the last decade. Young professionals have been quick to take advantage of still affordable pretty Victorian semi-detached homes, many of which have been beautifully renovated and restored. Trendy restaurants, innovative media and other businesses, offices, shops and furniture showrooms have sprung up in cleverly converted and revamped warehouses, abandoned buildings and even a disused Castle Brewery. Woodstock today, is despite the wind – "Windsock" – a vibrant suburb combining a village atmosphere with a sense of inner-city living.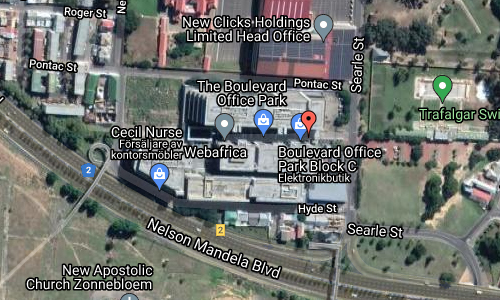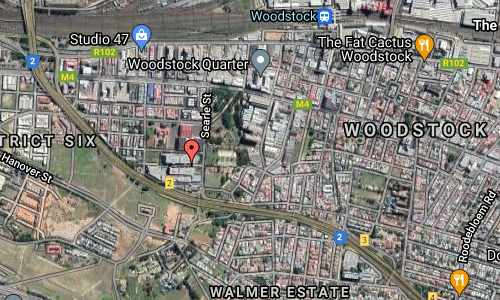 More information at redefine.co.za and en.wikipedia.org.