Volvo Photo Locations Part 397



Eriksberg Vilt & Natur is a game reserve located on Guöviksvägen in Trensum, Sweden. Eriksberg is situated in south-east Sweden, between Karlshamn and Ronneby in Blekinge archipelago.
Driving through the gate into Eriksberg Hotel & Nature Reserve is like entering a new world. Here you will meet wildlife on the animals' terms, with wild red deer, fallow deer, Père David's deer, European bison, wild boar and moufflon roaming freely together in Scandinavia's biggest safari park. Eriksberg also has buildings spanning five centuries that now house a hotel with luxury accommodation, restaurants, conference facilities, wine cellar and a farm shop that sells Eriksberg's own game products and souvenirs.
Today's owner Mellby Gård, has made an extensive investment in Eriksberg, including in hotels, restaurants and conference activities. Today, Eriksberg is a very exclusive and unique experience and meeting place. The idea is that all visitors should benefit from the efforts that have been made.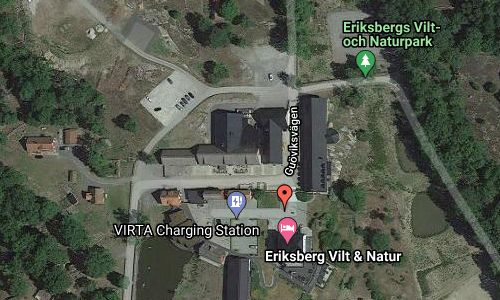 More information on visitblekinge.se and www.eriksberg.se.