Volvo Photo Locations Part 412



Göteborg Golf Klubb is located on Ryttarstigen in Hovås, south of Göteborg, Sweden.
Göteborgs GK is a golf club in Hovås in Askim in southern Göteborg. The club was formed in 1902 under the name Göteborgs Idrottsförbunds Golfafdelning and is Sweden's second oldest golf club after Särö Golf Club which was formed in 1899. Göteborgs GK is, however, Sweden's oldest active golf club and was the first club in Sweden to be environmentally certified according to ISO 14001.
The initiative for the formation of the club was taken by Tor Törnsten, who in 1902 formed a golf section within the Gothenburg Sports Association. He moved his golf playing from Sandviken on Norra älvstranden on Hisingen, opposite the current Gothenburg fishing port. Viktor Setterberg, the great pioneer in Swedish golf, was also a driving force in the construction of the golf course in Hovås.
The course was built in 1904 and then included 6 holes with a total length of 1,466 meters. The number of members with their own clubs was 40 already the first summer. In the first years, the course was rented for a shorter period, but in 1910 they started subscribing for shares in a company, in order to acquire most of the land that the then 9-hole course covered. The track, which was completed in 1908, was now 2,381 meters long. The clubhouse came into being in 1910 and was designed by architect Ernst Torulf.
The Stewarts Challenge Cup is one of Sweden's oldest sports competitions, in all categories.
On 14-16 May 1911, the club's first national championship for both ladies and men was organized: Swedish closed (national) amateur championship competition in golf.
Until 1923, they played on the 9-hole course. Thereafter, the course was expanded during the years 1921-23 by another 3 holes, to a total length of 3,233 meters. The expansion was led by the club's professional, the Englishman George Roberts. Thanks to the dispatcher Conrad Pineus, the land for an 18-hole course could be acquired, and in the autumn of 1930 work began on the new course, designed by architect Andrew Persson. On October 1, 1933, the course was inaugurated by the club's chairman Axel Brynolf. The new clubhouse was inaugurated in 1938. The number of members was then 350.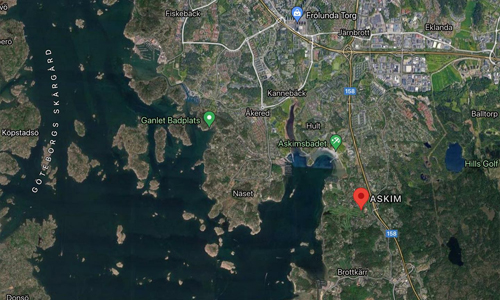 More information on sv.wikipedia.org, www.goteborgsgk.org and goteborgsgk.dynamaster.se/forstasida/kommitt-er/klubbhistoriska.