Volvo Photo Locations Part 416



Tunnbindarvägen is a street located in Smögen, Sweden.
When the Volvo promotion photos of the C70 were made, the current housing complex was not yet built, which gave a great amazing view on the Smögenbryggan in Smögen.
Smögenbryggan in Sotenäs municipality has thousands of visitors from all over the world every year. Smögen offers wonderful archipelago settings, good food and comfortable places to stay.
It takes just under two hours to drive from Gothenburg to Smögen. After crossing Smögen Bridge from the centre of Kungshamn, you first arrive in the northern area called Hasselön, which has residential areas, fishing huts and beautiful countryside.
Continue for another five minutes and you come to Smögenbryggan, by far the most famous tourist spot in Bohuslän! The pier is almost 600 metres long and the many boathouses have been converted into shops, cafés and restaurants. Take a walk along the pier and enjoy the boating life, different archipelago activities, lively crowds in the summer season and a wide range of locally caught seafood in the bars and taverns, some of which are open all year round.
Fishermen used Smögen's protected harbour as early as the mid-1500s, and the first time Smögen was mentioned in writing was in 1594. The origin of the place name is believed to be "Smyghålet", as the small canal between the islands of Smögen and Kleven was called. The name has evolved over the years from Smögit, Smöenn, Smöget and Smygesund.
Tip! If you would like to experience Smögen without sharing it with thousands of summer tourists, why not come here in the spring or early autumn when the winds are still balmy.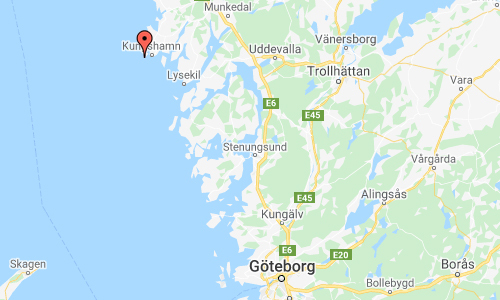 More information on www.vastsverige.com and en.wikipedia.org.