International Volvo Photo Locations Part 511



Base 4 Aviation is located at Cape Town International Airport, on Convair Rd in Matroosfontein, Cape Town in South Africa.
Base 4 Aviation is a group of companies made up of Aircraft Charter, Pilot Training, Maintenance, and Sales divisions and is fully licensed and accredited with the South African Civil Aviation Authority. The group was established in 2001 and has been delivering aviation services to the aviation industry, not only in South Africa, but also in its neighbouring countries Namibia, Madagascar, Mozambique, Angola, and beyond.
Cape Town International Airport is the primary international airport serving the city of Cape Town, and is the second-busiest airport in South Africa and fourth-busiest in Africa. Located approximately 20 kilometres from the city center, the airport was opened in 1954 to replace Cape Town's previous airport, Wingfield Aerodrome. Cape Town International Airport is the only airport in the Cape Town metropolitan area that offers scheduled passenger services. The airport has domestic and international terminals, linked by a common central terminal.
The airport has direct flights from South Africa's other two main urban areas, Johannesburg and Durban, as well as flights to smaller centres in South Africa. Internationally, it has direct flights to several destinations in Africa, the Middle East, Asia, Europe and the United States. The air route between Cape Town and Johannesburg was the world's ninth-busiest air route in 2011 with an estimated 4.5 million passengers.
Cape Town International Airport is approximately 20 kilometres from the city centre and is accessible from the N2 freeway, with Airport Approach Road providing a direct link between the N2 (at exit 16) and the airport. The airport can also be indirectly accessed from the R300 freeway via the M12, M10 and M22.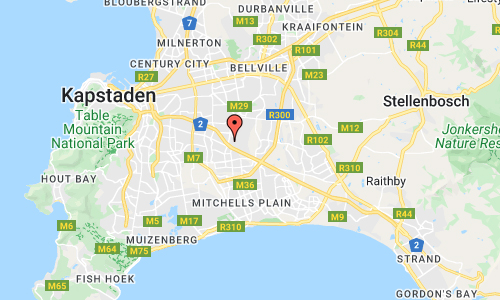 More information at base4.co.za and capetown-airport.com.