International Volvo Photo Locations Part 522



Feast at Round Hill is located at 110 Round Hill Road in Washingtonville, New York, USA.
Round Hill House dates back to the era of Daniel Brewster (1764–1841) a direct descendant of William Brewster, who came to America on the Mayflower in 1620.
Daniel Brewster built Round Hill between 1800–1820. Daniel had a son Thomas (1787–1856) who married Nancy Seely in 1819. They both lived and died here on the homestead.
Thomas and Nancy had a son, Henry, also born here at the homestead in 1828. There were three children from that son's union with Harriet Halsey in 1854. All married and remained in the immediate area, one on the board farm, then part of Round Hill. Another married the daughter of Alden Goldsmith who then lived in the beautiful home on Route 208 known as Walnut Grove. Alden Goldsmith was the owner and trainer of the world-renown trotting champion, Goldsmith Maid.
The second son, Walter, who became a supervisor of the town of Blooming Grove, married a minister's daughter, Elizabeth Hathaway. The Reverend Hathaway was then the pastor of historic Blooming Grove Church. The marriage of Elizabeth and Walter Brewster produced a son, Henry.
Henry was born in this house in 1898. He took Alice Hookey for his bride. They both lived here and had three daughters, Elizabeth, Nancy and Dorothy.
It is interesting to note that all these early Brewster men brought their wives home to Brewster house.
The house was sold in 1923 to Edward Van Horn. At that time the columns, brick wall and steps were added. The house was later sold to the Maloof family.
The house lay dormant for a while, and became a prominent restaurant in the 1960's and 1970's (Round Hill Restaurant, then Quail's Hollow Restaurant).
In 1998 it was purchased and totally renovated by the present owners, Patrick Ruisi and Peter Kupersmith. They proclaim FEAST to be the "final word in catering" based in an exceptional historic Hudson Valley estate.
Washingtonville is a village in the town of Blooming Grove, Orange County, New York, United States. It is part of the Poughkeepsie–Newburgh–Middletown, NY Metropolitan Statistical Area as well as the larger New York–Newark–Bridgeport, NY-NJ-CT-PA Combined Statistical Area. The village is named in honor of George Washington.
The Hudson Valley (also known as the Hudson River Valley) comprises the valley of the Hudson River and its adjacent communities in the U.S. state of New York. The region stretches from the Capital District including Albany and Troy south to Yonkers in Westchester County, bordering New York City.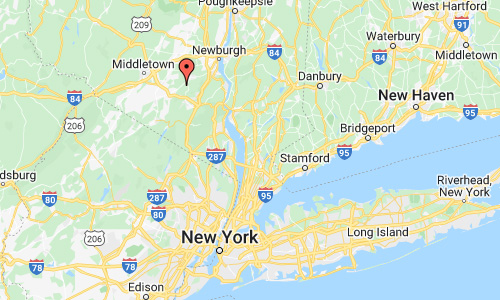 More information at feastcaterers.com and en.wikipedia.org.